Educational Assistant Orientation Video
Orientation Video
Instructions: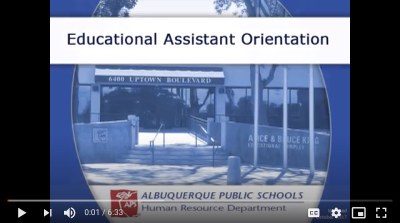 Please watch the Educational Assistant Orientation video for important information. You can also read the transcript below the video.
Then, complete the form at the bottom of the page attesting that you have watched or read the orientation materials.
About the video:
The video is 6 minutes and 30 seconds.
The video is not closed captioned. The video transcript is below.
The video is hosted externally on Google Drive. You will need to navigate back to this page to sign the form.
Orientation Video Transcript
Welcome to Albuquerque Public Schools! We are glad you have chosen a career with APS. Student success is achieved when the home, the school, and the learner work together. You are an essential member of that team. Thank you for your dedication and eagerness to join this noble profession.
Hiring Process
Let's review the process of becoming an Educational Assistant.
A school principal makes the request that you be hired.
As a result of that request, a staffing specialist in Human Resources reviews your credentials and makes you a job offer.
Before you can begin working you must:
be fingerprinted,
have a federal background check, and
send in your completed application for an Educational Assistant license to the New Mexico Public Education Department (NMPED) in Santa Fe.
With the application you will also submit:
An initial Superintendent's Recommendation form, and
Either a copy of your Para-educator test results OR your transcripts
When you receive your license, bring a copy to the Licensure Office in Human Resources.
Benefits
All APS employees, classified as full-time – working more than 30 hours per week are eligible for health, dental, vision, life insurance, disability, long term care, and flexibility spending accounts and retirement benefits.
All Educational Assistants participate in the State retirement plan. 
You may participate in an employee-funded sick leave bank, which may add up to 40 paid sick days for serious illness or injury.
You have 60 days from your date of hire to apply for these benefits.
Training, Courses, Professional Development
As an Albuquerque Public Schools employee, you will be required to complete various training and courses. While some will be dependent on your position, others will be required for all Educational Assistants. APS believes in the importance of education and career opportunities for its employees.
Opportunities through the Career Ladder Program are available.
Educational Assistants also have access to many professional and career development courses online.
Job Requirements
Although you have been recommended for a specific Educational Assistant position, it is worthwhile to be aware of the many different settings in which EA's work and duties that EA's perform within APS.
All EAs may be required to stand for long periods, bend, stoop, and lift up to 50 pounds.
In Elementary Schools, EA's may work in a kindergarten class supporting the teacher. Duties may include supervision on the playground, helping with instruction, and preparing teaching materials.
Some EA's at the elementary level work with students in programmed reading instruction.
EA's sometimes operate the library in an elementary school.
EA's may be assigned to a workroom, making photocopies and preparing other instructional materials.
Special Education Job Requirements
Educational Assistants in elementary, middle, and high schools work with Special Education students with moderate to severe disabilities. 
In classrooms where students have severe learning and behavioral disabilities, EA's support the teacher in a classroom of 6 to 8 students. Duties may include instruction, preparing materials, and supervising students outside the classroom.
In classrooms where students have severe physical disabilities, EAs will assist teachers with feeding, diapering, and cleaning students. In this position, good physical strength is important.
At the elementary, middle, and high school levels, some EA's work with a nurse as a health assistant dispensing medications, providing first aid, and keeping accurate shot records.
In a high school, EA's may support Special Education Work-Study or Community-Based Instruction students and spend some time in off-site work settings with students as they learn skills.
For some Special Education students between the ages of 19 and 22, Community Support Assistants spend most of their time with little supervision, helping students do their best at jobs and other community activities.
Educational Assistant Commitments
Being a licensed EA means you are committed to following the concepts:
Display a desire to work with students.
Serve as a role model.
Work as a member of a team.
Communicate effectively.
Respect individual differences.
Assist with supplementary work.
Supervise independent study.
Use current technology.
Assist with student discipline.
Encourage student involvement.
Utilize individualized program materials.
Roles and Responsibilities
It is the role of both the teacher and the EA, in coordination with school administration, to encourage the student to become an independent learner and member of the classroom, school, and the community. 
To provide effective support for students – teachers and EAs work together and share the responsibility to:
develop a positive, respectful, working relationship;
meet standards of professional and ethical conduct;
advocate for the protection of the legal and human rights of students and their families; and
maintain supportive professional relationships.
Confidentiality
Confidentiality is the cornerstone of your job. Teachers and EA's are entrusted with confidential information regarding students. This is true within the context of the school building, as well as within the greater school community. 
Information should only be shared with school personnel on a "need to know" basis.
EAs should ask themselves if the sharing of information will assist in improving programming for the child.
Always consider communication between you and another person as "privileged".
Focus on maintaining the integrity of the child involved.
Evaluations
Your evaluator is the principal at your work site. Your principal will evaluate your work each year to help you work to the best of your ability to help students in their learning.
Remember
You are a very important link in the success of our students.