Employee Benefits
APS offers a comprehensive benefits package to employees and their families.
Employee Benefits COVID-19 Updates
Information specific to COVID-19
All testing AND treatment for COVID-19 related conditions will be paid at 100% under all three of the APS medical plans.  This means there will be no co-payment, deductible, or coinsurance that will apply to these services.  Please seek care for yourself and your family if needed. 
The New Mexico Department of Health has established a Coronavirus Hotline: 1-855-600-3453.
For employees who need to enroll or make changes to their benefits during the COVID-19 pandemic
We ask that you do not come to City Center – please use the telephone or email to communicate and provide documents.  We will be waiving some of our regular requirements for documentation and forms during this time. 
Please email your Benefits Specialist or employee.benefits@aps.edu for instructions for your situation.

Please do not include Social Security Numbers in any email you send.
Please note that the Employee Benefits staff will be working remotely.  We will respond to your email and phone calls as quickly as possible. 
For employees on leave, participants on COBRA, and those with retiree life insurance
We will be continuing to pay our bills – we would appreciate it if you would still do the same (but by mail; not in person).  However, we will not be terminating any coverages for late or non-payment until such time as business operations return to normal.
Our mailing address is:
Albuquerque Public Schools
Attention Employee Benefits Department
PO Box 25704
Albuquerque NM  87125-0704 
For employees planning to retire this year
If you are planning to retire prior to July 1, please contact your Benefit Specialist to make arrangements to obtain the retirement packet and to return the completed packet to us.
Based on New Mexico Educational Retirement Board guidelines, employees who plan to work through the balance of the 2019-2020 school year are considered July 1 retirees.
2021 APS Benefit and Open Enrollment Information
2021 Benefit Premium Rates are effective January 1, 2021. Annual Open/Switch Enrollment is October 7-14, 2020.
2021 Medical Rate Information
2021 Summary of Benefits
Download 2021 Summary of Benefits Information
Other Open Enrollment Information
ASI Flex Online Enrollment Information
ASI Flex Online Enrollment is located on the Employee Intranet, login with your eNumber + password.
2020 APS Benefit Enrollment Guide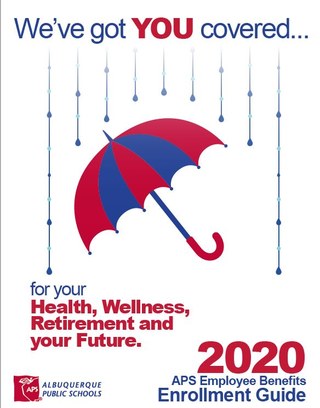 2020 Rate Schedules
Federal Government Required Notices