Special Education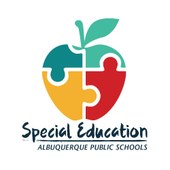 Mission Statement
We are a network of Special Educators.  We collaborate and facilitate partnerships that empower students, families and staff in learning and building inclusive communities in school and beyond.
Vision
ALL students belong.  ALL means ALL.
Guiding Principles
Serving students according to individualized need(s)
Ensuring quality of access to educational services regardless of where the student lives in the city
Using evidence-based practices for all students
Meeting our students' needs in their own communities
Resources
C2021-11 Complaint Resolution 
Albuquerque Public Schools (APS) is currently operating under a corrective action plan due to a New Mexico Public Education Department (NM PED) complaint investigation.  The investigation identified non-compliance with the Individuals with Disabilities Education Act (IDEA) provisions related to the identification and evaluation of students with disabilities.
If you are the parent of a child, living within the attendance boundaries of Albuquerque Public Schools, and you have concerns or suspect that your child may have a disability and may be eligible for special education or related services, please complete our  Request for Assistance Form.
Record Requests
To request Special Education Records, contact us by phone, email, or fax:
Call:

(505) 253-0310 ext. 67228
(505) 253-0310 ext. 67229
(505) 253-0310 ext. 67230

Fax (505) 243-1396