Parent Resource and Engagement Program
Empowering parents and guardians to be the best advocates for their children
Quick Links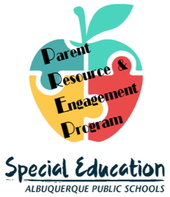 The Parent Resource and Engagement Program in Special Education recognizes the importance of family participation. Parents and guardians are the best advocates for their child, and we want to empower you so that you can support your child:
Attend a Parent Workshop to learn as much as you can about the resources and services available to your child and strategies to support your child at home and in school.
Join a Parent Advisory Council meeting to communicate with the district Special Education administration, and provide input on critical issues impacting APS families in the district.
Share Your Feedback
Share what type of trainings would most support your family.
Resources
Parental Rights: Procedural Safeguards
Contact Information
Main Phone: (505) 855-9900
Fax: (505) 243-1396
Email: specialeddept@aps.edu
Mailing Address:
P.O. Box 25704 Albuquerque, NM 87125-0704
Physical Address:
6400 Uptown Blvd. NE Suite 200 West Albuquerque, NM 87110 Map