Selfless Seniors

Since 2008, photographer Frank Frost has partnered with the Foundation to recognize seniors in high school who have selflessly given back to their communities, usually without recognition or praise. These young adults have already made a difference in their schools and neighborhoods and inspire their peers and all of us to do the same.
Selections are made by a committee of community partners and volunteers, and the decision is not an easy one. Each Selfless Senior not only represents themselves and their families, but the amazing work of countless high school students who are making a positive difference in our city each and every day.
Selfless Seniors are formally recognized at the APS Education Foundation's signature event called Gold Bar. Gold Bar raises money to fund innovative programs in our schools and classrooms so that our students have more opportunities to succeed.   
The window to nominate a 2020 Selfless Senior has CLOSED.  Please check back for the selection announcement later this year.

Meet the Class of 2019 Selfless Seniors
Diana Mullen, Albuquerque High School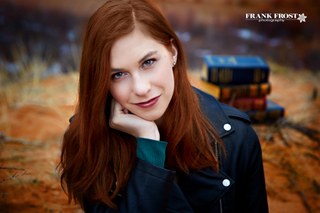 Diana Mullen has been a devoted volunteer at St. Paul Lutheran Church since her confirmation. She has taken an active role in alleviating hunger through her volunteer efforts by not only helping with fundraising and awareness events but also learning more about the issue so she could have an even deeper impact through her service.  Ms. Mullen has also given time to the elderly by helping with cleaning projects and just spending her time listening and comforting them when they needed a friend.  Through these experiences, she has shown loyalty and compassion in the face of illness and death.  Because her brother lives with cerebral palsy, Ms. Mullen has taken a leadership role in her school through Best Buddies in order to provide inclusive opportunities for all students with and without disabilities to learn more about one another and grow together.  Through her experiences volunteering with children and senior citizens, Ms. Mullen has developed a deep sense of understanding for those who may only need a listening ear and a helping hand.
Stephanie Colmenero, Atrisco Heritage Academy High School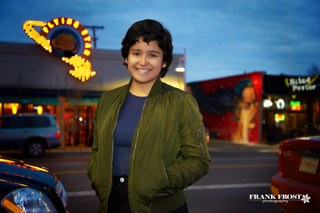 Stephanie Colmenero is not afraid to tackle serious issues even at a young age.  Among her many community service projects, Ms. Colemenero served as a founding member in the Youth Against Drug Addiction Club in her high school and the local community center.  She also volunteers with the Drug Enforcement Agency's office for drug take programs.  She strives to support the community by creating awareness of the opioid crisis and the dangers of drug addiction.  Ms. Colemenero is a dedicated volunteer at her church and has helped found an organization to help victims of sexual assault. 
Joseph Doucette, Cibola High School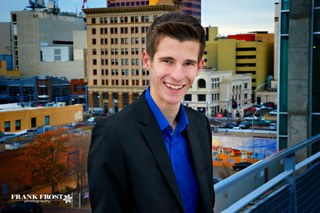 Joseph Doucette's contributions to local organizations are quite extensive, but what stands out is his never wavering energy despite the many needs of the organizations he serves.  Mr. Doucette is not afraid to work hard, even if it means cleaning cages at Watermelon Mountain Ranch or moving mulch for a playground for children.  Mr. Doucette leads by example, and as the Key Club President at his school, he works to ensure that his members can find community service projects in which they are passionate.  Because of his efforts and enthusiasm for helping others, membership in the Key Club has more than doubled. 
Austin Brown, Del Norte High School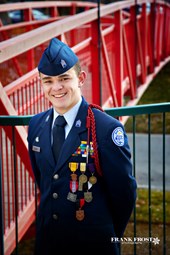 Austin Brown has never failed to offer a helping hand since his freshman year.  Mr. Brown has built a reputation of following through on his commitments.  As a JROTC cadet, Mr. Brown has shown his love of country by supporting veterans here at home and active duty military serving abroad.  He also helps raise and lower the flag each and every day before and after class.  Mr. Brown also volunteers to raise money for community organizations and actively recruits his peers to join him, even giving them rides if they need a lift.  Even though his instructors and teachers will miss him once he graduates, his example will endure for underclassman.
Evangelina Moralez-Norris, Eldorado High School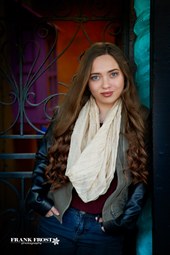 Evangelina Moralez-Norris, also known as Geli, serves as an intern at the Department of Family and Community Medicine at the University of New Mexico.  She has dedicated her time to assist with research projects focused on teen pregnancy and reproductive life planning.  Through her work in these studies, Ms. Moralez-Norris has shown a passion for supporting young men and women her age with needed resources and she works to reduce disparities in unintended teen pregnancies among Hispanic adolescents.  She plans to continue her work in college and pursue a career in reproductive health and family and community medicine. 
Emma Kostelecky, Highland High School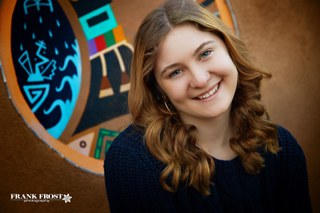 Emma Kostelecky knows the importance of school spirit and how empowering it is to bring her fellow Highland Hornets together as a school community.  She has worked tirelessly to encourage her peers to participate in school activities.  Her love of learning has led her to read to students that attend the schools she once attended in APS.  Because she struggled with reading as a child, she strives to instill a love of reading and learning in young students.  Ms. Kostelecky understands that a good education is the pathway to success, so she encourages elementary and middle school students to start dreaming and then work towards those dreams through their schoolwork. 
Daisy Mee, La Cueva High School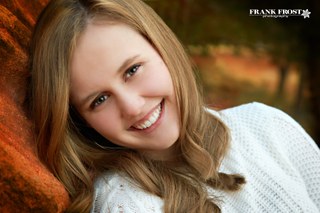 Daisy Mee is an accomplished young musician with a heart for helping her peers and her community.  In taking a leadership role in her school's orchestra program, Ms. Mee has championed her peers to work hard even when things get tough.  As president of La Cueva's Key Club, she has organized several community service projects for herself and fellow students.  Even though her school day is filled with many activities and commitments, Ms. Mee has even dedicated time to tutor younger students after school.  
Danny Luong,
Manzano High School
Danny Luong has been an active volunteer leader for school events, but also volunteers off campus to help those in need. Mr. Luong works at homeless shelters distributing food and clothing and he also makes care packages for homeless students attending Manzano High School so they have supplies for the weekends.  He not only volunteers during the school year, but during the summer as well.  Like many students, Mr. Luong has had to live with physical limitations, but unlike many students, Mr. Luong has worked incredibly hard to not only improve his quality of life through education, but use his education to improve the quality of life for others. 
Amy Hernandez,
Rio Grande High School 
Amy Hernandez has shown a passion for education that has extended to students not only at her school but in her tutoring of elementary school students.  Ms. Hernandez worked hard to overcome language barriers when she first entered high school and is now part of Rio Grande High School's  Bilingual Education Program.  She also volunteers through AVID and even provides tours for incoming students.  She is known to be the first to volunteer and the last to leave.   
Trazon Jimerson,
Sandia High School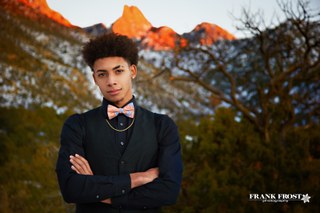 Trazon Jimerson serves as an inspiration and a light to all those around him.  For eight years, Mr. Jimerson has worked at Camp Rising Sun, a camp for children with autism spectrum disorder.  At every opportunity, he has come forward to learn more about autism in order to better serve children and families living with disabilities even outside of camp.  Mr. Jimerson is also an active volunteer with his church, Del Norte Baptist Church, and volunteered to feed the homeless. Outside of class and off the basketball court, you can find him cleaning yards for the elderly and helping his peers with their homework.  His compassion has shown no limits. 
Sienna Mascarenas, Valley High School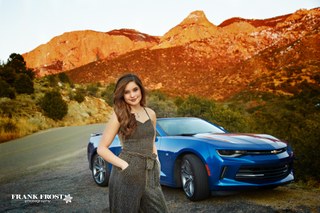 Sienna Mascarenas loves math, and has made sure to share her love of STEM (Science, Technology, Engineering and Math) with younger students as well as students at other schools.  Knowing how important it is to provide a hunger for learning in youth, she also knows that it can be impossible to learn without having supplies, food and clothing. Ms. Mascarenas has worked to collect these items for students in need.  She has also donated her time and energy to helping children and families facing illness and disease by working to create more awareness of pediatric cancer and raising money for the Children's Miracle Network. 
Vaneka Hoskie, Volcano Vista High School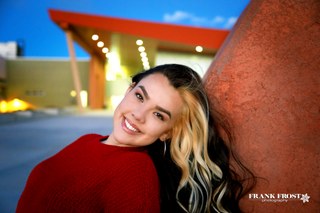 Vaneka Hoskie is a proud Volcano Vista Hawkette and as the current student body president, her unending energy to provide her fellow students with every opportunity to learn something new and connect with their peers continues to astound the staff.  Ms. Hoskie brings new ideas to the school to fundraise and is the first to organize and contribute.  She also volunteers off campus at East Gate church in their food pantry each month. 
Jasmin Alcala, West Mesa High School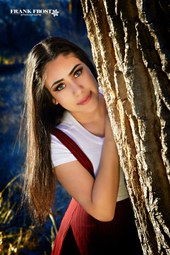 Jasmin Alacala provides a shoulder to lean on and an empathic ear.  Through her compassion she has proven to be an effective leader.  She encourages her peers through her hard work and perseverance in West Mesa High School's Navy Junior ROTC program.  Ms. Alcala also serves as a Best Buddy, helping students with disabilities become active in their school community, ensuring that no one feels alone or isolated.  She is also very passionate about supporting veterans by placing flags at the grave sites of veterans every Veterans Day for the past three years.  The list goes on and on.  Whether as part of a large group working on a community service project or sitting one on one with a peer in need of a friend, Ms. Alcala has shown her selflessness time and time again.     
Nicholas Miller, nex+Gen Academy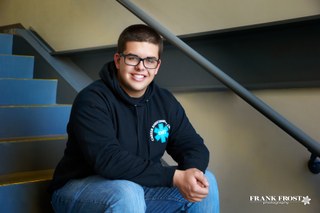 Nicholas Miller is the difference between an elementary school student who feels alone and disenfranchised by school and the student that is excited to read and learn.  Starting in middle school, Mr. Miller started volunteering at Bandelier Elementary School to help tutor first graders in math and reading.  When he reached high school, he walked to Governor Bent Elementary School where he encouraged students to behave their best and cultivated a love of science.  Now, for the past two years, he has volunteered twice a week at Eugene Field Elementary School in the Title I Homeless Project Afterschool Enrichment Project.  Students facing seemingly insurmountable obstacles such as poverty and high mobility have found a champion in Mr. Miller.  Mr. Miller participates in many community events and with multiple organizations as well.  He dreams of continuing to serve his community as a paramedic, with big dreams for the students he mentors as well.   He said he wants these young students with big challenges but even bigger potential to become successful adults.  His biggest fear is having to pick up one of these children from the scene of an incident in the future.  He works tirelessly to ensure he will never have to answer that call.
---
Meet the Class of 2018 Selfless Seniors
Marceliano Varoz
Cibola High School
Marceliano is an inspiration to everyone he meets. He faces many challenges every day because he lives with cerebral palsy, but does not let those challenges keep him from participating in many activities, and also helping others to do the same. Marceliano has worked to ensure that Cibola High School is more accessible by helping to secure funding for school improvements that allow students and community members in wheelchairs to enjoy sporting events. Marceliano participates with many organizations including San Gabriel the Archangel Church to help feed the less fortunate, and Dogwood Therapy Services to help train service dogs. Marceliano works hard each and every day to not only learn and achieve good grades but to make sure fellow students and teachers feel part of a larger school community. He is dedicated to making sure that everyone feels included and appreciated. Lori Mabrey of Cibola High School writes, "He reminds us of our commonalities, and how people, ALL people, deserve respect, to be treated with dignity, and given a chance to live life to their potential." 
---
McKenna Gold
Early College Academy/Career Enrichment Center
McKenna is ready and prepared to represent her school to the community and to advocate for her fellow students as well as those that need someone to speak for them. She tutors her peers in math as part of the Lunchtime Support for Academics intervention program. She raises funds and volunteers her time to support all those impacted by Children's Miracle Network, UNICEF, Roadrunner Food Bank, and Ronald McDonald House Charities. She doesn't even rest on Sundays, where you will find her teaching Sunday School to 1st and 2nd graders. She's the first one to lead a project and the one that will stay to clean up at events and fundraisers. McKenna is described as focused, dedicated and compassionate. Rebekah Floryance, Assistant Principal, writes, "In my experienced career as an educator, McKenna is one of the most impressive students, and individuals, I have met and ever been able to work with. She stands out above her peers as a person who possesses strong leadership skills and a willingness to work with others towards a better community and world."
---
Zach Marshall
La Cueva High School
When volunteers are needed, Zach already has his hand raised. Zach works to ensure that everyone has the support they need to face their challenges, whether it be a health condition, a bully, poverty, hunger or just a lack of guidance and friendship. Zach has the reputation of being the quiet helper, never seeking praise, always offering help. Zach participates in a very long list of clubs and organizations with a focus on service to others including Best Buddies, the Salvation Army, the Safe Student Alliance, the Albuquerque Kiwanians and Key Club, Locker 505 and many more. Zach is an accomplished athlete, student and artist. Even though he has plenty to brag about, Zach is known most of all for his humility.
---
Juliet Velhagen
Eldorado High School
Like many high school seniors, Juliet is a member of numerous clubs, organizations and teams both inside and outside of school, but what makes her stand out is what she does through them. She uses her time to help build up others. No matter how busy she is, Juliet will take every opportunity to help someone in need, from taking on large school projects to just being there as a listener and friend. She has been a volunteer through the National Honor Society and the Spanish National Honor Society and volunteers at the Presbyterian Hospital Pediatric Urgent Care and Montebello Assisted Living Facility, helping people of all ages and backgrounds. An aspiring doctor, her list of volunteer roles has been extensive. Juliet is an accomplished athlete and academic, but when people talk about her, they talk about her incredibly generous spirit. Juliet does not pick favorites; she simply goes where she is needed.  
---
Chris Nance
Sandia High School
Cries for help never go unanswered when Chris is around. If a fellow student needs supplies or a teacher needs help cleaning, Chris is there. Tech support? Chris is there. Outside of Sandia High School, Chris volunteers to feed the less fortunate and he also volunteers his time to assist his tennis coach with practice at Eastern Hills Christian Academy. His family provides a temporary home for APS students waiting to be placed in foster care. Chris helps these students with their homework and ensures that they are not missing any assignments. He still makes additional time to serve his community even as he strives for perfect attendance at school -- he hasn't missed a day yet this year. Chris has been accepted into the New Mexico Institute of Mining and Technology where he plans to study computer science. 
---
Leticia Munoz
Valley High School
Leticia is a blessing to those around her. She is the steady volunteer who helps plan and execute events both on and off campus to engage her school and community. She babysits so her neighbors and family friends can have date nights. She considers her grandfather to be her very best friend. Leticia helped her mother earn her teaching degree by taking care of her younger sister. She holds the title of Cheer Captain and thrives to inspire and encourage her team to the best of their ability. She spends her summers and spare moments helping in the bookroom at Valley High School and even serves as Eucharistic Minister and volunteers Monday nights teaching first grade catechism at her parish. Leticia plans to continue her service to others by joining the US Air Force after she graduates.
---
Sasha Butcher
Volcano Vista High School
Sasha strives to provide a safe and inclusive school environment by helping students interact with each other during lunch, a feat that can seem impossible to an outsider. Sasha volunteers outside of school by helping provide food and clothing to the less fortunate and has been involved in various ways with the patients at UNM Carrie Tingley Hospital. Sasha also volunteers her time as a teen ambassador for Ronald McDonald House Charities.
---
Raidel Lozano
Manzano High School
Raidel is ready to put everyone else first, but also to take the lead when action is needed. He led a community service project to work with the residents of Los Colinas Retirement Home, identifying a need and working hard to meet it. He has also served Special Olympics through the Monarch Madness BBall Tournament and UNM Hospital through the Color Run. And he has been a part of Adopt-a-Student at Youth Development, Inc.
---
Gilbert Carrillo
West Mesa High School
Gilbert has excelled at West Mesa High School through this participation in hands-on STEM (Science, Technology, Engineering and Math) programs provided by the Navy JROTC. Gilbert, or "Gill" as he's known to his friends, has already faced serious adversity in his young life, including becoming a homeless student during his sophomore year. Gill was given a place to live by a very generous and kind family, and now he spends his time helping his fellow students. He serves as a tutor and mentor to his fellow students, helping them not only with their schoolwork, but also as a guide and friend when they face difficult situations at home. Gill is dedicated to improving his community by volunteering for various organizations that support veterans as well as a host of organizations that help those with chronic health conditions. Major Mark Hendricks of West Mesa High School's Navy JROTC writes, "I've been the Senior Naval Science Instructor at West Mesa High School for 20 years. In that time, I've seen many students who have folded up under life's pressure, and who have lived limited lives because of it. Gill's tenacity and sheer will to succeed drive him to success. He is absolutely uncommon among most high school students. When others are failing and blaming their circumstances, Gill succeeds and moves ahead." 
---
Chantel Grave de Peralta
Atrisco Heritage Academy High School
Chantel understands that one person truly can make a difference. She has served as a wildlife rescue volunteer, a nature guide at Albuquerque Biopark, a member of the Atrisco Heritage Environmental Stewardship Club, a volunteer at the Rehabilitation Center of Albuquerque and as a tutor at George I. Sanchez Collaborative Community School. Chantel even volunteered at Carlos Rey Elementary School by reading to kindergarteners. The list of Chantel's efforts to help others goes on and on. 
---
Lev Zavala
Albuquerque High School
Lev was a member of the National Dance Institute of New Mexico where he served as a mentor to other youth. He is currently a committed member of BBYO, volunteering his time to support his local community through meaningful service projects. At Albuquerque High School, he is pursuing the bilingual seal after studying both Spanish and English at East San Jose Elementary. He and his family have continued to be advocates for dual language programs. He has also taken a leadership role as First Sergeant with the JRTOC. Lev has worked to provide food and assistance to the homeless, the elderly and veterans. He is focused on creating a safe and welcoming environment for his fellow students, always offering a helping hand and not expecting praise in return. 
---
Rachel Sanchez
Rio Grande High School
Rachel has always been active in numerous clubs and activities. She's passionate about being committed to her school and the people around her. Rachel has volunteered her time to the community through the AVID Program and Student Senate. Being Junior Class Vice-President and currently Senior Class President really has made Rachel more accountable and a leader. Several service projects have been accomplished with Rachel's help over the past few school years. Rachel not only volunteers with Roadrunner Food Bank but also coordinates the volunteer efforts of her class. Rachel enjoys participating in Thanksgiving Lunch with local senior citizens and APS elementary school students. She organizes different school drives to help benefit those in need such as the victims of Hurricane Harvey, beneficiaries of the Make a Wish Foundation, and many others. Volunteering at church has also allowed her to reach out to new people, and help others in greater ways. With the support of her parents, Rachel still manages to maintain a job and a high GPA. She not only focuses on being successful in her own life but always encourages others to do the same. So many people look up to her as a role model, and she always plans to make them proud. Rachel's a firm believer in, "Act without expectation." 
---
Dominick Apodaca
Highland High School
Dominick is a defender and advocate, and his courage inspires his peers and gives us hope for a better future. He served as president of the Empower Anti-Violence Club, where he helped to create a presentation on unhealthy relationships to help his peers identify and find refuge from unsafe situations. He encouraged 247 of his fellow students to sign the Anti-Gun Violence Pledge, and he organized the Anti-Gun Violence Walk. He serves as a New Mexico Advocate Against Child Abuse. Dominick devotes time to help the hungry, homeless and disabled. He even volunteers with the Petroglyph Little League to share his love of baseball. Despite his own struggles, and even because of them, Dominick is always ready to do anything and everything he can to help those less fortunate.  
There are currently no items in this folder.