Outstanding Corporate Partner
The APS Education Foundation is excited to announce Comcast as their 2020 Outstanding Corporate Partner.

Companies that not only invest both time and treasure, but encourage their employees and the business community to do the same are considered by the APS Education Foundation Board of Directors to be recognized as an Outstanding Corporate Partner.  Past recipients include RayLee Homes:  A New Generation, Alliance Data and Blue Cross and Blue Shield of New Mexico.  These companies not only made direct contributions to the grant programs of the Foundation, but also took time to understand the needs of the district's educators and students and invested their time to meet those needs.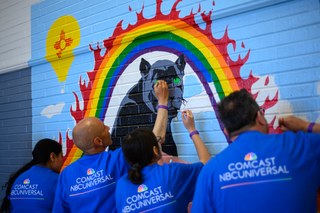 Comcast exemplifies the values of an Outstanding Corporate Partner by the many ways in which they support the work of the Foundation and Albuquerque Public Schools.  Every year in the spring, they host Comcast Cares Day in which they recruit hundreds of volunteers to revitalize a school campus.  Not only does a school and the surrounding community have a cleaner, safer and more friendly place to gather and learn, but Comcast also matches volunteer hours with a monetary contribution to the Foundation's grant programs which supports innovative programs across the district.
Through Internet Essentials, Comcast provides low cost Internet services and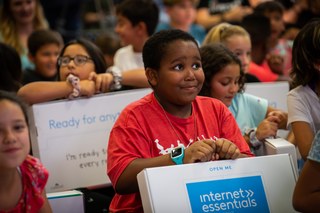 computers to families unable to afford connectivity at home.  They also provide in-person and online digital training classes without the expectation of a contract or extra fees.  Understanding how important it is for students to be able to use technology in order to further their education, Comcast worked with the Foundation and the district to spread the word and last year connected more than 900 families to the Internet.  This past year, Comcast also donated 100 laptops with free Internet to 5th graders at three APS schools.
APS Education Foundation Executive Director Shannon Barnhill states, "They believe in making the future brighter for our students.  Comcast is deeply invested in this community, through service, leadership, empowerment, technology, and innovation.  They represent opportunity and possibility, and remind us how coming together can make a difference.  I will never forget the squeals, smiles and pure astonishment from the 5th graders that received their first computer to call their very own.  Their faces said it all, someone believed in them and wanted to give them a chance to succeed."
Comcast has taken the lead in motivating other businesses to learn more and invest by being a founding Award Sponsor of the Foundation's annual Gold Bar event.  
There are currently no items in this folder.