The APS Hall of Honor

The Albuquerque Public Schools Foundation, with the support of the district, announced the first APS Hall of Honor inductees in 2017 at the inaugural Gold Bar Gala.  The Hall of Honor is now an annual recognition of the sustaining legacy of those who gave their careers to public education and made a difference in the lives of those they worked with.
Do you know someone eligible for consideration in 2020?  Albuquerque Public Schools has been served by a host of  innovators, mentors and trailblazers that made a difference in the lives they touched.  They continue to make a difference in the lives of students every day because of the changes they spearheaded to make the district a better place to work and learn.  Learn more about this year's inductees and consider your nomination for 2020.
---
2019 APS Hall of Honor Inductees
Margaret Clark
Margaret Clark retired from APS in 2006 after 34 years working in the district as a teacher, principal and trainer.  She began her career with APS as a teacher, teaching single grade and mutligrade primary and intermediate students.  She was also a Title I math teacher and Master Teacher.  She went on to earn her license as an administrator and served as principal.  During her tenure as principal of Wherry Elementary School, the school received the U.S. Department of Education Blue Ribbon Award for Excellence.  While at Wherry, Ms. Clark is fondly remembered for ensuring that families felt part of the school and even established a parent room. Parents were also encouraged to participate in professional development opportunities.  Ms. Clark created a positive climate in the school by rewarding positive behavior, and she never failed to dedicate time to each student.  She actively solicited feedback from students, her teachers and staff and parents at every opportunity. 
Ms. Clark is also credited for implementing the Reading Recovery Initiative in APS after becoming a reading recovery teacher in 1999.  She co-authored two publications while serving on the National Board of Directors for Reading Recovery and presented at annual conferences.  As a leader in her field, Ms. Clark taught graduate courses at the University of New Mexico to further educate and support administrators. 
A lifelong learner, Ms. Clark was a passionate advocate for professional development.  Her staff at Wherry made time for professional development opportunities by lengthening the school day so that they could enhance their practice through monthly mini in-services and individual consultations with a literacy consultant.  Ms. Clark pushed her teachers to take risks and learn new strategies.  Her nominator, Pam Kerkmans, writes, "Margaret's vision continues to be this:  The single most important part of student achievement is teacher expertise.  She is a dedicated educational leader as well as a person who has shared her vision with many educators.  Her quality leadership and inspired lifelong quest for 'what are best practices for children' has consistently guided teachers to become focused and effective professionals."
"Margaret Clark is my ultimate definition of an educational leader.  She led by example, she took risks, she studied alongside us, she kept current on research, she went to bat for us and for her students, and she always respected our efforts.  I wish all teachers could experience the enthusiasm and the joy (and the exhaustion!) we experienced during our time with her."  -- Nancy Adams, former employee  
"Margaret was not the kind of principal to stay in her office.  Anyone who was at Wherry at the time remembers Margaret regularly doing line dancing with a gym full of children during lunch recess.  She visited classrooms regularly.  Whether I cam to school very early, stayed late or came in on weekends, it seemed like Margaret's car was usually parked in the principal's spot at school."  -- Roxie Weger, former employee
 "While she continued her strong administrative leadership as principal of Wherry Elementary School, she took on the development of a strong cadre of Reading Recovery teachers for the district.  While the goal of Reading Recovery is the accelerated learning of the most struggling first graders, the focus of the Reading Recovery program is the intensive learning of the Reading Recovery teachers in the developmental process for a child - how to recognize and honor what the child knows and brings with him or her, and how to support that, build on that, and develop the abilities that create a strong reader.  Only by carefully examining our practice as teachers were we able to learn to be successful with these struggling students, and that examination could only be done in a collegial and respectful environment - which Margaret has a unique gift for creating.  While APS no longer has a Reading Recovery program, Margaret's legacy lives on as her Reading Recovery teachers have moved on as reading intervention teachers, instructional coaches, classroom teachers and administrators with a strong understanding of how children learn and teachers teach."  -- Barbara Petersen, former Reading Recovery teacher
 Video filmed and produced by the film students of Valley High School  
---
David Ostrovitz
David Ostrovitz retired from APS in 2012 after 34 years as a guitar instructor at Manzano High School.  Before Mr. Ostrovitz (or "Mr. O" as he is remembered by his students and colleagues), there was not a guitar program at Manzano High School, so he built one.  Starting with feeder schools to get the word out, in just a few years his classes were brimming with students. 
Mr. Ostrovitz took a leadership role in providing students the gift of music, and he worked to ensure that his fellow teachers were equipped so that their students could reap the many benefits that music instruction provides.  Mr. Ostrovitz served as the chairman for the APS Guitar Committee for 25 years, he provided methods, curriculum and materials for guitar instructors, he presented workshops at the New Mexico Music Educators Association (NMMEA) and he created a pilot program that resulted in the first formal inclusion of guitar programs at the NMMEA All-State Music Festival.  The list goes on, as Mr. Ostrovitz also created two levels of music technology classes.  He trained students to serve as sound crews and recording engineers that not only served the school but the district.  His students continued to benefit from his hard work and passion as he provided internships with local recording studios, radio stations and live sound companies.
His nominator, Carla Erickson, writes, "David Ostrovitz was not only a successful and popular guitar teacher at Manzano High School, but he was personally instrumental in keeping students enrolled in school.  It was his program that not only encouraged students to stay involved in the educational process, but also gave them an incentive to embrace other educational endeavors.  David Ostrovitz knew they were capable of accomplishing more beyond their expectations.  He never gave up on them."
"David Ostrovitz, 'Mr. O' as we know him, is one of the most profoundly inspirational human beings that I have ever had the pleasure of knowing.  It takes a certain skill set to go onstage and rip a mean solo that melts the faces off 10,000 screaming fans in a stadium, but having the energy to stay after school setting up a sound system at 3:45pm on a Friday after a full week of seeing over 350 students a day, to show kids how the pros run live sound for the big timers, is another skill set entirely.  Mr. O has been an amazing man in my life.  Today I consider him my life mentor, a friend and always my teacher.  His unwavering support and his steadfast spirit have inspired me to be the best person I can be, on and off the strings.  I aspire to one day be half as courageous, empathetic, passionate and friendly as Mr. O has been to me for the entirety of our relationship.  He's been a father figure to me for all these years.  Music is my life, my passion, and in many way's it's Mr. O's fault that I've ended up this way!  I'm thankful to him from the bottom of my heart."  -- John Maestas, former student and co-founder of Bubble Bath Records
"There are very few people who have had a bigger influence on our community than David Ostrovitz.  David, though he spent his career as a music teacher, is one of those universally beneficial individuals who have transcended any kind of occupational niche or discipline to reach into the very fabric of how we teach and treat all our children, and for all of their lives." -- John Truitt, Director of Bands and Guitar, Albuquerque Academy (Emeritus)
"As his student, he always propelled me forward.  He taught me how to be a good teacher, and also that learning and teaching work in a circular fashion.  The fact that someone sat patiently with me and taught me all of the things I learned means that I have a responsibility to repay that kindness, and to pay it forward to the next generation of young guitarists.  It is with much pride and gratitude that I can proclaim how profound Mr. O's influence was in changing the direction of my life to be truly as creative as I am, and to be my own boss.  I get to do exactly what I love and feel like I am doing exactly what I ought to be doing with my life.  His gentle heart, zen like approach, open mind and generous soul still live inside all of us that are blessed to have been his students."  -- Claudio Tolousse, former student and musician/artist/podcaster 
 Video filmed and produced by the film students of Valley High School  
 View photos from the 2019 Hall of Honor Plaque Unveiling
Do you know an individual that should be 

considered for the 2020 induction?
Please review the following criteria and then nominate them here.
Nomination Criteria:
Nominees may be living or deceased.
Nominees must have at least fifteen years of employment within Albuquerque Public Schools.
Nominees, if living, must have been retired for at least three years.
Couples or pairs will not be considered for an induction together unless they share the same body of work.  Couples or pairs that worked at different locations in different roles will be considered on their own individual merit, body of work and impact.  
Nominees should demonstrate good conduct and character.
Nominations should recognize individuals who have made significant and noteworthy contributions to the lives of their students, their schools and/or the district as a whole.
Nominees, if living, should be available to attend the presentation ceremony during the Gold Bar Gala in the spring of 2020.
Letters of support must be received from at least three individuals who can testify to the impact of the nominee's career in education. Letters of support must come from non-family members. No more than three letters of support will be accepted.  Letters of support written by the nominator will not be accepted.  
---
2018 Hall of Honor Inductees:
Mary Ann Anderson
Mary Ann Anderson began her 37-year career in Albuquerque as a kindergarten teacher at Mission Avenue Elementary School. She taught and served as an administrator in several schools within the district, including Monte Vista Elementary, Armijo Elementary, Marie Hughes Elementary, Alvarado Elementary, Stapleton Elementary, and Chaparral Elementary.
Notably, Ms. Anderson opened a new school, Stapleton Elementary School, in the fall of 1990. Then part of the Albuquerque Public Schools district, Stapleton Elementary was named for Ernest Stapleton, a former superintendent of APS and an advisor to Ms. Anderson.
Ms. Anderson retired in 1999 and then returned to APS in 2002 to work in the APS Service Center before retiring for good in 2008.
In 1979, Ms. Anderson served as a clinical supervisor in a joint APS/UNM program where she supervised student teachers in the final years of their teacher education programs.
In 1978 and 1982, Ms. Anderson served as a master teacher, and through this program worked with other master teachers to provide knowledge and guidance to new teachers.
She has been recognized by the New Mexico Association for Education of Young Children for her work in early childhood education and served as president in 1982-83. She was awarded Principal of the Year in 1994 by the New Mexico Association of Education Office Personnel. In addition, Ms. Anderson served on numerous district committees to help APS best serve its students.
Ms. Anderson had the good fortune of working with some of the best early childhood educators in Albuquerque, including Marie Hughes, Catherine Laughlin, Ernest Stapleton, Mary Ann Binford, Steve Hess, and Hugh Prather. Always willing to learn new methods and skills and put them into practice, Ms. Anderson is highly regarded by her peers for her mentorship, her leadership by example, and her incredible knowledge that she shared with many.
Numerous educators and administrators shared their experiences of working with Ms. Anderson to support her induction. Nancy Lacher, former principal of Seven Bar Elementary School, writes of Ms. Anderson, "She helped me open Seven Bar, unpacking boxes, moving into the building, encouraging me when I felt overwhelmed and guiding me. All of that guidance and support continued when she took a job at the Service Center. During her time there I was always relieved when I could talk over a situation with her and listen to her advice as well as receive her support. She cared deeply about the lives of the teachers she worked with and the students in her school community. She worked tirelessly for students. She believed in people. She advocated for her teachers. She cared about education. She was a constant learner. She dedicated her life to teaching and learning. She was a thinker."
Ms. Anderson states, "I am a firm believer in the value and importance of our public schools and the people who staff them. I loved going to work every day. The years I spent with APS were a wonderful opportunity for me to contribute to my community."
---
Mark Shea
Mark Shea began his 30-year career at APS as a dispatcher with the APS Security Division in 1976. He became a sworn officer a year later, and in 1989 was promoted to sergeant. In 1991, Mr. Shea became the Deputy Chief of the APS Police Department. He retired 15 years later in 2006.
Understanding fully the critical role the APS Police Department provides in the education of our students by providing a safe environment in which they learn, Mr. Shea worked tirelessly over his three decades with the district to build a security division into a police department that valued character. Students were at the heart of his work, and he believed a strong police department worked within schools, not outside of them, to let students and employees know they had protection and support. 
A life-long learner, Mr. Shea attended the Northwestern University School Police Command Staff Training in 1989 and the FBI Academy in 1999. In 2000, Mr. Shea received his B.S. in Occupational Education in Human Services. Mr. Shea led by example, and took every educational opportunity to grow his knowledge-base and teach others. Even after he left APS, his support and guidance continued when he became an instructor and then administrator at the New Mexico Department of Public Safety. Mr. Shea continues his service to the community as the current Undersheriff for the Valencia County Sheriff's Office.
Mr. Shea's career is remembered by his peers as one in which each and every APS police officer may be proud. He worked with many programs aimed at protecting children and keeping them on track to live a successful life. He served on a blue ribbon committee to divert at risk youth from the criminal justice system, and he worked with juvenile probation officers. He also worked with the U.S. Attorney's Safe Street Initiative and many other programs. Mr. Shea counseled students directly, to show them a path to a future without hopelessness and violence. He was a mentor to both his staff and the students he was sworn to protect. 
Mr. Shea designed the patch now worn by all APS police officers, which includes the pillars of character and the motto, "Safeguarding our Future." 
Both Mary Ann Anderson and Mark Shea displayed a deep reverence for education in their careers with APS. They both not only taught and served as mentors, but they never stopped learning. They provided instruction, but never gave up on being students themselves.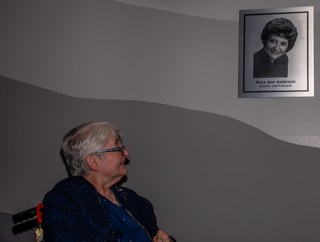 Mary Ann Anderson views her plaque at the Bruce and Alice King Educational Complex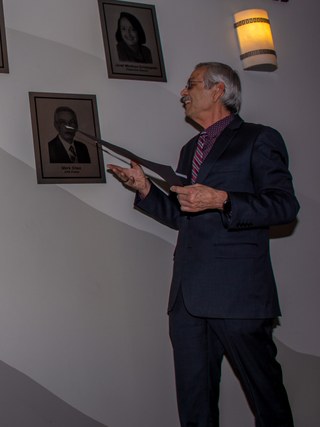 Mark Shea unveils his plaque at the Bruce and Alice King Educational Complex