Employee Wellness Incentive Program
The APS wellness program brings a whole-health perspective and provides a wide range of well-being options to every employee. The wellness incentive program is open to all full-time employees.
Incentive Program Quick Links
About the NEW 2023 Wellness Incentive Program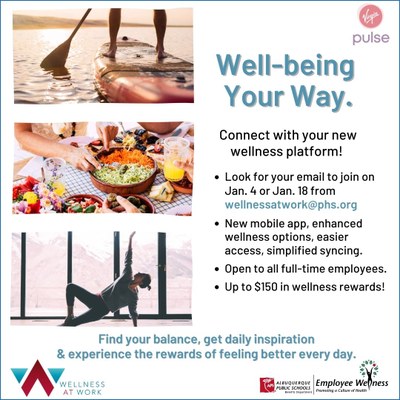 APS partners with The Solutions Group (TSG) to bring you a variety of well-being programs. This year we are happy to announce the Wellness at Work program is getting a significant upgrade with a new platform called Virgin Pulse.
Find your balance, get daily inspiration, and experience the rewards of feeling & functioning better every day! 
The new mobile app has enhanced wellness options, easier access, and simplified activity syncing.  Registration on Virgin Pulse began on January 4, 2023.  Emails were sent to all full-time employees on Jan. 4, Jan. 18, and Feb. 23 with an invitation link and instructions to join. You will access your new Wellness at Work platform with the same username & password.  New users can easily register in less than 5 minutes. This is open to all full-time APS Employees.
To register:
  All eligible, full-time employees received several emails from 
wellnessatwork@

phs.org
 to join the new program on January 4,18, February 23, July 11, and early October. You can search your email box
for
wellnessatwork@

phs.org
under those dates to get your unique link and instructions if you missed it. 
Or, click the red "Log into your Wellness at Work Program" above.
Note: 

If you are a full-time employee
NOT
covered under an APS Benefits plan, register under "
non-covered"
APS employee. Even if you have Presbyterian, Cigna or BCBS under another employer plan (i.e. spouse/partner plan)  
The 2023 wellness incentive program is a voluntary, point reward system. It is open to all full-time APS employees regardless of whether they are enrolled in APS Benefits. Spouses and dependents are not eligible for this reward program.
Please note: APS transitioned to this new well-being platform in January 2023. Participants needed to redeem points for rewards earned through 2022 by December 31. Participants received two emails indicating this change and that points would not carry over.   
How Are Points Tracked?
All wellness incentive points are tracked and logged through Wellness at Work/Virgin Pulse. The Virgin Pulse/Wellness at Work platform fully integrates with activity trackers and has a complimentary Virgin Pulse app to help you track activities/exercise, steps, food, water, and more. You can use the app with a fitness watch/tracker and it will automatically sync to your program. 
Wellness At Work Program Dates
The wellness incentive program runs for a calendar year from January 1, 2023, to December 31, 2023.
All points must be redeemed by Dec. 31.
If points are not redeemed by Dec. 31 they are forfeited. 
Please note: There is no longer a premium reduction plan in place.