Get Involved
Do you support what we do and want to get more involved? Apply to be an intern, volunteer, or donate to the SMNHC.
Volunteer Daniel teaching in front of a whiteboard at an outdoor classroom.
Ways to Get Involved
Internship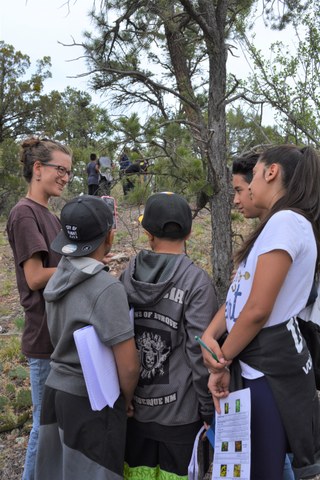 Lead 4 hour environmental education programs/hikes daily for 20-30 5th grade students at a time, at the SMNHC and sometimes across New Mexico (travel expenses provided). Attend events and special programs to lead activities and provide information about the SMNHC. Work on developing new educational activities/lessons, collect scientific research data, assist with trail maintenance, and other projects as assigned.
Recently, we have been partnering with Valle de Oro National Wildlife Refuge to hire an intern through Student Conservation Association (thesca.org).  Intern time and duties were split between working for the refuge and us.
Typical Intern Qualifications
Received or working on a Bachelor's degree in Environmental Studies, Education, Biology, Ecology or other applicable area.  Some prior experience working with children, doing environmental education, and working/recreating in the outdoors. Interest and excitement in teaching environmental education programs. Ability to hike our trails and spend hours outdoors in variable weather.
Our intern receives a living stipend and housing in a casita (small house) on-site in the mountains in Cedar Crest, NM.
Volunteer with the SMNHC!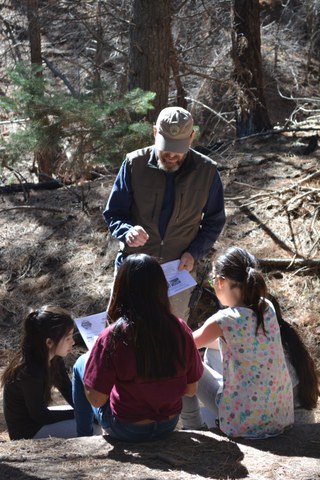 Our volunteers bring a wide variety of backgrounds and skills with them and have been valuable assets to the SMNHC for as long as the Center has been running.
We try to have volunteers start at the beginning of the fall or spring semester, to begin shadowing school groups and learn how our program operates. To volunteer with us, you need to be available to come on weekdays, from morning to early to mid afternoon.
The primary job of volunteers is to go along with 5th grade classes during our Ecology Field Program.  Your job is to make sure everyone stays together, assist students in doing activities, help with complications that may arise, and share your own particular knowledge and interests as you'd like with the class.
Volunteers often come to us through the Bernalillo County Master Naturalist program, or by contacting us directly. Email paul.mauermann@dca.nm.gov to inquire about becoming an SMNHC volunteer.
Volunteer Projects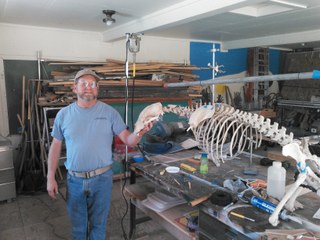 Beyond assisting with programs, volunteers may eventually be able to contribute an additional skill or project if desired, secondarily to working with school groups.
Work and projects our volunteers have contributed to:
Teaching the Ecology Field Program themselves (based on experience/knowledge and after thorough training in the program)
Teaching the Traveling Ecology Field Program on outreach trips around the state
Construction projects and trail maintenance
Leading hikes on public days
Developing new ecology activities
Creating field guides for the SMNHC (including a wildflower guide that is now a published book!)
Building indoor or outdoor exhibits (bear skeleton, geology wall, benches)
Taking photos and creating videos
Many of the projects and teaching equipment that are used on a daily basis were made possible by generous donations to the Sandia Mountain Natural History Center. With a limited budget, most of the SMNHC's funds go into everyday operational costs. To make improvements to the trails and facilities, create new programs, or purchase field equipment, the SMNHC relies on donations and grant funding.
Contact Director Paul Mauermann to discuss donating to the SMNHC by email at paul.mauermann@dca.nm.gov or by phone at (505) 281-5259 x1.
Over the years, donors have helped fund:
Landscaping the Daniel Bush gardens 
A solar hot water heater 
Building supplies for outdoor classrooms 
Landscape timbers 
Rainwater harvesting barrels 
Scientific field equipment 
 A memorial bench