Counseling Services
Contact Information
Physical Address:
6400 Uptown Blvd. NE Suite 395 West Albuquerque 87110 Map
Phone: (505) 855-9826
Fax: (505) 855-9860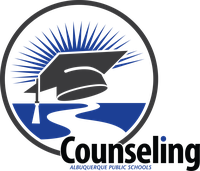 About Us
Counseling Services is made up of multiple programs, working in tandem to support Professional School Counselors K-12. Together these programs address social/emotional, academic, and career development supports which make up Comprehensive School Counseling Programs at the school level. While each program addresses a different need, they all provide consultation, resources, and support to over 250 Professional School Counselors across the District.
This includes Elementary, Middle, High School, College and Career Readiness, Crossroads/Substance Abuse, and The District Stress Management and Response Team. When our Counseling programs are their best we can ensure collaboration, purposeful interventions, and equity so that all students may develop their highest potential.
Mission
In partnership with Albuquerque Public Schools District Leadership, administration and the community, the district counseling office provides professional development and resources to support the implementation of a comprehensive, data-driven school counseling program following the American School Counselor Association National Model. We advocate for developing school counseling programs that ensure equitable access for all students to help them achieve their fullest potential with the capacity to overcome real-world challenges.

@APSCounselors
Physical Address:


6400 Uptown Blvd. NE Suite 395 West Albuquerque 87110

Map
Main Phone:

(505) 855-9826

Fax:

(505) 855-9860