Employee Wellness News
May 2021 Employee Wellness Newsletter
Check out all the APS employee wellness events as well as the latest fitness and nutrition in the news!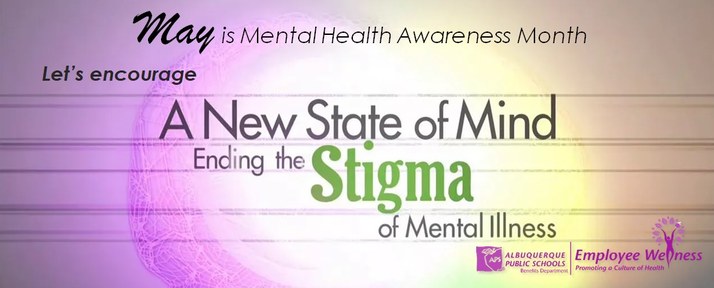 May 4th Wellness Wire: The Racehorse & The Jockey
Last weekend was a beautiful showing of Spring! There was also another magnificent showing by way of a historic sporting event happening in my hometown of Louisville, Kentucky.  The Kentucky Derby. That's right, y'all. The Derby is a parade of fancy hats, expensive suits, horse racing, and other events culminating in a display of the world's finest fillies. The fastest 2 minutes in sports.
There is a lot of pomp and circumstance around the Derby. But what always surprised me about the sport of horse racing is what many of us don't notice.
Most marvel at the horse - of course. Dawn at the Downs and the early morning wash down of the horses is truly something to see. It's obvious these chiseled, majestic creatures are powerful.  
Can you imagine what it takes to ride one? The filly can only carry 121 pounds total so the jockey can't weigh more than 115 lbs. The rider is in a hovered position with only the ankles and big toes gripping a 1000-pound horse running an average of 45 miles per hour for 1 ¼ mile.
I spoke with a professional jockey once and he told me how aggressive the sport is. During the race they are constantly fighting for position in close quarters pushing, pulling, balancing, and maneuvering a sprinting horse against raging competitors. There's a lot going on we don't see.
Some physiologists believe that pound for pound, jockeys are amongst the fittest, strongest athletes of all sports. They certainly don't look it.
What does that have to do with you? Maybe nothing. You might be the racehorse, who everyone recognizes for the obvious, outside appearance of strength and athleticism. 
Or you might be th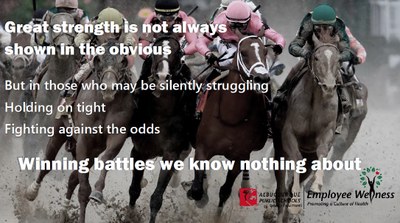 e jockey. Exhibiting endurance, balance, and grace where others don't see it. Fighting against the odds. Struggling to hold on. Packaged in a body no-one would expect.
The same is true with our mental health and wellness. There's a lot we don't see. We don't all look, or feel, like a pillar of strength. And that's okay. 
For more wellness and fitness trends in the news, read the May Wellness Newsletter!
Your best bet to stay connected with all things employee wellness is to sync with the Google event calendar, Facebook, Twitter, and Instagram accounts.  If you have any questions, contact Becky MacGregor: becky.macgregor@aps.edu.