Employee Wellness News
January 2023 Employee Wellness Newsletter
Time spent meeting your needs. Win a healthy, catered lunch with the February School vs School Heart to Heart Challenge! Scroll down for information on the NEW wellness platform.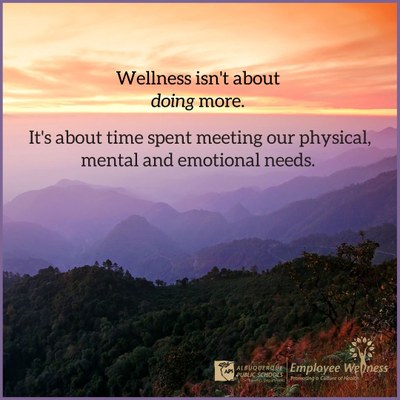 Wellness Wire - Make Wellness Time Spent Meeting Your Needs
We are a couple of weeks into the new year. How's it going? I don't necessarily want to call out the obvious but  - you know - we've been here before. A new year. New aspirations, resolutions, goals, whatever we want to label them.
I think we do this because we have an innate desire to live a life where we feel like we're thriving, growing, learning, and being successful. A life where we experience connection, purpose, and inspiration. We also have the desire to feel and function well; with less stress and anxiety and with more energy and mobility. This is why every year we go down this rabbit hole of new year's resolutions. If we're not experiencing some of those things mentioned above, we want something to change and a new year signifies a chance to do just that.  
If these first two weeks have been bumpy, you may be thinking you've already messed up, didn't do what you thought you should do, or maybe already fallen off the proverbial wagon of whatever habit you're trying to hold on to. Initial setbacks make it harder for us to keep trying. When we don't feel like we're successful, it's demotivating which is what leads to quitting.  We get stuck, stall and then stop.   So, let's stop the stall and address a couple of mindset shifts to keep you motivated. 
Mindset Shift #1: Wellness is another thing to do → Wellness is time spent meeting my needs.
Typical wellness - the way many of us may approach it - feels like it's asking us to do more. We're already doing too much. This is why we stall right about now. We have complicated, busy lives and feel the pull of competing priorities. Those tasks push the priority of our wellness right off the list. 
But at the heart of most of our job and life dissatisfactions, which lead to unhealthy lifestyle behaviors, are unmet basic, safety, and psychological needs.  Instead, think of wellness as time spent meeting your emotional, mental, and physical needs.
It's time spent...
moving to relieve stress or ease the ache of stiff muscles and joints.
nourishing our bodies for sustained energy and better health.
creating time and space - no matter how short - in the morning to set our intention for the day.
breathing and stretching through the workday.
turning off the TV/Internet and using the evening for motivational reading, relaxation, inspiring hobbies, or mindfulness. 
These are real needs. We all have them. But we have become disconnected from taking the time we need to care for ourselves with the thought that everyone else's needs supersede our own. They don't.
Mindset Shift #2: I don't have time → I will be flexible and integrate wellness throughout the day.
The time spent meeting our needs may change from thirty minutes one day to five the next and maybe a whole hour on the weekend. Have a plan but be flexible with it. This is really one of the best pieces of advice I have given over the years. Allow yourself to be flexible and change your expectation when the day changes.
It's really ok if you plan a 30-minute workout but only get 15. It's okay if you plan a lunchtime walk but work or life happened and you only squeezed in a stretch. Something is better than nothing - so celebrate it.
Also, instead of negative self-talk about what didn't happen, flip the narrative to "This is what I DID do." This can work in ANY area of our lives whether it's exercise, food, substance overuse, or stress management.  For example, I didn't get a week's worth of meal prep on Sunday but I did pre-cook two meals.  I just allowed my expectation to change and decided I'm happy with what I did do versus what I didn't. The other nights my kid can eat frozen mozzarella sticks (jk;).
When we approach wellness with this growth mindset and by integrating it throughout our day, we are in constant connection with what we need when we need it.  It becomes more fluid and mindful when we act in the present to deal with stress, tightness, frustration, or emotional eating/drinking. We also tend to have the capacity to react to conflict situations with more patience and understanding when we're proactively managing our wellness in this way.
Mindset Shift #3: I want to lose weight → I want to feel & function better
We can't get away from the very real weight loss resolutions so many people put on themselves this time of year. Yes, for injury, illness, and other health reasons weight loss is important and some people may need it. Obesity is a chronic disease with a huge mental, emotional and financial impact on our society. Exercise and better nutrition for strength, mobility, agility, injury prevention, offset weight gain, and staying functional as we age are very important. 
But shifting our mindset so that we're focusing on how certain behaviors make us feel versus how much weight we're losing is a more sustainable behavior change strategy. It's also more motivating. We're putting emphasis on the very real benefit of feeling and functioning better versus a number on a scale that can fluctuate drastically.
Weight loss may be important depending on a person's health status but it's not the only measure of success. The intrinsic benefits of movement and better nutrition for more energy, an enhanced immune system, less illness/injury, the ability to travel, hike and play with grandkids, and less stress and anxiety give us so much more value.
When we connect to the feeling we're able to maintain the action and make it a habit because we feel good about it - successful.  So, if weight loss is a goal give yourself other measures of success in this area. The options are limitless. One client I had years ago wanted to be able to hold her grandchild and feel safe going up and down the stairs. So, along with other things, that's what we worked on. Maybe your thing is around food, social media, or bedtime habits.  You can connect an inspiration-like goal to it. Something that piques your interest, ties into a passion or joy. 
Finally, a word about true rest and downtime. If we really want to embrace this new year with a mindset of meeting our needs, realize that downtime doesn't have to have a production value to it.  We'll attach our worth and success to that value. It's how we get into the trap of feeling like wellness is one more thing to do instead of a state of being and feeling well. (FYI- it's okay to chill out and read something that has absolutely NO professional/personal development tied to it:)
As we move through this month, my encouragement to you is to consider your wellness needs on a more personal level. Think about how you want to feel versus what you have to do.   APS employee wellness has resources to help you along this journey with free health coaching, a new well-being platform, Life on Mindfulness, Eating with Purpose, Living  Financially Well and so much more below! Connect - engage and be well! 
January 3 Wellness Wire - Live Inspired 
February Heart to Heart Challenge!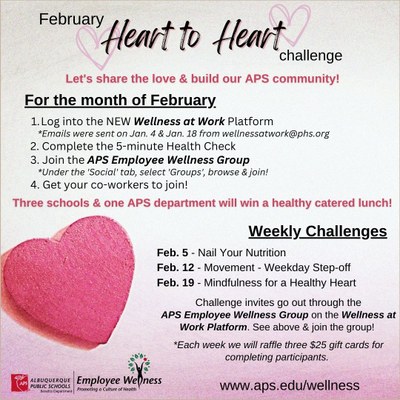 Let's get social and share the love by building and supporting our APS Community! See below for a school vs school challenge and an APS department challenge for a healthy, catered lunch, and weekly challenges everyone can participate in for gift card raffles.  
Step 1: Feb. 1- 28 Join & invite co-workers to:
Register on the Wellness at Work platform. (Email invites went out on Jan. 4 and Jan. 18 to all full-time employees. The email came from wellnessatwork@phs.org. Do an email search for this information.)

Complete the 5-minute health check.

Join the APS Employee Wellness Group.  (On Wellness at Work, under the "Social" tab select Groups, then Browse Groups- search "APS Employee Wellness" and click "join us")
The challenge will be between the 3 main school groups: elementary, middle, and high schools. (K-8 will be in the appropriate school size category. APS Charters under NMPSIA do not apply.)The greatest % of employee completion per location/group of all 3 steps wins a catered, healthy lunch. To clarify, there will be one elementary school winner, one middle school winner, and one high school winner!  Who's feeling a little competitive?!
We are also catering a healthy lunch for the APS Department which garners the greatest % of employees (per the total number of employees) of all 3 steps above.  Whoop!! Let's go APS! 
*Employees who have already enrolled and completed steps 1-3 are already counted in the totals. 
Step 2: Join us in a Weekly Challenge!
Feb. 5 - Week #2 - Nail Your Nutrition 
Feb. 12 - Week #3 - Movement - Weekday Step-off
Feb. 19 - Week #4 - Mindfulness for a Healthy Heart

Challenge Invites will go out through the APS Employee Wellness Group. (See above & join the group!) Weekly challenges are activated each Sunday. Each week, we will raffle off three $25 gift cards for all who successfully complete the challenge. 
If you have any questions, please contact APS Employee Wellness at employee.wellness@aps.edu.  
Register for the new Wellness at Work Well-being Platform!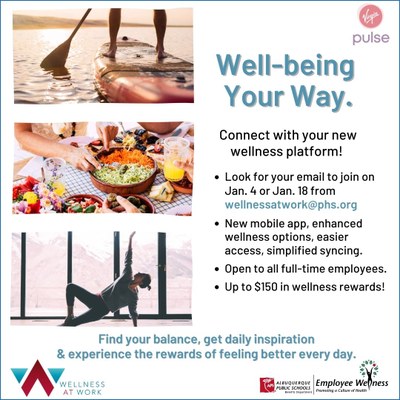 APS partners with The Solutions Group to bring you a variety of well-being programs as well as the Wellness at Work platform and employee wellness incentive program. We are happy to announce our well-being program had a significant upgrade in the transition to a new platform called Virgin Pulse. The wellness program through the Solutions Group is still called "Wellness at Work" but the platform is hosted on Virgin Pulse.
The new mobile app has enhanced wellness options, easier access, and simplified activity syncing.
Full-time employees received an invitation email on Jan. 4 and Jan. 18 from Wellness at Work  wellnessatwork@phs.org (it's not spam) titled, "Sign up for your NEW well-being portal and start earning today." or "Get started on your wellness journey. Register today!" 
Access your new Wellness at Work platform with the same username & password.  New users can easily register in less than 5 minutes. This is open to all full-time APS Employees. 
Note: If you are a full-time APS employee covered as a dependent under the Presbyterian Health Plan, register as a 'non-covered' APS employee. IF you are a full-time employee NOT covered by APS Benefits plan, register under "non-covered" APS employee. 
The 2023 APS Employee Wellness Incentive Program runs from Jan. 1, 2023 - Dec. 31, 2023. This is a voluntary wellness reward system for all full-time employees.
January Monthly Webinars
Every month APS employees now have access to a variety of well-being webinars. All webinars are recorded.  All the information and links/QR codes to join are in the Employee Wellness event calendar.  Register and receive the recording for on-demand viewing at a time that is convenient for you.
Tuesday, Jan. 17-Feb. 21, 4:30-5:15- Eating With Purpose-  6-week live/virtual nutrition series. Register and receive the recording and materials to view at a time that is convenient for you.
Wednesday, Jan. 18, 12:00-1:00 pm - What is the quality of your motivation? 

Wednesday, Jan. 18, 8 a.m. or 12 p.m., 15 minutes:

 Three R's for New Year Well-being
Tuesday, Jan. 24, 3:30 - 4:15 p.m. - Living Financially Well
Thursday, Jan. 26, 12:00-1:00 pm - Cooking Show - Ease into the new year with healthy crock pot recipes!

Mindset Monday, Jan. 30, 12:00 p.m. 15 minutes:

 Shift to Positive Thinking
Virtual and Email-Based Wellness Opportunities 
On-Site Wellness 
Short wellness presentations for school staff and APS departments. We can tailor to your needs and fit time ranges from 15-60 minutes. Some topics include:
Just the basics - APS wellness benefits and resources
Stress, Burnout, and Resilience
Social well-being
Sleep
Nutrition
Financial Well-being
Ergonomics and Musculoskeletal Health
Understanding Healthcare & Medical consumerism
Schedule 
Pet Therapy

! 

This is for APS employees. If you would like to offer your staff or department a couple of hours of furry-cuddle-stress-relieving therapy time, fill out this request form. Please note that accommodations must be made for any colleagues who have allergies to dogs. 
Group Exercise Classes 
Class Schedule
Monday (virtual) 6 to 6:30 a.m.:

 Sunrise Yoga link to join is in the APS Employee Wellness event calendar.

Monday (in-person) 4:45 to 5:30 p.m.:

 Gentle Vinyasa Yoga. Location: City Center/Rio Grande OR Arroyo Chico Rm

Tuesday (in-person) 4:30 to 5:15 p.m.:

 Gentle Vinyasa Yoga. Location: Helen Fox Complex, 1730 University Blvd. 2nd-floor wellness room. 
Thursday (in-person) 4:45-5:30 p.m.: BodyBalance - A fusion of bodyweight, yoga, and core sequencing for a total body strength and flexibility class.  Location: City Center/Arroyo Chico 
About the classes
In-person group exercise classes are at City Center/Alice & Bruce King Complex or Helen Fox.
In-person classes are 45 minutes in length and all levels are welcome.
Classes are free for APS employees. 
Questions
If you have any questions contact Becky MacGregor by email at employee.wellness@aps.edu. 
Wellness in The News
Your monthly dose of fitness, nutrition and wellness trends!
Recipe: Golden Overnight Oats

It remains to be determined what is the sweet spot for daily fermented food intake concerning microbiome health, but these make-ahead overnight oats are good for the gut.