Employee Wellness News
February 2023 Employee Wellness Newsletter
February is National Heart Month! Join the Heart to Heart challenge and win a healthy catered lunch and chair massages for your school or department. Monthly webinars and more fitness and nutrition trends in the news.
Win a Chair Massage & Healthy Catered Lunch!

Let's get social and share the love by building and supporting our APS Community! See below for a school vs school challenge and an APS department challenge for a healthy, catered lunch and CHAIR MASSAGES! We also have separate weekly challenges everyone can participate in for gift card raffles.  
Step 1: For the month of February, join & invite co-workers to:
Register on the Wellness at Work platform. (Email invites went out on Jan. 4 and Jan. 18 to all full-time employees. Another email will be sent on Feb. 23. The email is from wellnessatwork@phs.org. Do an email search for this information. Follow the instructions through the email links to register.)

Complete the 5-minute health check.

Join the APS Employee Wellness Group.  (On Wellness at Work, under the "Social" tab select Groups, then Browse Groups- search "APS Employee Wellness" and click "join us")
The challenge will be between the 3 main school groups: elementary, middle, and high schools. (K-8 will be in the appropriate school size category.)The greatest % of employee completion per location/group of all 3 steps wins a catered, healthy lunch AND chair massages! To clarify, there will be one elementary school winner, one middle school winner, and one high school winner!  Who's feeling a little competitive?!
We are also catering a healthy lunch and chair massages for the APS Department which garners the greatest % of employees (per the total number of employees) of all 3 steps above.  Whoop!! Let's go APS! 
*Employees who have already enrolled and completed steps 1-3 are already counted in the totals. 
Step 2: Join us in a Weekly Challenge!
Feb. 5 - Nail Your Nutrition 
Feb. 12 - Movement - Weekday Step-off
Feb. 19 - Mindfulness for a Healthy Heart

Challenge Invites will go out through the APS Employee Wellness Group. (See above & join the group!) Weekly challenges are activated each Sunday. Each week, we will raffle off three $25 gift cards for all who successfully complete the challenge. 
If you have any questions, please contact APS Employee Wellness at employee.wellness@aps.edu.  
Register for the new Wellness at Work Well-being Platform!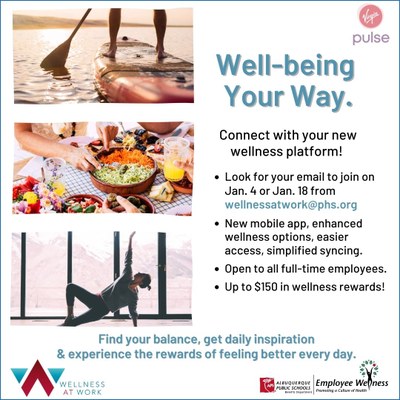 APS partners with The Solutions Group to bring you a variety of well-being programs as well as the Wellness at Work platform and employee wellness incentive program. We are happy to announce our well-being program had a significant upgrade in the transition to a new platform called Virgin Pulse. The wellness program through the Solutions Group is still called "Wellness at Work" but the platform is hosted on Virgin Pulse.
The new mobile app has enhanced wellness options, easier access, and simplified activity syncing.
Full-time employees received an invitation email on Jan. 4 and Jan. 18 from Wellness at Work  wellnessatwork@phs.org (it's not spam) titled, "Sign up for your NEW well-being portal and start earning today." or "Get started on your wellness journey. Register today!"  Another email will be sent on February 20.
Employees on the previous platform can access your new Wellness at Work platform with the same username & password.  New users can easily register in less than 5 minutes. This is open to all full-time APS Employees. (*Additional instructions are in the APS employee wellness event calendar.)
Note:
 If you are a full-time APS employee covered as a dependent under the Presbyterian Health Plan, register as a 'non-covered' APS employee. 
If you are a full-time employee NOT covered by APS Benefits plan, register under "non-covered" APS employee.
The 2023 APS Employee Wellness Incentive Program runs from Jan. 1, 2023 - Dec. 31, 2023. This is a voluntary wellness reward system for all full-time employees.
February Webinars
Every month APS employees have access to a variety of well-being webinars. All webinars are recorded.  All the information and links/QR codes to join are in the Employee Wellness event calendar.  Register and receive the recording for on-demand viewing at a time that is convenient for you.
Tuesday, Jan. 17 through Feb. 21, 4:30-5:15- Eating With Purpose-  6-week live/virtual nutrition series. Register and receive the recording and materials to view at a time that is convenient for you.
Wednesday, Feb. 15, 12:00-1:00 pm - Mindfulness for Health and Healing
Wednesday, Feb.15, 8 a.m. or 12 p.m., 15 minutes: Sleep and the Heart Connection
Saturday, Feb. 18, 10:00-11:00 Life on Mindfulness Contemplative Meditation
Thursday, Feb. 23, 12:00-1:00 pm - Cooking Show - Breakfast for Dinner!
Mindset Monday, Feb. 27, 12:00 p.m. 15 minutes: The Benefits of Non-Sleep Deep Rest
Virtual and Email-Based Wellness Opportunities 
Life on Mindfulness: Check out the new Life on Mindfulness website with the password APSLOM. This is a free, flexible program for all employees that offers daily drop-in meditations, new weekly and monthly content, featured meditations, and Saturday workshops. Everything is recorded for on-demand access. Links for daily drop-ins and the Saturday sessions are in the APS Employee Wellness Calendar. Enroll in the

 Life on Mindfulness Program 

for all content and email reminders. This site is mobile phone optimized so you can access a wide variety of recorded meditations anytime, anywhere. *The Life on Mindfulness program is open to all APS employees. 
 

Health Coaching

:

 If you would like help with managing a chronic illness and weight loss to improve your health, or to simply feel better, APS offers free health coaching to all APS employees. *Open to all APS employees.
30 Ways to Well-being is an email-based program. Register and receive daily wellness emails with simple yet innovative practices to do every day. This will bring new awareness for you around stress, sleep, movement, nutrition, connection, and more! This is an ongoing program. Enroll and engage at your own pace. *Open to all APS employees.
Join Livongo for Blood Pressure & Diabetes Control! 
Get your life back and manage diabetes, high blood pressure, and obesity with this personalized program- Livongo. The name is short for Live On The Go! Because having a chronic illness can hinder our positive life experiences. We want you to get that back and feel better! Participants receive one on one expert coaching, and integrated tools to manage blood sugar, blood pressure, and weight loss. 
Note: This program is free for eligible employees and dependents under APS Benefits.
On-Site Wellness 
Short wellness presentations for school staff and APS departments. We can tailor to your needs and fit time ranges from 15-60 minutes. Some topics include:
Just the basics - APS wellness benefits and resources
Stress, Burnout, and Resilience
Social well-being
Sleep
Nutrition
Financial Well-being
Ergonomics and Musculoskeletal Health
Understanding Healthcare & Medical consumerism
Schedule 
Pet Therapy

! 

This is for APS employees. If you would like to offer your staff or department a couple of hours of furry-cuddle-stress-relieving therapy time, fill out this request form. Please note that accommodations must be made for any colleagues who have allergies to dogs. 
Group Exercise Classes 
Class Schedule
Monday (virtual) 6 to 6:30 a.m.: Sunrise Yoga link to join is in the APS Employee Wellness event calendar.
Monday (in-person) 4:45 to 5:30 p.m.: Gentle Vinyasa Yoga. Location: City Center/Rio Grande OR Arroyo Chico Rm
Tuesday (in-person) 4:30 to 5:15 p.m.: Gentle Vinyasa Yoga. Location: Helen Fox Complex, 1730 University Blvd. 2nd-floor wellness room. 
Thursday (in-person) 4:45-5:30 p.m.: BodyBalance - A fusion of bodyweight, yoga, and core sequencing for a total body strength and flexibility class.  Location: City Center/Arroyo Chico 
About the classes
In-person group exercise classes are at City Center/Alice & Bruce King Complex or Helen Fox.
In-person classes are 45 minutes in length and all levels are welcome.
Classes are free for APS employees. 
Questions
If you have any questions contact Becky MacGregor by email at employee.wellness@aps.edu. 
Wellness in the News
News: The Sweet Danger of Sugar Too much added sugar can be one of the greatest threats to cardiovascular disease. Here's how to curb your sweet habit.  For more guidance on nutrition, APS offers free health coaching and Livongo for high blood pressure and diabetes. 

 
Video: Base Rotations

Stand in athletic stance. Swivel hips to the right as you move your arms left, challenging your coordination and working your hips, knees and ankles.read more »