Employee Wellness News
2023 June Employee Wellness Newsletter
What is wellness? New & updated programs, financial wellness with Nusenda & more well-being trends in the news!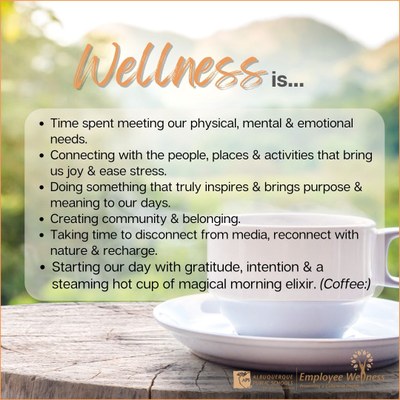 Wellness Wire  -  What is wellness or well-being? 
We lob that word around like a volleyball on a hot, sandy beach court on a summer day. Now, we interchange wellness with well-being and quite frankly, all of us may have a different idea of what that means. That's not a bad thing - necessarily - but it can be limiting depending on our self or societal imposed expectations around wellness, health, fitness, or nutrition. Those expectations can create barriers for us to achieve any sense of well-being right off the bat.
As we kick off "Employee Wellness Month" let's take a look at wellness/well-being by first defining what it is and identifying what it can be for you.  
Over the years wellness and well-being have been defined and used interchangeably and that's okay. But let's understand that wellness is multi-dimensional and integrated. There are elements of wellness that comprise our total well-being. They are: emotional, financial, social, spiritual, physical, intellectual, and occupational/environmental. These all fit into our basic, safety and psychological needs.  When our needs in those areas aren't met, we struggle, we may have conflict and stress, we may feel vulnerable, and many times adopt negative lifestyle behaviors to cope.   
According to the Merriam-Webster dictionary, wellness is the quality or state of being in good health, especially as an actively sought goal. 
The World Health Organization (WHO) defines wellness as "the optimal state of health of individuals and groups" and it is expressed as "a positive approach to living." The organization goes on to define well-being as "a state of complete physical, mental, and social well-being and not merely the absence of disease or infirmity."  This is the definition that hits closer to home for me. 
The most important thing is that you identify and define what well-being means for you.  And, more importantly, what do you want to get out of it? One person may want to lose weight, reduce stress, or manage blood pressure, while another just wants to wake up feeling better with more mental and physical energy to get through the day. Another person may be flying under the radar of depression, bored with life, and languishing in an unfulfilling career and need to address those aspects of life. 
The beautiful thing about wellness or well-being is that it is completely unique to you. With a few exceptions, there's not a whole lot of right or wrong about wellness. The opportunities to feel and function better are endless. 
Wellness is time spent every day meeting our emotional, mental, and physical needs. It can be walking, lifting weights, intentional devotion or meditation time, cooking healthful meals, gardening, honing in on a hobby, and practicing it regularly like music, art, photography, and journaling.  It's engaging with the activities that spark our interest and feed our souls.
Well-being is also connecting with a community of people so we feel a sense of belonging and purpose. Humans were made to be in a community with others. We thrive with that unity and balance. Without family, friends, peers, and support groups, we face loneliness and isolation which affects our emotional wellness by increasing depression and anxiety.  
This week my encouragement to you is to take the first step and identify what well-being means for you. Ask yourself honest questions like:
How do I really feel in the morning and throughout the day? How do I want to feel?
What habits am I embodying that contribute to my wellness or to my illness?  What mindset shifts do I need to make to change my trajectory from illness to wellness?
Can I move comfortably? Are my mobility and energy where I'd like them to be? 
Am I cultivating a life that brings me joy inside and outside of work? Do I have connections with family, friends, and peers? 
What is "the thing" that excites me, gets me up in the morning, motivates me, or that I look forward to? 
Once you've been able to identify one area above, enlist the support of health coaches or another APS Employee Wellness resource below to get started on how to make small, meaningful changes. 
Do You Suffer From Joint & Muscle Pain?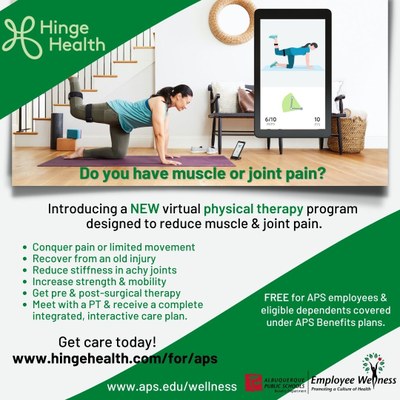 Get the relief you need to feel and function better with this NEW virtual physical therapy program by Hinge Health. 
Hinge Health gives you the tools you need to conquer joint and muscle pain including back, neck, knee, and shoulder pain, recover from injuries, prepare for surgery, and stay healthy and pain-free.
Learn more and register for the program. Begin your journey today with a physical therapist and health coach team!
Hinge Health is available at no cost to employees covered under the APS Benefits plans and eligible dependents.   


New!

  Expanded Benefits for Weight Loss, Diabetes, Blood Pressure & Mental Health!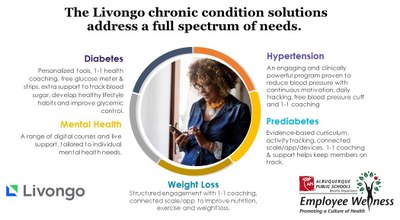 Manage diabetes, pre-diabetes, blood pressure, weight and healthy lifestyle goals, and mental health with this integrated wrap-around solution. Livongo is a holistic program that empowers people with chronic illnesses like diabetes, high blood pressure, obesity, and other health challenges to feel better and do more. 
This is an integrated solution with free 1-1 health coaching, mental health support, and connected device monitoring.  Depending on your health condition you'll receive a blood pressure cuff, glucose meter/test strips,  and/or connected scale. It's all seamlessly integrated through a mobile app with results you can share with your doctor. 
*This is a free program for all employees and eligible dependents under the APS Benefits plans. 

Getting started is easy!  
Text "GO APS" to 85240 to learn more and join
Join by visiting Go.Livongo.com/APS/register
Or call 800-945-4355 and use the registration code: APS
Register Anytime For The New Wellness at Work Well-being Platform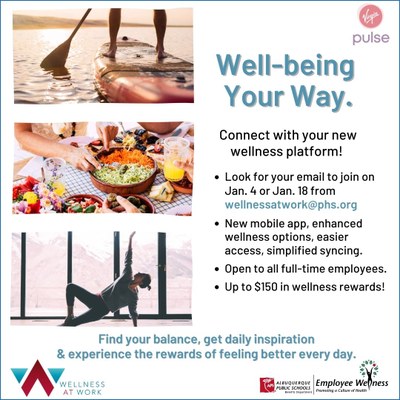 APS partners with The Solutions Group to bring you a variety of well-being programs as well as the Wellness at Work platform and employee wellness incentive program. We are happy to announce our well-being program had a significant upgrade in the transition to a new platform called Virgin Pulse.
The wellness program through the Solutions Group is still called "Wellness at Work" but the platform is hosted on Virgin Pulse.
The new mobile app has enhanced wellness options, easier access, and simplified activity syncing.
Full-time employees received an invitation email on Jan. 4,18, and Feb. 23 from Wellness at Work  wellnessatwork@phs.org (it's not spam) titled, "Sign up for your NEW well-being portal and start earning today." or "Get started on your wellness journey. Register today!"  
Employees on the previous platform can access your new Wellness at Work platform with the same username & password.  New users can easily register in less than 5 minutes. This is open to all full-time APS Employees. (*Additional instructions are in the APS employee wellness event calendar.)
Note: If you are a full-time APS employee covered as a dependent under the Presbyterian Health Plan, or ANY health plan, register as a 'non-covered' APS employee. If you are a full-time employee NOT covered by APS Benefits plan, register under "non-covered" APS employee. 
The 2023 APS Employee Wellness Incentive Program runs from Jan. 1, 2023 - Dec. 31, 2023. This is a voluntary wellness reward system for all full-time employees. 
Financial Wellness with Nusenda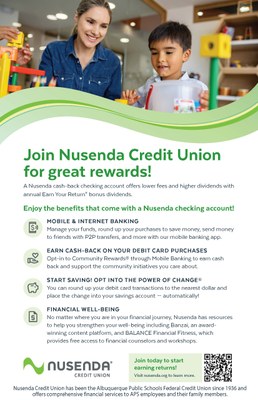 Nusenda Credit Union has been the Albuquerque Public Schools Federal Credit Union since 1936 and offers comprehensive financial services to APS employees and their family members. 
The APS Employee Wellness Banzai Site offers financial literacy courses and interactive simulations that engage users as they learn about finances and how to build credit, reduce debt and/or save for life expenses like buying a home or car, starting a family, and planning retirement. Take a look at the Nusenda benefits flyer and reach out to Nusenda for more information. 
June Well-being Webinars
Every month APS employees have access to a variety of well-being webinars. All webinars are recorded.  All the information and links/QR codes to join are in the Employee Wellness event calendar.  *Register and receive the recording for on-demand viewing at a time that is convenient for you.
Saturday, June 17, 10 a.m. - 11 a.m. - Life on Mindfulness workshop & meditation
Wednesday, 

June 21, 12:00-1:00 pm: Wellness Webinar: Sustainable Solutions for Well-Being

Thursday, June 22, 12:00-1:00 pm Cooking Class - Fiesta Foods That Won't Make You Siesta
Monday, June 26, 11:45-12:00 Mindset Monday- Moving Mindfully
Wednesday, June 28, 8:00 am and 12:00 pm - Sun Safety (Informative, short 15-minute sessions.)
Virtual and Email-Based Wellness Opportunities 
Life on Mindfulness: Check out the new Life on Mindfulness website with the password APSLOM. This is a free, flexible program for all employees that offers daily drop-in meditations, new weekly and monthly content, featured meditations, and Saturday workshops. Everything is recorded for on-demand access. Links for daily drop-ins and the Saturday sessions are in the APS Employee Wellness Calendar. Enroll in the

 Life on Mindfulness Program 

for all content and email reminders. This site is mobile phone optimized so you can access a wide variety of recorded meditations anytime, anywhere. *The Life on Mindfulness program is open to all APS employees. 
Health Coaching: If you would like help with managing a chronic illness and weight loss to improve your health, or to simply feel better, APS offers free health coaching to all APS employees. *Open to all APS employees.
30 Ways to Well-being is an email-based program. Register and receive daily wellness emails with simple yet innovative practices to do every day. This will bring new awareness for you around stress, sleep, movement, nutrition, connection, and more! This is an ongoing program. Enroll and engage at your own pace. *Open to all APS employees.
On-Site Wellness 
Short wellness presentations for school staff and APS departments. We can tailor to your needs and fit time ranges from 15-60 minutes. Some topics include:
Just the basics - APS wellness benefits and resources
Stress, Burnout, and Resilience
Social well-being
Sleep
Nutrition
Financial Well-being
Ergonomics and Musculoskeletal Health
Understanding Healthcare & Medical Consumerism
Schedule 
Pet Therapy

! 

This is for APS employees. If you would like to offer your staff or department a couple of hours of furry-cuddle-stress-relieving therapy time, fill out this request form. Please note that accommodations must be made for any colleagues who have allergies to dogs. 
Summer Schedule Group Exercise Classes 
Class Schedule
Monday (virtual) 6 to 6:30 a.m.: Sunrise Yoga link to join is in the APS Employee Wellness event calendar.
Wednesday (in-person) 4:30 to 5:15 p.m.: Gentle Vinyasa Yoga. Location: City Center/Rio Puerco
About the classes
In-person group exercise classes are at City Center/Alice & Bruce King Complex.
In-person classes are 45 minutes in length and all levels are welcome.
Classes are free for APS employees. 
Questions
If you have any questions contact Becky MacGregor by email at employee.wellness@aps.edu. 
Wellness Trends In The News