Advancement Via Individual Determination
AVID is a college readiness program designed to give extra support and direction to students.
What is Avid?
AVID is a college readiness program targeting the least served students in the academic middle who have the capacity to succeed but need extra support and direction.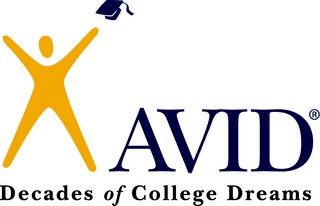 AVID's Mission:
To close the achievement gap by preparing all students for college readiness and success in a global society.
AVID in APS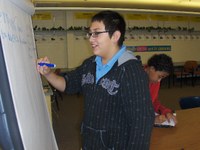 AVID started in three APS middle schools and two high schools in 2009. It has grown to 28 schools – 20 middle and 8 high schools – in 2013-14. These schools serve low-income, diverse, mobile student populations.
More than 1,800 students, grades 7-12, are enrolled in AVID classes in 2013-14, an increase of nearly 25% from the previous year.
Nearly 800 of our teachers and administrators have been trained in AVID strategies since 2009.
The first AVID graduating classes from Highland and Manzano earned their high school diplomas in 2012.
AVID Students
AVID provides a support structure for typically low-income, under-served students who are the first in their families to attend college. These students show academic potential, with average to high test scores, good grade point averages and a desire and determination to succeed in school.
Some facts about AVID students in APS:
78% are Hispanic, 11% Caucasian, 4% Native American and 3% Asian
81% qualify for free or reduced-price meals
23% are English Language Learners
38 percent of 8th

graders in AVID classes are enrolled in Algebra, compared to only 18 percent of their non-AVID schoolmates

46 percent of AVID high school students are taking AP courses, compared to only 29 percent of their non-AVID schoolmates
In 2012, APS offered 12th-grade AVID classes at Highland, Manzano and West Mesa high schools. Of these seniors:
94% graduated from high school
79% were in classes that met 4-year college requirements
83% completed the application for college financial aid
77% applied to a four-year college; 69% were accepted
60% planned to attend a 4-year college
31% planned to attend a 2-year college
31% took a dual-enrollment college course
Why AVID Works
AVID places students in rigorous curriculum and gives them the support to succeed through positive peer identification, trained teachers who serve as student advocates and adult professional and college tutors who visit classrooms weekly to facilitate small-group discussions.
AVID's curriculum is based on
Rigorous standards
WICOR (Writing, Inquiry, Collaboration, Organization, and Reading)
Cornell note-taking
Socratic Seminars
AVID succeeds by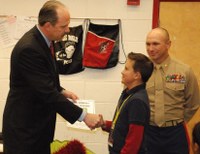 Developing students as readers and writers
Teaching specific strategies for critical thinking and higher-level inquiry
Providing support, so students can meet high expectations
Influencing the belief system, culture and instructional strategies of a campus
Providing meaningful and motivating professional development
School-wide Benefits
While supporting students enrolled in AVID classes is a primary objective for the program, APS also is working to change the culture at AVID schools to one that promotes college readiness.
Providing professional development for all teachers at each AVID school has been a focus for the district. We are training teachers in all content areas, concentrating on critical reading and writing.
This year we hosted a state-wide training for more than 400 teachers.