Language & Cultural Equity information for Parents
Information for parents
We Recommend

¡Colorín Colorado!
This bilingual website is great for families with beginning readers and English language learners. Visit ¡Colorín Colorado!
Message to Families:
"Families, during this unprecedented time Family Engagement is more important than ever. We, at Language and Cultural Equity, understand and have moved forward with additional educational supports that families can use at home. Please stay safe and healthy!"
- Martha García-Marroquín
Director of Family Engagement
Family Resources
LCE YouTube Channel
Please visit our LCE YouTube channel and don't forget to bookmark this page. While visiting our YouTube, please enjoy these read aloud videos from Language and Cultural Equity's "Read at Home Backpacks" which were distributed to students in bilingual programs. We have also included engaging student lessons that your student would benefit from during this time.
LCE Book Read-Alouds Available!
 Below you will find Read-Aloud videos based on Language and Cultural Equity's "Read at Home Backpacks." Videos are added on a monthly basis! These Read-Alouds are connect to Lesson Plans which teachers are welcome to use in their classroom.
LCE Online Family Resources
Language and Cultural Equity has created a list of resources available to families to support ongoing educational needs for our Bilingual program students as well as our English Language Developing students.
Rosetta Stone
LCE proudly supports APS Parents and families with language learning. We are currently working on a plan to support parents and families with language learning during this time. More information is coming soon.
Information on Bilingual, English Language Development Programs and Alternative Language Services
APS offers Alternative Language Services for our students. All schools provide ELD (English Language Development) services which are designed to help students acquire academic English. Some of our schools provide bilingual programs which are designed to develop bilingualism/biliteracy. Learn more about Schools and ALS Models.
English Language Proficiency Assessment (ELPA)
 ACCESS 2.0 for ELL is given annually and is the instrument used in New Mexico to determine the English language proficiency levels of our students. The ACCESS test assesses the four domains of English language acquisition: listening, speaking, reading, and writing.
APS offers ACCESS tests for our students. Learn more about the Access for ELL Placement Test.
Los Programas de Autismo de la Universidad de Nuevo México / 
The Autism Programs at the University of New Mexico
Los Programas de Autismo de la Universidad de Nuevo México están ofreciendo actualmente presentaciones para familias cuyo primer idioma es el español. La serie "Hilos sobre el Autismo" se presentará el primer jueves de cada mes de 1:00 a 2:15 PM. Cada mes se presentará un tema de interés para las familias a través del Internet utilizando un servicio en línea llamado "Zoom". Cada presentación gratis les ofrecerá a los participantes la oportunidad de reunirse y discutir el tema presentado y de conectarse con otras familias de Nuevo México.
Si tienen preguntas, por favor comuníquese con: Teresa en tcampos@salud.unm.edu; Brittany en bacrollett@salud.unm.edu; o Sylvia en ssarmien@salud.unm.edu
Para registrarse por única vez, por favor ingresen aquí.
The Autism Programs at the University of New Mexico is now offering presentations for families whose first language is Spanish. The series, "Hilos sobre el Autismo" will be presented the first Thursday of each month from 1:00-2:15 PM. Every month, a topic of interest to families will be presented over the internet using an online meeting called "Zoom". Each free presentation will offer an opportunity for participants to engage and discuss the topic as well as connect with other New Mexico families.
If you have questions, please contact: Teresa at tcampos@salud.unm.edu; Brittany at bacrollett@salud.unm.edu; or Sylvia at ssarmien@salud.unm.edu
For one-time registration to the series, click on this link.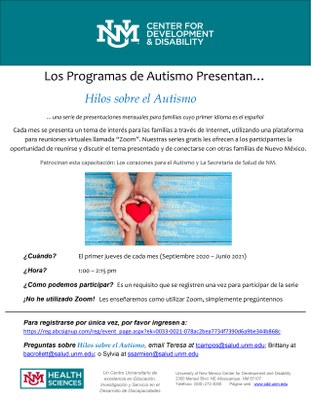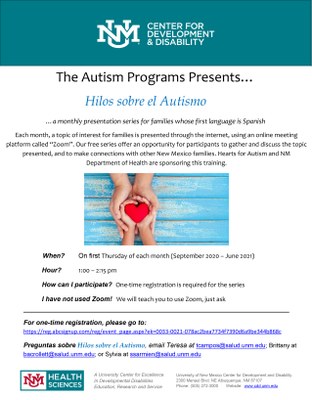 ---
Identifying Culturally and Linguistically Diverse Gifted Students
Tuesday, January 26, 2021
Join Drs. Jennifer Ritchotte and Amy Graefe from the University of Northern Colorado where they will share information about recognizing and cultivating strengths in gifted and high-potential learners from culturally and linguistically diverse homes. A special emphasis will be placed on strategies families can implement immediately to identify and nurture their children's gifts and talent.