Kennedy Middle School

Reward Incentive Program
Number of Students Impacted: 500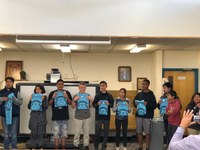 As a 2016 Blue Sky Award recipient, Kennedy Middle School successfully implemented a new student incentive program to improve classroom behavior, attendance, and academic outcomes. Within the program, individual students reaching a 3.0 GPA or above along with those who have perfect attendance earn various prizes and rewards, such as Kennedy t-shirts, medals, pencils, pens, backpacks, yearbooks and bumper stickers for parents to proudly display. Students, particularly those with repeat behaviors, may earn a breakfast party by participating in problem-solving circle conferences. The Reward Incentive Program recognizes students at the grade level as well. Grade levels with the highest growth in English Language Arts (ELA) and Mathematics short-cycle assessments receive an end of the year field trip to the New Mexico Museum of Natural History and Science or Explora!  Project Achievement utilizes PARCC, State Testing Results and Short Cycle Testing results to identify and measure the level of performance for each grade level. 
The Reward Incentive Program is implemented school-wide, impacting approximately 500 students enrolled.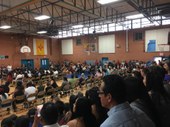 Students learn how to advocate for themselves and take ownership of their education and decision-making. As a result, there has been a nearly 30 percent decrease in discipline referrals. Program results also indicate a major growth in test scores, higher attendance rates and an increased understanding of assessments and state testing scores among students. Students know where they are in their grade level according to the i-Ready and are able to plot their own progress with data folders during Advisory class.
Best In Class funding will enable Kennedy Middle School to purchase the following supplies and materials needed to sustain the current program: silver medals, gold medals, Kennedy t-shirts, trapper keepers (binders), pouches for school supplies, school supplies (pencils, pens, highlighters, calculator, erasers), yearbooks, Honor Roll and Perfect Attendance bumper stickers and breakfast parties for positive behavior.