Albuquerque Metro Information
Your home page for everything Albuquerque Metro Championship.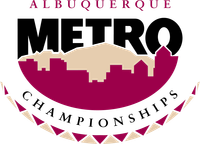 Find event information, updated brackets, results, press releases, schedules, and anything else affiliated with the Albuquerque Metro Championships.
Follow the battle all year long for the "Big Trophy" in 20 events over 43 days of competition.
Baseball Championships Information
Basketball Championships Information
Quick Links
As a reminder, if viewing brackets on a mobile device, you may have to zoom in or out to view the complete bracket. 
Cross Country Championships Information
Quick Links
Results
Girls Scoring
Boys Scoring
Press Release
Schedule
Golf Championships Information
Quick Links
Results (Boys)
Results (Girls)
Press Release
Schedule
Soccer Championships Information
Softball Championships Information
Spirit Championships Information
Swimming & Diving Championships Information
Quick Links
Tennis Championships Information
Quick Links
Results
Press Release
Schedule
Track & Field Championships Information
Quick Links
Meet Program
Results
Press Release
Schedule
Volleyball Championships Information
Quick Links
Wrestling Championships Information
Quick Links
Event Information Packet
Results
Completed Brackets
Press Release
Schedule