Graduate!

Choice Check: Graduate!
High schools diplomas open the door to more learning, opportunity, and success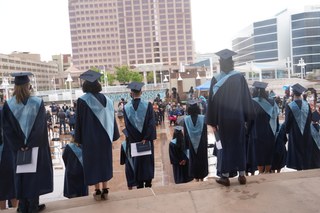 No two high school graduates are alike, nor are their journeys to this important pinnacle in life.
Some attended large, traditional high schools, where they played sports or participated in extracurricular activities. Others went to magnet schools with a concentrated focus on science or fine arts or technology.
Some graduate with college credits, certifications, or even an associate's degree. Others take a little longer, going to summer school to make up credits missed for various reasons.
The obligation of Albuquerque Public Schools is to help more and more of our students make it to the finish line. As we celebrate our graduates each year in May, we continue to work on behalf of the children who are coming up behind them, who deserve the same opportunity, who are depending on us to help them earn that high school diploma that will open the door to more learning, opportunity, security and, yes, even happiness. 
Graduation
Graduate from a traditional high school
Graduate from a magnet high school
Graduate with honors
Graduate with college credits
Graduate with an associate's degree
Graduate with an internship or mentorship
Graduate with scholarships
Graduate with a job
Graduate early
Graduate in the summer
Be a high school graduate!
More Information
Check with your high school counselor to make sure you are on track to graduate. High school directory