News from 2022-2023
AHA Solar Panel Project Unveiled
The 2,208 panels atop Atrisco Heritage Academy will save millions in utility costs at the state's largest high school.
Albuquerque Public Schools unveiled the Atrisco Heritage Academy High School photo-voltaic and battery storage project on Thursday, Aug. 18.
U.S. Sen. Martin Heinrich of New Mexico joined APS Superintendent Scott Elder and others in learning more about the state's largest public school clean energy project.
Also on hand were APS Board of Education President Yolanda Montoya-Cordova, Atrisco Heritage Academy Principal Irene Cisneros, APS staff who have worked for years on the project, project partners, and other distinguished guests. 
The solar panel and battery storage project showcases the latest step toward the district's ultimate goal of safe, energy-efficient facilities that conserve taxpayer resources while reducing our carbon footprint.
More than 2,200 electricity-producing solar panels -- which amounts to about one solar panel per student at AHA -- will generate electricity stored in a Tesla Megapack 2-energy storage system.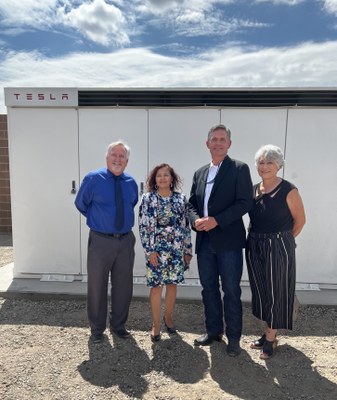 The setup will provide hours of electricity for the school, a half-million-square-foot complex on 65 acres in southwest Albuquerque. The project is expected to save $3.5 million in utility bills over the years.
"That is a welcome benefit of the project, considering APS now pays about fifty thousand dollars a day for electricity," said Superintendent Elder.
"But there is an even greater benefit to projects like this one. They exemplify our commitment to becoming environmentally responsible by adopting clean, renewable energy and reducing our carbon footprint."
Supt. Elder pointed out that for two decades, APS has made energy conservation and efficiency a part of its building and operations standards.
The project has a budget of $3.2 million. It is a joint initiative of Albuquerque Public Schools; Sandia National Laboratories; the U.S. Department of Energy; the New Mexico Energy, Minerals, and Natural Resources Department; the Clean Energy States Alliance; and OE Solar, a local solar power design and construction company. 
Video about the AHA Electric Solar Panel Generation & Storage Project