News from 2021-2022
Posted:
November 30, 2021
Choice Check for December: Fine Arts
Drama, music, and visual arts for students of all ages
During the 2021-2022 school year, APS is highlighting some of our many programs through a monthly feature called Choice Checks. One of the advantages of being a large urban-suburban-rural school district is offering so many choices. The APS Choice Checks webpage, as well as the 2021-2022 wall calendar distributed to families and employees across the district, feature just a few of the many educational opportunities we provide students – from dual language and dual credit, career-based and college-based learning, college prep and marketable job skills, fine arts and competitive sports.
Drama, music, and visual arts for students of all ages
Albuquerque Public Schools has a robust Fine Arts Program that spurs interest and nurtures talent in students of all ages. Performing and visual arts instruction has many benefits, such as promoting self-esteem, motivation, aesthetic awareness, cultural exposure, creativity, improved emotional expression, as well as social harmony and appreciation of diversity. 
The APS Fine Arts Department provides direct instruction in drama, music, and visual arts to students throughout the district. It supports nearly 50 events a year showcasing student achievement in addition to the many fine arts activities happening on school campuses every week.
APS works closely with community partners, including the New Mexico Philharmonic, Santa Fe Opera, Popejoy Hall, the University of New Mexico, and the Albuquerque Museum. It also works with national partners like the Metropolitan Opera of New York and the Kennedy Center.
APS Fine Arts
The APS Fine Arts Department has been named a Best Community for Music Education for the past five years.
Music
Visual Arts
Drama 
Dance
Arts Integration
Competitions & Concerts
Community Performances
Art & Photography Exhibits
Drama Festivals & Musicals 
Resources for Students and Teachers 
More Information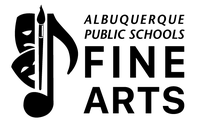 Call (505) 880-8249

Check with your child's school about performing and visual arts classes, programs, and opportunities.