News from the Foundation
Teachers as Students: APS Outdoor Learning Team Pilots Summer Institute
The professional learning opportunity for middle school teachers was made possible by a grant from the McCune Charitable Foundation to the APS Education Foundation
On Friday, July 19th, the APS Outdoor Learning Team created a small professional learning opportunity to explore expanding outdoor learning to middle school students.  Middle school students do not have the same opportunities to learn outside of the classroom as their younger and older peers.  Research has shown the benefits of outdoor education to academic achievement as well as social and emotional growth.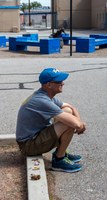 Hosted at Wilson Middle School, the teachers were tasked with developing a clear strategy for taking their students outside.  Part of the day included them working on activities as students and providing feedback.
Outdoor learning is not just about science.  Schools are tasked with taking an interdisciplinary approach to utilizing the outdoors to see students succeed in all academic areas.  As interest continues to build, the Outdoor Learning Team will support and guide educators in everything from starting and expanding outdoor learning spaces to field trips to developing lessons with community partners and so much more.