Donation Drop-off Locations
Donation Drop-off Locations are currently closed. We are accepting clothing in new or good condition by appointment only. Please call 505-248-1873 to schedule an appointment.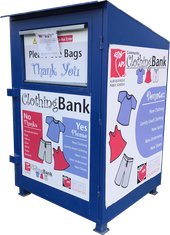 Find your nearest Donation Drop-off Location here. Consider donating your gently-used clothing, coats, hoodies, and prom dresses to students in need. Please do not donate used underwear or socks.
APS City Center
6400 Uptown Blvd NE — Box on North side of the building, west of flagpole — Donate 24/7
APS Community Clothing Bank
1730 University Blvd SE — Enter from Ash St. SE — By Appointment Only (505) 248-1873
APS Northwest Diagnostic Center
Five Goodwill Donation Collection Centers
San Mateo @ McLeod — 5000 San Mateo Blvd NE 
Menaul @ Juan Tabo — 11500 Menaul Blvd NE Suite O 
Paseo Del Norte — 7120 Holly Ave NE 
Coors @ Paseo — 6636 Caminito Coors NW
Juan Tabo Goodbuys 99¢ — 1108 Juan Tabo NE