Account Creation for ParentVUE/StudentVUE
ParentVUE and StudentVUE are websites that offer secure, private access to school and student information, including assignments, grades, attendance, school calendar, and teacher contact details. In ParentVUE, you can see the information for all of your students.
ParentVUE & StudentVUE Links
Support
ParentVUE/StudentVUE support is handled at the school. For support on this document or anything related to ParentVUE or StudentVUE contact your school's ParentVUE / StudentVUE support person.
How do I create a ParentVUE/StudentVUE account?
If your child attends an APS school, you may create an ParentVUE/StudentVUE account. Here's how:
Getting Started:
Go to: https://mystudent.aps.edu/
It will take you to the following screen of options: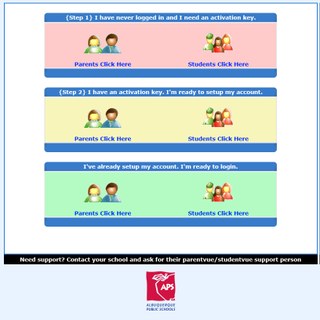 First Time Access: Create an Account
If you have received your activation key via paper letter from your child's school then skip to step 4.
Click the parent or student icon/link, as appropriate, under "{Step 1} I have never logged in and I need an activation key"




Read the directions carefully on the screen. If you're a parent and have more than one child active in APS, choose one to fill out the information for. Fill out the form completely and accurately (see sample parent form below). Information must match exactly as it is in the APS student information system. Click "Get Your Activation Key" button.




View of the parent form. Student form varies slightly.

Your activation key is sent to the email address you provided in the form, Step 2 of this document. Follow the directions carefully in the email to continue creating your account.




Click the parent or student icon, as appropriate, under "{Step 2} I have activation key. I'm ready to setup my account."




Click "I Accept"




Fill out your first name, last name and activation key (found in your email, see Step 3 in this document). Click "Continue to Step 3"




Read the directions carefully. You are now asked to create a permanent username, password and a primary email address. Click "Complete Account Activation"




Upon successful completion you will be entered into ParentVUE/StudentVUE.




That concludes setting up a ParentVUE/StudentVUE account. You can now go directly to
mystudent.aps.edu. Click the parent or student icon/link, as appropriate, under "I've already setup my account. I'm ready to login"




Upon clicking the appropriate icon above you will be taken directly to the ParentVUE/StudentVUE login page. Use the username and password you created on step 7 of this document. Click "Login"