Students Share Dreams on School Wall
Highland High French classes, inspired by a Ted Talk, create a wall where students complete the sentence: "Before I die I want to..."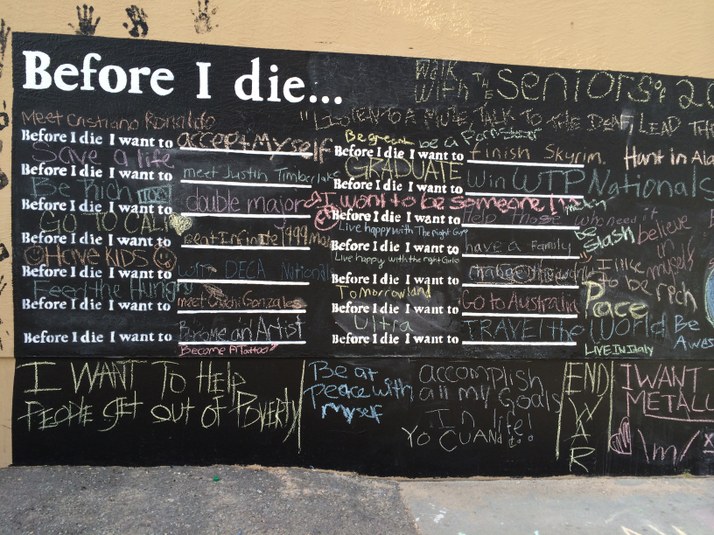 "Before I die," students at Highland High School wrote on the side of their math building, "I want to...
The We All Have a Voice Wall will be debuted at a community celebration at 6 p.m. Thursday, May 1.
accept myself
meet Justin Timberlake
help people get out of poverty
be rich
become an artist
become a tattoo artist
go to Australia
be a Disney princess
have a family
get an A in math
leave my mark
and much more.
The wall was created by Melinda Forward's French classes after students were inspired by a Ted Talk by Candy Chang, a New Orleans woman who painted the side of an abandoned house in her neighborhood with chalkboard paint, and stenciled it with a grid of the sentence "Before I die I want to _______." Anyone walking by could pick up a piece of chalk, reflect on their lives, and share their personal aspirations in public space.
"My students were inspired by this, thought it could have a positive impact on our campus and wanted to try it," said Forward. "So we got approval to paint our math building in chalkboard paint, stenciled in the lines, and opened it up to students."
Forward said it filled up by lunchtime. At the end of the day, students cleaned off the board, and the process started over the next day. And the day after that.
"As we were washing off the board, it was both powerful and hard. It was an emotional process. We didn't want to wash it off, but we had to because we didn't have space. We had to create a clearing for more sharing. It's just like life," said Forward.
Plans are for the wall to include the more than 20 languages spoken at Highland, the state's most diverse school.
"We'll see what happens over time, but it's encouraging our kids to write and read, and it allows them to share a dream they may have kept to themselves," she said. "Students are using the wall to connect with each other as well as with their community. The overall message is we all have a voice."
The students would like to see their project, which they're calling We All Have a Voice, go viral, so they are taking to social media and encouraging others to share their own dreams on Facebook (Highland High School French Project), Twitter (@HighlandFrench), Instagram (weallhaveavoice_hhs) and Tumblr (weallhaveavoice). They also want to see other schools create similar walls that encourage students to share their own dreams.