News
APS Breaks Ground on Pre-K to 8th grade School on Southwest Mesa
New school near Atrisco Heritage Academy will help relieve crowded elementary and middle schools.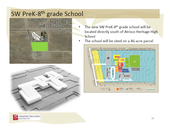 Students living in Southwest Albuquerque and attend either Barcelona, Navajo or Rudolfo Anaya elementary schools or Harrison or Truman mid-schools will have a new school to help relieve crowding in the fall of 2015. The Albuquerque Public Schools broke ground today on a $50.2 million kindergarten through 8th grade school that will also house a pre-kindergarten program and serve some 1,300 students.
It is the first pre-K through 8th grade designed and built by the district.
"The schools that this new K-8 school will relieve are some of the largest in the district," said APS Superintendent Winston Brooks, during groundbreaking ceremonies held this morning. "We are committed to serving these students, and all students in the district, with learning facilities that are up-to-date and provide the best environment for teachers and students."
"We were interested in replicating the K-8 model that we are currently using in the East Mountains at A. Montoya/Roosevelt. We believe that if students can stay on the same site from primary through middle school it will make the transitions easier," Brooks added.
Another academic feature of the new school will be access to technology. "All the students who attend the school will get a computer device—this could be something like a tablet or a laptop," Brooks said. "We need to make sure that students are technologically literate."
Construction on the 245,000-square-foot school, which sits on a 46-acre parcel adjacent to Atrisco Heritage Academy High School, is expected to be completed in July 2015. Jon Anderson Architects designed the school and Bradbury Stamm is the general contractor.