Web Team News
Welcome to the new APS website
You told us what you wanted and we built it. The new aps.edu is the result of careful study into your most common issues and concerns. Have a look around and tell us what you think.
What's new?
Here are just a few highlights of the new aps.edu. We hope you find the site attractive and easy to use.
Search the Site
On the old site, there was no way to search for what you wanted. Ouch!

Now you can search for anything on this website by using the Search box at the top of every page.
Site Highlights
"What I love about the new site is that it is modern, colorful and eye catching. As a usability tester, I feel that my opinion matters and that APS is trying to appeal to its users, the community."
- Belinda T.
District Maps for Your Address
Did you know? The most frequent question received by the APS Service Center is "What school should my child attend?  My address is _______________."
When someone calls APS for this information, staff at the Service Center looks it up and frequently sends a fax of the district map. This means that each year, APS is faxing thousands of district maps all over the city. This costs taxpayers a lot of money.
By providing this information front and center on the new website, we're saving thousands of phone calls and faxes.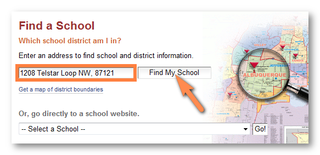 Just enter your address and click Find My School. This will show you quickly which schools are assigned for your neighborhood. You'll also see who your School Board member is and more.
Easy to find Jobs
Previously, it was difficult to find a job on APS.edu. This makes it hard for APS to recruit the best teachers and staff.
Now you can easily search for a job and link directly to that job in an email, blog post, and more.
Updated Department Directories
The old department list was long and cumbersome, and the department pages were inaccurate outdated, and ugly.
Now, you can easily browse departments or search quickly for a phone number. It's up to you. Also, we've carefully updated contact information throughout the district so that you can find exactly who you need.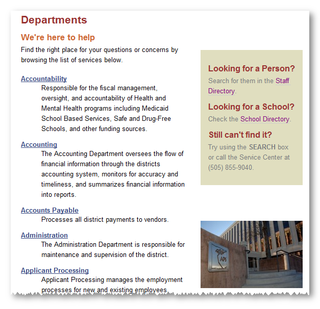 Information for Parents, Students, Employees
To make it easier for you to find relevant information, we've hand-picked the most important links for you. Just click on Students, Parents, or Employees to find quick links that take you to exactly the right place.

A New Publishing System
Though it's invisible to most people, one of the most important upgrades to APS.edu is behind-the-scenes.
We've revamped the website system entirely using a free, open-source content management system called Plone. It's the same system used by the City of Albuquerque and some departments at Sandia National Labs.
Here are just a few of the reasons why it's better:
APS not locked-in with a single vendor. Nor are we required to pay software fees to anyone.
We can now easily update content ourselves. This helps APS be responsive and transparent. That's one of our 8 Goals.
APS can now collaborate on new features with other local government agencies, sharing the development cost.
The system meets modern web and usability standards with RSS, cross-browser support, security, and more.
What's Next?
This website will continue to improve. As we learn how people use the new site, we will continually make enhancements. Part of good communication is providing reliable information when you need it. This is constantly our goal.
In the next couple of years, we'll improve and standardize our department websites and school websites, ensuring that you get the same great service from those sites that you get from this one.
Have an idea? Contact us anytime.
Meet Kyle. He's one of the APS web interns.
"My work with the APS Web Team has been a great experience. I've learned a lot about web design, including content development, graphic design, and usability testing. It's shown me how web development requires a variety of individuals with different skills all working together.
Until this experience, I had little idea of the thorough planning, design, and testing that was necessary to create a truly effective site. I hope to use this knowledge in a technology-related career in the future."
- Kyle Solan, Eldorado High