Web Team News
School Loop Login Issues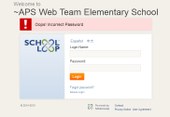 Is this what you're seeing? No worries, you can still login.
Over the past few years School Loop has provided a high level of support and accessibility to our users. One of the benefits of using SL has been the ability for website users (admins, teachers, staff, etc.) to login using their APS email credentials. In the recent past users have been able to access their website anytime on any computer. This is still the case.
Many of you have been experiencing problems when trying to login to the system. Rest assured that we are doing everything we can in coordination with SL to fix the issue. We hope to have everything back to normal very soon.
We are seeing a 50% login rate. This means that you may have to attempt to login several times until you get in. In testing the login I was able to get in the system an average of 11 times out of 20.
In the meantime we encourage you to login to your website using the School Loop URL's listed below and to keep submitting the login form (with proper credentials) until you have successfully logged in.
School Loop Website Addresses