Story Time in the Park
Story Time in the Park
Mission of Story Time in the Park (STIP)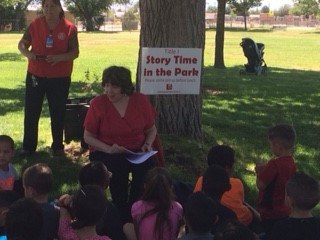 We provide summer enrichment for families in the following ways:
Interaction with teachers in non-traditional locations
Teachers share reading strategies with families in high poverty locations
Share the passion for reading books
Allow families to build a home library during the summer of high-quality books.
Story Time in the Park will vary each year based on funding, but will always try to serve the most economically disadvantaged locations near Title I schools.
What is the role of Title I in this project?
Title I orders high-quality literature that will engage families and provide them with books at no cost to families attending Story Time in the Park.
Provides a system for teachers to easily pick the books and materials needed weekly to operate the program.
Provides monitoring visits to support teachers and confirm family engagement.
Title I collaborates with SAPR to provide input and evaluation forms for all participants to gather information on the effectiveness of the program.  The results will be used to determine the path of the program each year.
Collaborates with the County and City Summer Lunch Program to generate cooperation between the summer lunch workers and the teachers reading in the park.  In addition, Title I staff will work with the City or County in making location changes due to low enrollment or safety issues.
Supporting teachers by providing substitutes and the opportunity to share sites with other teachers.
Locate and print parent-friendly reading tip sheets in English and Spanish for parents to take home.
Title I processes the time sheets and answers teacher questions in relation to payment.
Teachers and Families Involved in the Program Say:
"Had Spanish parents today!  Gave them the information sheets and flipped the sheets over to the Spanish side.  Parents were thrilled that they could read about the program and how to help their kids."  Miramontes Park

"I love how parents observe the reading strategies I use during Story Time and then model them with their own children."   Mountain View Community Center

"A new Grandma came with her four grandkids.  She expressed amazement over the program, saying she will definitely be bringing them back."  Goodrich Park

"Having the book titles and authors ahead of time helps with the planning." Snow Park Shelter

"It was nice to see parents and older siblings re-read the stories." Shadyside Park

Comment from a parent, "I think this is great for our neighborhood.  Thank you!" South Broadway Park

Comment from a parent, "El Program me parese excelente.  Estar en el parque ayuda a la imaginacion de los ninos y los educa a la lectura.  Grandioso!" South Broadway Park

Student comment, "I've always wanted this book!  This is my favorite story!!!" Tom Tenorio Park

"The parents love the quality of the books." Tapia Meadows Park

"A parent told me she loves to learn and appreciates how much she learned from me this summer." La Ladera Park
Thank you APS teachers for supporting our program! Without you, this would not be possible!