Story Time in the Park
APS Title I Story Time in the Park 2021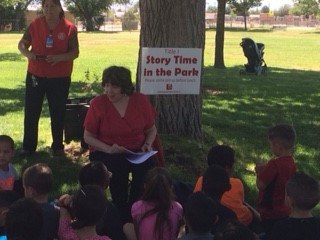 June 7, 2021 - July 15, 2021
Note: Teachers will distribute books at parks Monday-Thursday. Lunch served Monday-Friday between 11:30a.m.-1:00p.m. (Check park for details)
APS Story Time in the Park was created to get books into the hands of kids! It is key to preventing summer learning loss.
Coronavirus Pandemic 2021: Story Time in the Park is an APS Title I Family Engagement initiative that provides a Book Bag of quality children's literature, reading strategies, lesson ideas for families reading at home
Book Bags will be distributed at a number of Summer Lunch Meal Sites in the City of Albuquerque and Bernalillo County, as a Grab and Go offering
The aim is to support families so they can guide their children toward reading proficiency and a life-long joy of reading
Young children who have access to books in the home, and who are read aloud to regularly, have the best chance of becoming successful readers (Snow 2014)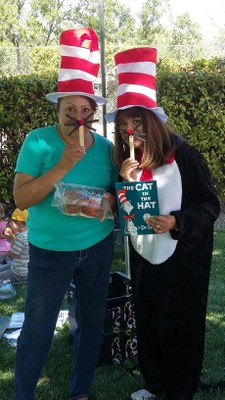 Children from low-income families routinely lose two to three months of reading proficiency every summer while middle-class children gain about a month. From grade one to nine, children from low-income families lose two or more years of reading proficiency. 80% of the rich/poor reading gap accumulates during the summers. Children from low-income families gain as much reading growth during the school year, when schools are open, as middle-class children. (Allington 2013, Alexander & Entwisle 2007)
Story Time in the Park will vary each year based on funding, but will always try to serve the most economically disadvantaged locations near Title I schools.