Family Reading Parties
What are Family Reading Parties?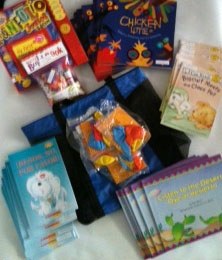 A program offered by APS Title I Family Engagement to empower parents as partners in family reading.  Parents have an opportunity to share ideas that are working at home.  Teachers will also have an opportunity to build relationships with parents and share reading strategies parents can use at home to strengthen student learning.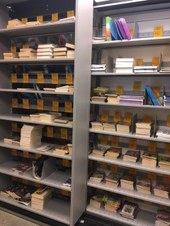 A sneak peak of our Family Reading Party book selection located at Lincoln Complex  Title I Building M.
Frequently Asked Questions
Where do the books come from?
Teachers select the books at our Title I office located at Lincoln Complex (912 Oak St. SE Building M) or online.  We provide 10 books per party in English, Spanish and Bilingual.
How many parents do you invite?
The program is designed for a small number of parents so they will feel comfortable.  The magic number is 10 parents, so when planning a party, call and send flyers to 10 parents from your classroom.  (Who have students with greatest academic need).
How long do the parties last and why is it a party?
A Family Reading Party lasts about 45 minutes.  It starts with an ice breaker and sharing to get parents comfortable.  You can use Title I Family Engagement funds to pay for snacks and drinks such as coffee, water, or tea.  If you have a parent that wants to make calls and ask parents to bring snacks that works too!
Does Title I provide books for other reading events?
No, books are only for Title I Family Reading Parties.
Ordering Family Reading Parties
Supporting Documents Needed for Reading Parties
Three easy options to order Family Reading Parties
Option 1: Send through Inter-Office Mail
Send the order form to Title I Family Engagement.
Allow 2-4 days to process orders.
Option 2: Fax
Fax order form to (505) 880-3997, Attention: Mary Bretting-Miller 
Allow 2-4 days to process orders.
Option 3: Walk-In (Walk-Ins currently not allowed during COVID-19 restrictions)
Located at Lincoln Complex (912 Oak St. SE), Title I Building M
Family Engagement Book Selection
196 Titles brought to you by APS Title I! A team dedicated to providing the highest quality service and support to eligible school communities under Title I guidelines. Book Images may look slightly different. Books listed may no longer be available. The website will be updated periodically.
Order Form
Download the Order Form (PDF) and print out to order books. This form can be filled out on the computer, and then printed or handwritten in.
English Titles
English Titles: 10 Books Per Title
Book No.
Book Image
Title
1
NO IMAGE AVAILABLE
Arthur's Reading Trick
By: Marc Brown
2
NO IMAGE AVAILABLE
Arthur's Loose Tooth
By: Lillian Hoban
3
The Cat in the Hat
4
Alexander and the Wind Up Mouse
5
Digging Up Dinosaurs
6
Corduroy
7
A Letter to Amy
8
Ben's Trumpet
9
NO IMAGE AVAILABLE
The Art Lesson
By: Tomie De Paola
10
Where the Wild Things Are
11
Tiger in my Soup
12
Borreguita and Coyote
13
Alexander Who's not going to move
14
Click, Clack, Moo
 
15
Cloudy with a Chance of Meatballs
16
How a Seed Grows
17
Caps for Sale
18
NO IMAGE AVAILABLE
Let's Drive, Henry Ford!
By: Peter and Connie Roop
19
The Time Warp Trio
See You Later, Gladiator
20
Lily and Miss Liberty
21
The Real Slam Dunk
22
Ant Cities
23
The Song of Hiawatha
24
A to Z Mysteries:
The Goose's Gold
25
Angel Child, Dragon Child
26
NO IMAGE AVAILABLE
The Seven Days of Kwanzaa
By: Melrose Cooper
27
Bread and Jam for Frances
28
Amelia Bedelia 4 Mayor
29
The Chalk Box Kid
30
NO IMAGE AVAILABLE
Inside Out
Sadly Ever After
By: Elise Allen
31
More, More, More, Said the Baby
32
The Yellow Star
The Legend of King Christian X of Denmark
33
Tough Boris
34
Junie B., First Grader:
Shipwrecked
35
A to Z Mysteries:
The  Vampire Vacation
36
The Gold Threaded Dress
37
NO IMAGE AVAILABLE
Anastasia has the answers
By: Lois Lowry
38
When the Wind Blows
39
Junie B., First Grader:
One man band
40
Cowgirl Kate and Cocoa: School Days
41
NO IMAGE AVAILABLE
Welcome to China
By: Caryn Jenner
42
Amelia Bedelia Bakes Off
43
And then what happened, Paul Revere?
44



What is Science?
45
Mary Wore Her Red Dress
46
Pete the Cat
47
Row Row Row Your Boat
48
A chair for my mother
49
Henry and Mudge
The First Book
50
NO IMAGE AVAILABLE
Curious George and the Hot Air Balloon
51
Hush Little Baby
52
The Wind Blew
53
Chester
54
Froggy Learns to Swim
55
Jack Russell
Dog Detective:
The Mugged Pug
56
Technical Foul
57
Water Dance
58
A to Z Mysteries:
The Missing Mummy
59
Frog and Toad Are Friends
60
NO IMAGE AVAILABLE
Who Am I?
Wild Animals
By: DK Publishing
61
NO IMAGE AVAILABLE
A to Z Mysteries:
The Absent Author
By: Ron Roy
62
A to Z Mysteries:
The Canary Caper
63
A to Z Mysteries:
The Unwilling Umpire
64
Miss Mary Mack
65
Harry the Dirty Dog
66
A to Z Mysteries:
The Jaguars Jewel
67
NO IMAGE AVAILABLE
Elaine and the Flying Frog
By: Heidi Chang
68
A to Z Mysteries:
The Falcon's Feathers
69
The School Skeleton
By: Ron Roy
70
NO IMAGE AVAILABLE
Just Juice
By: Karen Hesse
71
Winning Season
Double Fake
72
The Time Warp Trio:
The Good, the Bad, and the Goofy
73
Magic Tree House #7:
Sunset of the Sabertooth
74
Magic Tree House #14:
Day of the Dragon King
75
Cabin Creek Mysteries:
The Legend of Skull Cliff
76
A to Z Mysteries:
The Yellow Yacht
77
A to Z Mysteries
The Empty Envelope
by: Ron Roy
78
Encyclopedia Brown Sets the Pace
79
NO IMAGE AVAILABLE
More Perfect than the Moon
By: Patricia MacLachlan
80
NO IMAGE AVAILABLE
Nancy Drew and the Clue Crew #1:
Sleepover Sleuths
By: Carolyn Keene
81
Things Will NEVER Be the Same
82
NO IMAGE AVAILABLE
Cabin Creek Mysteries:
The Clue at the Bottom of the Lake
By: Kristiana Gregory
83
Magic Tree House #15:
Viking Ships at Sunrise
84
Magic Tree House #5:
Night of the Ninjas
85
NO IMAGE AVAILABLE
Rent a Third Grader
By: B.B. Hiller
86
NO IMAGE AVAILABLE
Nancy Drew and the Clue Crew #2:
Scream for Ice Cream
By: Carolyn Keene
87
The Box Car Children:
Surprise Island
88
A-Z Mysteries
The Kidnapped King
Roy, Ron
89
Magic Tree House:
Pirates
90
Magic Tree House #22:
Revolutionary War on Wednesday
91
Magic Tree House #18:
Buffalo Before Breakfast
92
A to Z Mysteries
The Lucky Lottery
93
NO IMAGE AVAILABLE
Magic Tree House Research Guide:
American Revolution
By: Mary Pope Osborne and Natalie Pope Boyce
94
A to Z Mysteries
Invisible Island
by: Ron Roy
95
The Magic School Bus:
The Search for the Missing Bones
96
A to Z Mysteries
The Deadly Dungeon
97
Rosie Revere's Engineer
98
The Amazing Days of Abby Hayes:
Every Cloud Has a Silver Lining
99
Our Tree Named Steve
100
NO IMAGE AVAILABLE
Hoang Anh A Vietnamese-American Boy
By: Diane Hoyt-Goldsmith
101
NO IMAGE AVAILABLE
VET: Emergencies 24/7
By: Susan Evento
102
The Orange Outlaw
Roy, Ron
103
A Picture Book of Jesse Owens
104
Mr. Lincoln's Way
105
NO IMAGE AVAILABLE
Granddaddy's Gift
By: Margaree King Mitchell
106
Too Much Noise
107
Magic Tree House #4:
Pirates Past Noon
108
Magic Tree House #10:
Ghost Town at Sundown
109
Hunter's League:
A Conspiracy Revealed
110
Barnyard Banter
111
Magic Tree House #16:
Hour of the Olympics
112
NO IMAGE AVAILABLE
The Empty Mirror
By: James Lincoln Collier
113
NO IMAGE AVAILABLE
Dog at the Door
By: Ben M. Baglio's
114
NO IMAGE AVAILABLE
The Case of the Missing Trophy
By: Angela Shelf Medearis
115
Get Ready for Gabi! Who's That Girl
116
NO IMAGE AVAILABLE
My Names Is America
The Journal of Biddy Owen's The Negro Leagues
By: Walter Dean Myers
117
Magic Tree House #2:
The Knight at Dawn
118
NO IMAGE AVAILABLE
Alex Rodriguez/
Albert Pujols
By: Richard J. Brenner
119
Frederick Douglass Fights for Freedom
120
Ramona and Her Mother
121
NO IMAGE AVAILABLE
Owen Foote, Mighty Scientist
By: Stephanie Greene
122
Akimbo and the Elephants
123
McGrowl Good Dog!
124
Koya DeLaney and the Good Girl Blues
125
Sophie the Awesome
126
NO IMAGE AVAILABLE
Ajeemah and His Son
By: James Berry
127
Full Tilt
128
Honus & Me
129
Down by the Bay
130
NO IMAGE AVAILABLE
The Circuit
By: Francisco Jimenez
131
Chicken Sunday
132
A to Z Mysteries
The Haunted Hotel
133
NO IMAGE AVAILABLE
Julep O' Toole Confessions of a Middle Child
By: Trudi Trueit
134
Pacific Crossing
135
The Dollhouse Murders
136
A to Z Mysteries:
The X'ed Out X-Ray
137
The Boys Start The War
138
Kaya's Escape!
Book 2
139
Seeing Symmetry
140
NO IMAGE AVAILABLE
Main Street:
Needle and Thread
By: Ann M. Martin
141
Misty of Chincoteague
142
Wringer
143
Grandma's General Store
144
NO IMAGE AVAILABLE
NBA Reader:
Fast Forwards
By: Paul Ladewski
145
NO IMAGE AVAILABLE
NBA Reader:
Tim Duncan
By: Paul Ladewski
146
NBA Reader:
LeBron James
147
NBA Reader:
Yao Ming
148
NBA Reader:
Steve Nash
149
A Color of His Own
150
 Magic Tree House
Ancient Rome
151
My Dad's A Punk
152
A to Z Mysteries
White Wolf
by: Ron Roy
153
Carnival By Candlelight
By: Mary Pope Osborne
Spanish Titles
Spanish Titles: 10 Books Per Title
Book No.
Book Image
Title
154
Hoy Volare
155
Nemo Sonrisas
156
Nancy La Elecgante y la perrita popoff
157
Cars Sonrisas
158
Olivia
Las dos Olivias
en espanol
159
Junie B. en primer grado es un espectaculo
ONLY 9 Books
160
Una Chica Valiente
161
Hiroshima
162
Canela
163
NO IMAGE AVAILABLE
Amigos de los Animales
By: Yoneo Morita
164
Chato
165
NO IMAGE AVAILABLE
Los Sentidos y la supercompu
By: Abu Pepe
166
NO IMAGE AVAILABLE
El Desierto sus maravillas y sus peligros
By: Abu Pepe
167
NO IMAGE AVAILABLE
El Libro de los Grandes Inventos de Samuwl Todd
By: E.L. Konigsburg
168
NO IMAGE AVAILABLE
Me toca a mi
By: Sigmar
169
El diario de Pedro
170
El Joven y el Mar
171
Mi Rincon en la Montana
172
Que le Pasa a Timmy?
173
NO IMAGE AVAILABLE
No Me Gusta Mi Mono
By: Hans Wilhelm
ONLY9 Book
174
Besos, No, Por Favor!
By: Hans Wilhelm
ONLY 9 Books
175
NO IMAGE AVAILABLE
No Me Corten El Pelo
By: Hans Wilhelm
ONLY 9 Books
176
Voy al Doctor
By: Sigmar
177
NO IMAGE AVAILABLE
Verdadero o Falso de:
Mascotas
By: Melvin and Gilda Berger
178
Animales de Granja:
Cerdos
By Camilla de la Bedoyere
179
De huevo a gallina
By Camilla de la Bedoyere
180
Animales de Granja:
Vacas
By Camilla de la Bedoyere
181
NO IMAGE AVAILABLE
Cachorritos:
Flecha
By: Ellen Miles
182
Vamos a la granja:
Las Vacas
By: Hannah Ray
183
NO IMAGE AVAILABLE
Maiz
By: Lisa Trumbauer
184
Vamos a la granja:
Las Ovejas
By: Hannah Ray
185
Vamos a la granja:
Cerdos
By: Hannah Ray
186
NO IMAGE AVAILABLE
De renacuajo a rana
By: Camilla de la Bedoyere
187
De oruga a mariposa
By: Camilla de la Bedoyere
188
NO IMAGE AVAILALBE
Cuanto es cien
By: Danielle Carroll
189
Cachorritos:
Mancha
190
NO IMAGE AVAILABLE
Trabajando juntos
By: Elena Martin
191
Armadillo el chismoso
Bilingual Titles
Bilingual Titles: 10 Books Per Title
Book No.
Book Image
Title
192
Juan Verdades The Man Who Couldn't Tell a Lie
193
Curious George at the Baseball Game/
Jorge el curioso en el partido de beisbol
194
NO IMAGE AVAILABLE
At Home with Books/En casa con libros
By: Katrina Morse
195
Learn with Dora/
A aprender con Dora
By: Simon Spotlight/Nick Jr.
196
The Surrender Tree/
El arbol de la rendicion