Explora/Family Engagement
Family Science Nights at Explora and Science Explorer for Families events at your school site promotes inquiry based learning for students, parents and educators.
Contact Information:
Marc Wunder
(505) 253-0330 ext.67024
Roxann Morris
(505) 253-0330 ext.67003
Fax: (505) 880-3997
Physical Address:
912 Oak Street SE
Albuquerque, NM 87106
Building M - Title I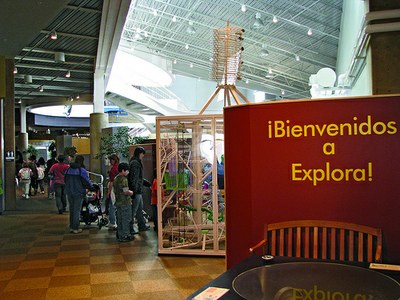 Family Science Night (FSN) at Explora:
Explora hosts a special family science night for participating Title I elementary, charter, and private schools. This program is funded by APS Title I Department and includes refreshments and transportation.
The focus of FSNs is to enrich Title I families' experience while attending this event.  APS Title I and Explora are working together to accomplish the following:
Increase family engagement with learning science
Improve attitudes toward learning and science
Increase awareness of scientific phenomena and processes
Science Explorer for Families (SEF) Events at your school:
SEF events provide an opportunity for parents to become more involved in their children's science education in the following ways:
Parents and children (pre K-5th grade) select self-directed task cards to work on together
These activities demystify science education for children and their parents and enhance partnerships between home and school
Family Science Nights are held at elementary and middle schools throughout the district. Students and their parents are invited to attend