Albuquerque Reads
Albuquerque Reads is a program that involves adult tutors and kindergarten students at three APS elementary schools. 
Albuquerque Reads Enrolls Tutors!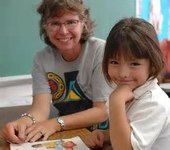 Call 505-843-READ (7323) today to volunteer or to make a donation, or email: AbqReads@
abqchamber.com to find out how you can help. The more volunteer tutors we have, the more kindergartners we can teach to read!
What's Behind Albuquerque Reads?
The Albuquerque Reads Program was started by Albuquerque Public Schools and the Greater Albuquerque Chamber of Commerce. 
The participating elementary schools are Atrisco Elementary School, Bel-Air Elementary School, and Whittier Elementary School.
This program is in its eighteenth year. The Greater Albuquerque Chamber of Commerce supports this program by soliciting monetary support from the business community and providing the tutors. 
Albuquerque Reads Tutors
The tutors come from a variety of professional and non-professional backgrounds.  Many are retired educators.  Title I supports this program by assisting in payment of salaries for the instructors and purchase of supplies.  The site instructor at each school is assisted by an educational assistant.
How Does Tutoring Work?
Each kindergarten student is paired with a tutor.  The lesson is 30-minutes in length and consists of three parts. The tutor is trained in the delivery of each lesson. The Albuquerque Reads instructor collaborates with each child's teacher and then designs the daily lesson. The lesson provided is a continuation of the child's lessons in the classroom.  This allows reinforcement of classroom instruction. 
The materials used are individually tailored to meet each child's needs. The tutor evaluates the progress of each lesson delivered. The Albuquerque Reads Coordinator includes the information from the tutor and from the child's teacher to create the child's next lesson.
Improving Public Education
Since 1999 the Greater Albuquerque Chamber of Commerce has been committed to improving the local public education system through a defined focus on higher standards, increased accountability, teacher supports, community connections, and common-sense governance.  It has been noted that you can change a system all you like, but if a child cannot read, the world is closed to them.
Albuquerque Reads was launched to continue to support the Chamber's educational reform efforts. Dropouts decrease when children can read, graduation rates increase when children can read.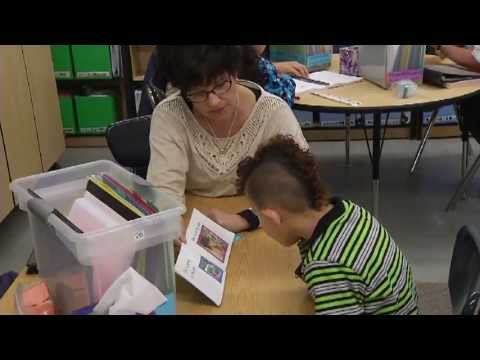 Participating Schools
This program takes place three days per week at each school site. The elementary schools that participate in the Albuquerque Reads program are:
Location: 1201 Atrisco Drive Southwest, South of Bridge and Atrisco
Days: Tuesday, Wednesday, Thursday 
Location: 4725 Candelaria Northeast, between San Mateo and Carlisle
Days: 

Tuesday, Wednesday, Thursday
Location: 1110 Quincy Street Southeast, southeast of San Mateo and Gibson
Days: Monday, Tuesday, Thursday 
Visit the Albuquerque Reads website for more information on tutoring sessions dates and times.