PreK Summer Enrichment
About PreK Summer Enrichment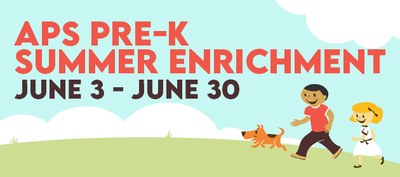 PreK Summer Enrichment is open to enrolled APS PreK students. Student eligibility is determined by your child's current PreK location. Each PreK site may enroll up to 20 students at each site on a first-come, first-serve basis.
PreK Summer Enrichment Sites
Duranes ES
Manzano Mesa ES
Valle Vista ES
Zuni ES
Registration
Registrations are timestamped and seats will be given on a "First Come, First Served" basis.
Registrations are limited to 80 students.
A waitlist will be created. You will be notified by email if your registration has been accepted or put on our waiting list.
What information do I need to provide at registration?
You will need to submit registration for each student separately. Also, you will need to provide the following information at the time of registration:
Your Contact Information: A valid email address that you have access to, parent or guardian's name, parent or guardian contact phone number.
Your Student's Information: Your student's full name, ID number, date of birth, and school that the student is enrolled in.
PreK Contacts