Student, Family, and Community Supports News
Posted:
February 11, 2016
Free Insurance Enrollment Event on Saturday, February 27th
Free health care enrollment event will be held at Van Buren Middle School from 10 am to 2 pm.
APS is sponsoring a free health care enrollment event from 10 a.m.-2 p.m. Saturday, Feb. 27, at Van Buren Middle School, 700 Louisiana SE (map).
"Open enrollment" for federal health insurance officially ended on January 31, 2016, so we highly encourage all APS families and staff to attend. Medicaid enrollment can be done year round, but to avoid a tax penalty, you should make sure you get health insurance of any kind, as soon as possible," said Brian Bolding, Medicaid enrollment coordinator in the APS Student, Family, and Community Supports Division. "Onsite enrollment will be offered at this free event as well as certified health care guides to provide information and assistance in applying for Medicaid or information on insurance through New Mexico's Health Care Exchange."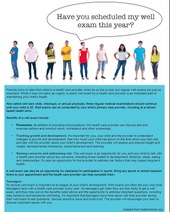 To Make Enrollment Faster...
Individuals wanting to enroll should bring:
proof of citizenship
immigration status or tribal enrollment
a photo ID
proof of residency
proof of income
proof of household size.
In addition, individuals should bring any current insurance information and/or recent unpaid medical bills. Non-citizens may be eligible as well. For recertification, only new proof of income along with a picture I.D. is required.
The event will begin at 10 a.m. in the front entrance and gym at Van Buren Middle School. The free event will also include free food and drinks, random door prizes, activities for children, signups for well-child check-ups, bilingual presentations about healthcare access, and information on healthy lifestyles.
For further information call the APS Medicaid Enrollment Office at 855-5261.