Student, Family, and Community Supports Division
Contact Information
Physical Address:
6400 Uptown Blvd. NE Suite 340 West Albuquerque 87110 Map
Phone: (505) 855-9800
Fax: (505) 830-1771

Who We Are
The Student, Family, and Community Supports Division includes six departments and one division support unit that work together utilizing the Coordinated School Health approach.
Find additional contact information and staff for: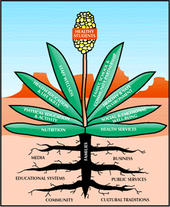 OUR MISSION
We support the achievement of all students in partnership with their families and communities through a coordinated school health approach.
Accountability and Operations Department
The Accountability and Operations department provides fiscal management and grant compliance for 6 Departments and Foster Care Unit within the Student, Family, and Community Supports (SFCS) Division.  This department provides data support and technical assistance for all SFCS Division Staff to ensure accountability for all programs.  This department also oversees the overall Operations of the Division.  Additional units under the Accountability & Operations department are Medicaid School Based Services, Medicaid Enrollment, and Data Management.
Coordinated School Health Department
The Coordinated School Health Department connects students, schools, families and community partners to opportunities and services that reduce barriers to learning and promote student and school success.
Counseling Services Department
The Counseling Services Department uses developmentally appropriate, data-informed, school counseling programs designed to ensure that all students have equitable access to rigorous education, social/emotional support, and skill development necessary to ensure college and career readiness.
Nursing Services Department
OUR VISION
Healthy Students + Engaged Families & Communities = Successful Students
The Nursing Services Department recognizes the connection between health and learning and are committed to improving student health throughout the district.
Student and Staff Supports Department
Student and Staff Supports Department includes: Student Threat Assessment, Student Suicide Assessment/Prevention, Critical Incidents, DSMaRT, 504 and Students with Long Term Medical Absences. 
Student Health and Life Skills Department
The Student Health and Life Skills Department provides support to schools to improve the health and well-being of our students through multi-component, multi-level efforts which serve to increase resiliency and reduce stress.