Honors and Recognitions
APS Salutes Employees Who Feed Our Kids
During National School Lunch Week, the district recognizes nearly 700 employees who work in kitchens across the district preparing and serving tens of thousands of healthy meals for students each day.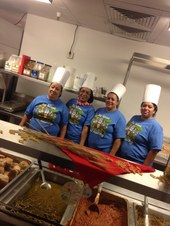 At Governor Bent Elementary and 135 other sites across the district, including Central Kitchen, close to 700 site supervisors, cooks/bakers, kitchen helpers and others start their morning as early at 6 a.m. While individual job responsibilities vary, these employees share one main goal: to prepare nutritious and appetizing meals for students.
A typical day for school sites starts with the preparation of breakfast for as many as 900 students at one elementary school. Even as they cook burritos, sandwiches, pancakes, sausage and French toast and set up the line for breakfast, staff also is planning for lunch and accomplishing the myriad of other duties that must be done each and every day:
Checking that all equipment is working
Heating, cooling and maintaining all foods at the proper temperature
Ensuring that the kitchen is free from spills and other slipping hazards
Following menus and recipes closely to ensure that USDA standards are met (the U.S. Department of Agriculture oversees school breakfast and lunch programs)
Preparing items for students with special needs.
Breakfast is served either in the cafeteria or, in the case at 38 elementary schools across the district, packed in containers, wheeled to classrooms and served as students begin the school day.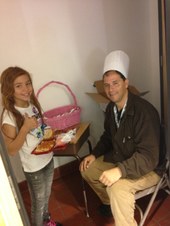 During meal service, all kitchen staff must make sure that serving sizes are appropriate for each age group and meet USDA requirements. Cafeteria staffs also provides great customer service with a "Good Morning" and smile for every student.
As soon as breakfast is done, preparation for lunch begins. The entrée needs to be prepared, rolls baked, fresh fruit and vegetables washed and cut and other side items prepared with precision timing so food is hot and ready to serve at exactly the time the first student arrives for lunch.
Every day. there are anywhere from six different items on an elementary school menu; high school students have more than 15 items to choose from.
In addition to the physical demands of cooking and cleaning, staff must have working knowledge of the safe use and sanitation of commercial cooking and serving equipment, all health regulations, and cooking techniques to produce the best possible product.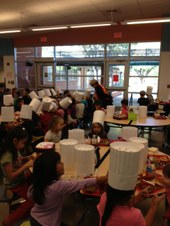 Site supervisors are ordering food, receiving food deliveries, putting away food, and ensuring everything is in stock and ready to prepare for upcoming meals.
They also work with parents, teachers and school administration to ensure that student accounts are correct and that meal service is smooth and timely.
Meanwhile, back at the Central Kitchen, 47 staff members including supervisors, cooks/bakers, delivery drivers, stock clerks and managers are busily preparing large quantities of items for schools whose kitchens cannot accommodate baking or preparing certain items. For example, it's not uncommon for the Central Kitchen staff to prepare more than 14,000 breakfast burritos and use 1,250 pounds of flour to prepare 21,000 dinner rolls.
Stock clerks pull supplies and drivers deliver supplies to kitchens around the district while Food Service Maintenance staff ensures that all kitchen equipment is working efficiently.
The best part of the day is serving the students as they enthusiastically ask, "What's for Lunch?" or comment on how good the meal smells.
Lunch times vary from school to school, but usually end by 1 p.m. As the meal wraps up, many schools prepare snacks for 100+ students who are in after-school programs.
Even then, the job is not complete until the paperwork and clean up is done.  Production records for every meal need to be completed, meal counts recorded and deposits made while tables, pots and pans, trays, serving utensils and equipment is washed and sanitized for student safety and health.
Whew! Time to go home and do it all again for 180 days of school. But the work doesn't stop there. During the summer, Central Kitchen prepares a daily average of 16,500 lunches and 4,000 breakfasts for delivery to more than 300 summer school and recreation programs throughout the city and county.