Wellness Resources for All APS Employees
Check out the wellness resources we offer all APS employees!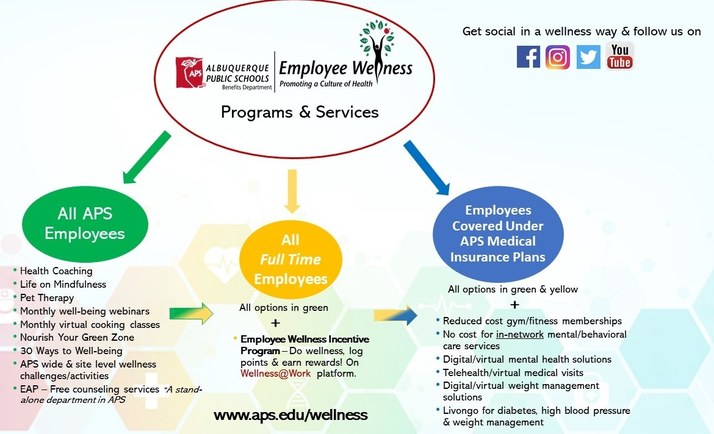 APS Employee Wellness Programs & Events
APS Employee Wellness offers many free programs to help all employees (regardless of benefits coverage or full/part-time status) lower their risk for disease, attain lifestyle and weight loss goals as well as manage stress and mental health issues.
APS Employee Assistance Program (EAP)
The APS EAP program offers free, confidential short-term professional counseling for employees and immediate family members. Call 505-880-3718 to schedule an in-person or virtual WeCounsel appointment.
New Monthly Webinars
Every month APS employees now have access to a variety of well-being webinars. Register and receive the recording for on-demand viewing at a time that is convenient for you. All the information is in the Employee Wellness Google Calendar. The cadence is set every month and the topics change. 
Wednesday, Sept. 21, 12-1 p.m.: Get up & Go (Physical Activity- how to get started, fit in in busy schedule)
Thursday, Sept. 22, 12-1 p.m.: Cooking Show Series
Monday, Sept. 26: Mindset Monday! Non-Sleep Deep Rest - What is it & how can it help you. 
Wednesday, Sept. 28, 8 a.m. or 12 p.m.: Prevention Principles
Livongo Learning Events
Short wellness learning event videos are open for all APS employees. Livongo provides integrated diabetes, blood pressure, and weight management solution with free 1-1 coaching, linked monitors, a free scale, unlimited glucose strips, and more.
Every month Livongo offers 20-minute informative webinars on a variety of topics. Learning events vary by day and time. All events are scheduled in your Employee Wellness Google Calendar. The videos are available for on-demand viewing and do not expire.
Virtual and Email-Based Wellness Opportunities 
Life on Mindfulness:  Enroll in the  Life on Mindfulness Program for all content and email reminders. This is a free, flexible program for all employees that offers daily drop-in meditations, new weekly and monthly content, featured meditations, and Saturday workshops. Everything is recorded for on-demand access. Links for daily drop-ins and the Saturday sessions are in the Employee Wellness Google Calendar. This site is mobile phone optimized so you can access a wide variety of recorded meditations anytime, anywhere. *The Life on Mindfulness program is open to all APS employees. 
Health Coaching: Open to all APS employees. If you would like help with managing a chronic illness, or weight loss to improve your health, or simply feel better, APS offers free Health Coaching to all APS employees.
30 Ways to Well-being is an email-based program. Register for 30 Ways to Well-Being and you will receive daily wellness emails with simple yet innovative practices to do every day. This will bring new awareness for you around stress, sleep, movement, nutrition, connection, and more! This is an ongoing program. Enroll and engage at your own pace. *Open to all APS employees.
On-Site Wellness
Short wellness presentations for school staff and APS departments. We can tailor to your needs and fit time ranges from 15 to 60 minutes. Some topics include:
Just the basics - APS wellness benefits and resources
Stress, burnout, and resilience
Social well-being, sleep, and nutrition
Financial well-being
Ergonomics and musculoskeletal health
Understanding healthcare and medical consumerism
Request Pet Therapy
Schedule Pet Therapy – for APS employees. If you would like to offer your staff or department a couple of hours of furry-cuddle-stress-relieving therapy time, fill out this request form. Please note that accommodations must be made for any colleagues who have allergies to dogs. 
New! Group Classes 
Class Schedule
Day
Time
Class
Description
Monday
6 to 6:30 a.m.
Sunrise Yoga
Virtual Event. Visit the APS Employee Wellness event calendar to find the link to join.
Monday
4:45 to 5:30 p.m.
Gentle Vinyasa Yoga
In-person at Alice & Bruce King Complex (City Center)
Thursday
4:45 to 5:30 p.m.
Body Balance
A fusion of bodyweight strength, yoga sequencing, flexibility, and core. We blend traditional bodyweight training moves
and yoga sequencing with music, tempo, and timing. In-person at Alice & Bruce King Complex (City Center).

 *Note: No class Thursday, Sept. 8. 

About the classes
In-person group exercise classes are at City Center/Alice & Bruce King Complex.
In-person classes are 45 minutes in length and all levels are welcome.
Classes are free for APS employees. 
No sign-up is needed. Bring a mat, towel, and comfortable exercise attire. 
Questions
If you have any questions contact Becky MacGregor at employee.wellness@aps.edu.