Employee Wellness News
October 2021 Employee Wellness Newsletter
Check out this list of wellness resources & new programs for APS employees! Plus, more fitness and nutrition trends in the news.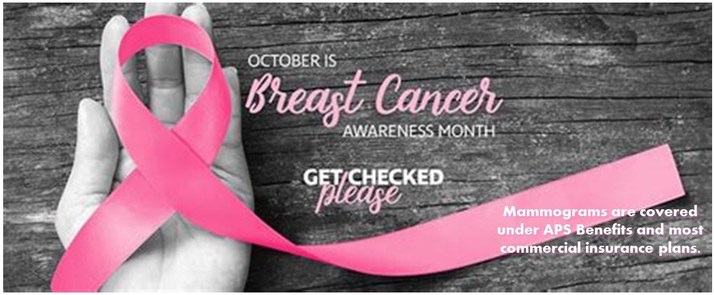 One in eight women (13%) in the United States will develop invasive breast cancer in their lifetime. Early detection through mammograms and basic, preventive lifestyle choices help lower a woman's risk. Mammograms are completely covered under APS Benefits. Women ages 40 to 44 should have the choice to start annual breast cancer screening with mammograms (x-rays of the breast) if they wish to do so. Women age 45 to 54 should get mammograms every year. Women 55 and older should switch to mammograms every 2 years, or can continue yearly screening.* Check your provider member portal for access and locations to schedule a mammogram. 
APS Employee Wellness Programs 
APS Employee Wellness offers many free programs to help all employees (regardless of benefits coverage or full/part-time status) lower their risk for disease, attain lifestyle and weight loss goals as well as manage stress and mental health issues.  
Get To Know Your Gut Health: In this special series Tuesday, Oct. 12- Nov. 2 at 4:30 participants learn the connection and role our gut health plays in our total physical, mental and emotional well-being. Topics are listed in the calendar. Weekly recordings, slide decks and "the bottom line" is in the calendar day. Get access to the series on the APS Employee Wellness Calendar.
Nourish Your Green Zone: Our capacity to manage stress in a more healthful way can improve when we Nourish our Green Zone! Sign up for this ongoing, self-paced virtual program. 
Health Coaching: If you'd like to lose weight, improve your health, manage an illness or simply feel better, APS offers free Health Coaching to meet you wherever you are on that road. 
Life on Mindfulness: This is a free, flexible program for all employees that offers weekly drop-in meditations, new monthly content, and Saturday workshops. Links for weekly drop-ins and Saturday sessions are in the APS Employee Wellness Calendar. Enroll in the Life on Mindfulness Program for all content and email reminders. 
MyStress Tools: For interactive, online, and app-based resources to help manage stress and anxiety and build resilience try MyStress Tools.
Click on the Mental Health Corner for a list of different resources APS offers for mental and behavioral well-being.
Livongo:  Get your life back and manage diabetes, high blood pressure, and obesity with this personalized program- Livongo. The name is short for Live On The Go! Because having a chronic illness can hinder our positive life experiences. We want you to get that back and feel better! Participants receive one on one expert coaching, integrated tools to manage blood sugar, blood pressure, and weight loss. *This program is free for eligible employees.
APS EAP Program: Employees and immediate family members have access to free, confidential short-term counseling through the EAP program. 

Please call the EAP office at (505) 884-9738

 to schedule an appointment. 

WeCounsel

 virtual sessions are available.

2021 Employee Wellness Incentive Program: It's not too late to log those points and earn rewards like a 3-month NMSW membership, 3-month Les Mills On Demand subscription, gift cards to Flying Star, Weck's and Sports systems, Stone Age gym passes and much more!  This program is for all full-time employees (regardless of benefit coverage status).
More Fitness, Wellness & Nutrition Trends In The News
Nutrition: When to Fast?

Intermittent fasting has many forgoing meals, but the USDA found that skipping a meal can reduce overall diet quality—especially if you miss breakfast or lunch.

read more »
 
Video: Inchworms

This move loads the front of the body while lengthening the back body. Walk your hands out and then bring your feet back toward your hands; repeat.

read more »
If you have any questions on Employee Wellness benefits please contact Becky MacGregor, Employee Wellness Coordinator, employee.wellness@aps.edu.
*data from the American Cancer Society