Employee Wellness News
November 2021 Employee Wellness Newsletter
Be like a tree, Diabetes Awareness Month, and join the 3rd annual APS Snowflake Holiday Hop! Stay active & feel better through the holidays!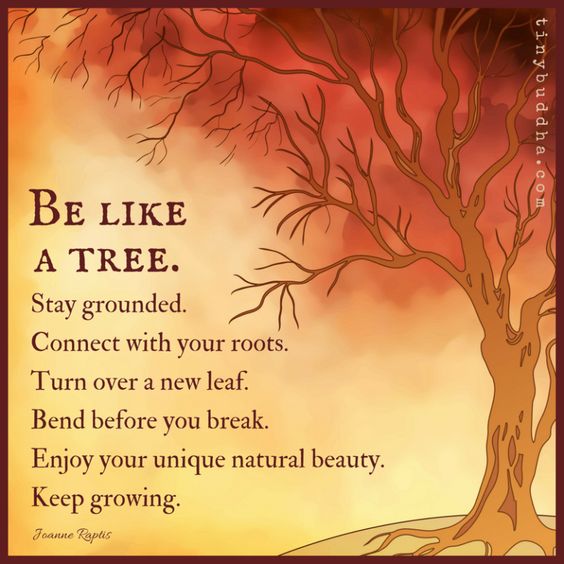 You know what's cool about trees is that absent from disease or natural calamity, they do these things naturally to survive. They stay grounded, connected, continually bending from the stress of life's external forces, and every season they turn over old leaves to allow for new growth.
Just like the root system that gives life to a tree, our physical, emotional, and mental wellness is an intricately woven network. When work, family and other life events splinter us from the healthy aspects of these connections we experience stress, burnout, and illness.
This week my encouragement to you is – Make the connection and be like a tree!  Stay grounded to the people and practices that bring you joy. Re-connect and nourish your roots with daily wellness actions that enhance your physical, mental, and emotional well-being. Allow for some flexibility in the more rigid branches of your life that keep you from your unique natural beauty and wellness. With these intentions, it will feel like a continual turnover of stress to a calmer, healthier state of being. 
Every now then even trees need a little help combating disease and nurturing new growth. The good news is, improving our health doesn't have to be hard and we don't have to do it alone. Simple daily changes can make a big impact on our health. Below are free APS Employee Wellness resources to help prevent illness, manage stress, boost immunity and well-being.  
APS Employee Wellness Programs & Events
APS Employee Wellness offers many free programs to help all employees (regardless of benefits coverage or full/part-time status) lower their risk for disease, attain lifestyle and weight loss goals as well as manage stress and mental health issues.  
Mental Health Resources
Mental Health Corner -  We are all facing continual stress and uncertainty in our home and work lives. Burnout is the result of this ongoing, chronic stress. But we can ease this burden with wellness practices and outside support. Click on the Mental Health Corner for a list of different community and APS resources for mental and behavioral well-being.

Nourish Your Green Zone: What is your green zone and how can you grow it? Our capacity to manage stress and burnout in a more healthful way can improve when we Nourish our Green Zone! Sign up for this ongoing, self-paced virtual program. 

My Stress Tools: For interactive, online, and app-based resources to help manage stress and anxiety and build resilience try MyStress Tools.
APS EAP Program: Employees and immediate family members have access to free, confidential short-term counseling through the EAP program. Please call the EAP office at (505) 884-9738 to schedule an appointment. WeCounsel virtual sessions are available.
It's time for the 3rd Annual Snowflake Trek!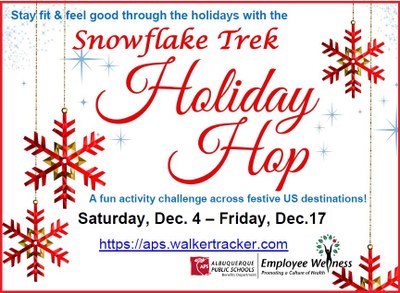 It's that time of year! Take part in this fun holiday-themed challenge that takes us to festive places throughout the USA and learn some interesting history along the way. With this fun and engaging challenge, you'll stay motivated and active which will help you simply feel better every day.  
Register now and download the Walker Tracker mobile app. The challenge starts Saturday, December 4-17. *Note: You must register as a new user with every new Walker Tracker program. 

   Prizes are awarded in many categories so   everyone has a chance to participate in festive ways and win!  Teams are allowed and Wellness Incentive points are available. 
If you have questions, contact employee.wellness@aps.edu.
Ongoing Wellness Incentive Program
The 2021 Employee Wellness Incentive Program is a flexible, fun program.  It's not too late to log those points and earn rewards like a 3-month NMSW membership, 3-month Les Mills On Demand subscription, gift cards to Flying Star, Weck's, Sports systems, Stone Age gym passes, and much more!  This program is for all full-time employees (regardless of benefit coverage status).
More Fitness, Nutrition, and Wellness Trends In The News!
The two modes resulted in similar increases in muscle mass and strength among young-adult males and females, according to a study.
With respect to weight management, we now have more proof that it's not just what we eat that matters but also when we take in our calories. For nutrition guidance try the APS Health Coaching program or Livongo for diabetes, high-blood pressure, and weight loss. 
Research shows that strength training, like aerobic exercise, may be an effective way to prevent or alleviate symptoms of depression. APS Employee Benefits has a list of resources for any person struggling with depression or anxiety in the Mental Health Corner on the Intranet. 
It's a good idea to get in the habit of eating better nutrients for lasting health. Why not start with a bowl of this hearty vitamin K–rich stew? 
The sitting shoulder rotation is a great corrective exercise to improve scapulothoracic motion, thoracic extension, and glenohumeral joint movement.
---
For more great fitness, nutrition, and wellness information, connect to APS Employee Wellness on Facebook, Instagram & Twitter.  Please contact Becky MacGregor at employee.wellness@aps.edu if you have any questions.