Employee Wellness News
New Ways November - 2023 Employee Wellness Newsletter
What's New? Manage diabetes, weight & blood pressure with Livongo, Nurture your mental well-being, and more wellness trends in the news.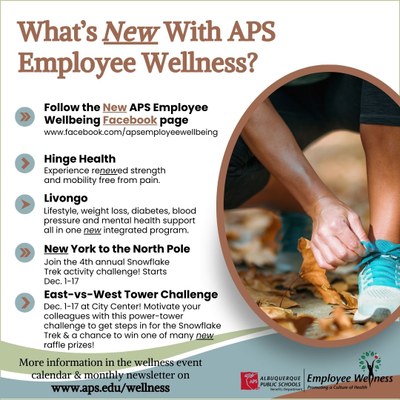 Wellness Wire - What's New?
This month we're highlighting new ways toward well-being. 

When we shift our mindset just a fraction toward doing something 

new

 every day - no matter how small - it has a transformative ability to build purpose, enthusiasm, curiosity, confidence, and anticipation in our day. This approach i
s great for our mental, emotional, and physical well-being. It tosses old, stale habits aside and opens new doors for our 
well-being. Trying new things helps prevent the
slippery slope of acceptance
 we can find ourselves in when 
habits become mundane.
My encouragement to you this week is to engage in at least one wellness-promoting action every day. There's a list of ideas in the APS Employee Wellness Calendar along with information on the programs listed in the graphic above or you can scroll down this page. 
Check out what we have going on now and starting soon! The east-vs-west tower challenge complements the New York to the North Pole Snowflake Trek with extra motivation to earn raffle awards and the (newly) coveted "Tower of Power" stairwell sign designation (I mean, it will be coveted once we get going and the sign changes towers a few times;). Is anyone feeling a little competitive? For those of you in other parts of the district, take this idea and create something similar in your area. 
One big ask
 I have is to PLEASE promote the new APS Employee Wellbeing Facebook page:
 www.facebook.com/apsemployeewellbeing 
I had to delete the page and now we're starting from ground zero on that platform. 
I promote social media when it's done in a positive, encouraging wellness-y way. This
 is exactly how we do it on the APS Employee Wellness pages!
Social media is one of the only avenues outside of this one I have to reach our employees with APS Benefits, healthcare/well-being education, awareness, and programs we offer. 
So, please promote this and connect on a platform that suits you best.  Twitter @apswellness, Instagram #apsemployeewellness, Facebook is /apsemployeewellbeing. 
If you have any questions, contact Becky MacGregor at becky.macgregor@aps.edu. Thank you & let's do something new:)
Join the New York to the North Pole Snowflake Trek!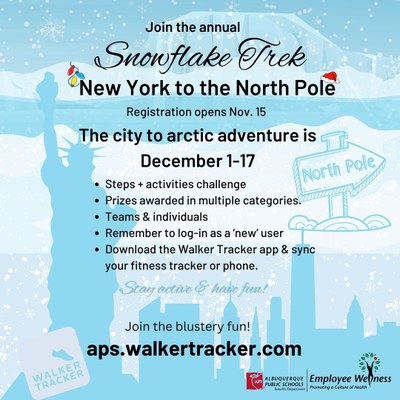 You are invited to stay active, healthy and have a little fun along the way in our 4th annual Snowflake Trek -  New York to North Pole activity challenge. Your goal is to move 8500 steps per day from December 1 through December 17. 
On this journey, we'll head north from the glittery lights and freshly baked bagels of New York City to Canada and beyond. We'll frolic with fluffy wildlife, take a very brisk plunge in the ocean, traipse through Greenland to see the Northern Lights, and land on top of the world (literally) at the North Pole. 
Steps and activities converted challenge
Prizes are awarded in multiple categories.
Teams & individuals
Remember to log in as a 'new' user
Download the Walkter Tracker app
Sync your device or phone for easy tracking!
Top trekkers, steady steppers, and social Santa awards!
Register at aps.walkertracker.com and join the challenge today!
Nurture Your Mental Well-being Webinar Series Continues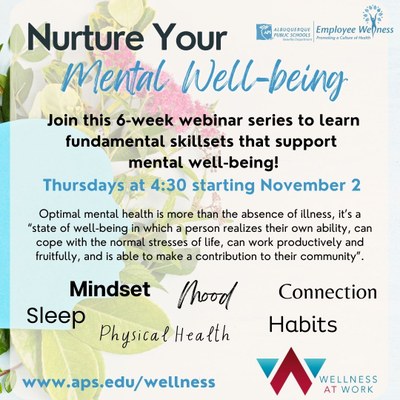 Learn the fundamental skillsets that support mental well-being. Optimal mental health is more than the absence of illness. It's a "state of well-being in which a person realizes their own ability, can cope with the normal stresses of life, can work productively and fruitfully, and is able to make a contribution to their community." (WHO)
Join us for this six-week webinar series open to all APS employees. Register here and receive the recording if you can not attend live. 
Do You Suffer From Muscle or Joint Pain? 

Get the relief you need to feel and function better with this NEW virtual physical therapy program by Hinge Health. 
Hinge Health gives you the tools you need to conquer joint and muscle pain including back, neck, knee, and shoulder pain, recover from injuries, prepare for surgery, and stay healthy and pain-free.
Learn more and register for the program. Begin your journey today with a physical therapist and health coach team!
Hinge Health is available at no cost to employees and eligible dependents covered under the APS Benefits plans.   
New! 
Livongo

 Expanded Benefits for Weight Loss, Diabetes, Blood Pressure & Mental Health!

Manage diabetes, pre-diabetes, blood pressure, weight loss, and healthy lifestyle goals, and receive mental health support with this integrated wrap-around solution.
Livongo is a holistic program that empowers people with chronic illnesses like diabetes, high blood pressure, obesity, and other health challenges to feel better and do more. 
Livongo is an integrated solution with free 1-1 health coaching, mental health support, and connected device monitoring.  Depending on your health condition you'll receive a blood pressure cuff, glucose meter/test strips, and/or connected scale. It's all seamlessly integrated through a mobile app with results you can share with your doctor. 
*This is a free program for all employees and eligible dependents under the APS Benefits plans. 

Getting started is easy!  
Register Anytime For The New Wellness at Work Well-being Platform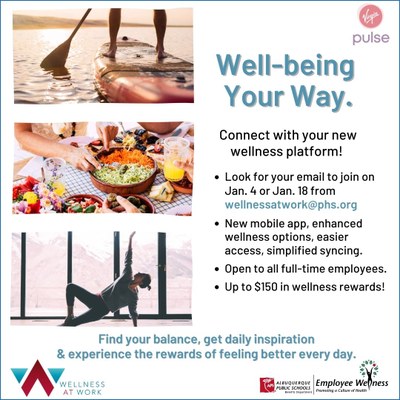 APS partners with The Solutions Group to bring you a variety of well-being programs as well as the Wellness at Work platform and employee wellness incentive program. We are happy to announce our well-being program had a significant upgrade in the transition to a new platform called Virgin Pulse.
The wellness program through the Solutions Group is still called "Wellness at Work" but the platform is hosted on Virgin Pulse.
The new mobile app has enhanced wellness options, easier access, and simplified activity syncing.
Full-time employees received an invitation email on Jan. 4,18, Feb. 23, July 11, and Oct. 3  from Wellness at Work  wellnessatwork@phs.org (it's not spam). Do a search for the email invitation with your link to join. You can also register by going to the main login page. 
Employees on the previous platform can access your new Wellness at Work program with the same username & password.  New users can easily register in less than 5 minutes. This is open to all full-time APS Employees. 
Note: If you are a full-time APS employee covered as a dependent under the Presbyterian Health Plan, or ANY health plan, register as a 'non-covered' APS employee. If you are a full-time employee NOT covered by APS Benefits plan, register under "non-covered" APS employee. 
The 2023 APS Employee Wellness Incentive Program runs from Jan. 1, 2023 - Dec. 31, 2023. This is a voluntary wellness reward system for all full-time employees. 
Financial Wellness with Nusenda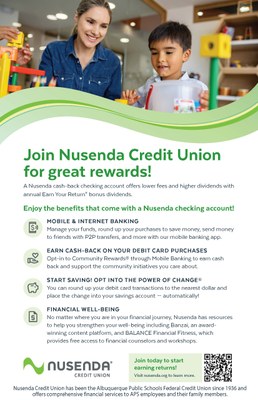 Nusenda Credit Union has been the Albuquerque Public Schools Federal Credit Union since 1936 and offers comprehensive financial services to APS employees and their family members. 
The APS Employee Wellness Banzai Site offers financial literacy courses and interactive simulations that engage users as they learn about finances and how to build credit, reduce debt, and/or save for life expenses like buying a home or car, starting a family, and planning retirement. Take a look at the Nusenda benefits flyer and reach out to Nusenda for more information. 
November Well-being Webinars
Every month APS employees have access to a variety of well-being webinars.  All the information and links/QR codes to join are in the Employee Wellness event calendar.  *Register and receive the recording for on-demand viewing at a time that is convenient for you. Please note BCBS is no longer providing recorded webinars. 
Saturday, Nov. 4 & 18, 10 a.m. - 11 a.m. Life on Mindfulness workshop & meditation
Thursday, Nov. 9, 12:00-1:00 p.m. Cooking Show - It's Getting "Chili" Out There
Wednesday, Nov. 15, 12:00-1:00 p.m. Well-being Webinar - Identifying Your Purpose & Passion
Monday, Nov. 20, 11:00 11:15 Mindset Monday- Holiday Joy on a Budget
Wednesday, Nov. 22, 8:00 a.m. and 12:00 p.m.  Wellness Wednesday - Less is More
Virtual and Email-Based Wellness Opportunities 
Life on Mindfulness: Check out the new Life on Mindfulness website with the password LIFEONMINDFULNESS. This is a free, flexible program for all employees that offers daily drop-in meditations, new weekly and monthly content, featured meditations, and Saturday workshops. Everything is recorded for on-demand access. Links for daily drop-ins and the Saturday sessions are in the APS Employee Wellness Calendar. Enroll in the

 Life on Mindfulness Program 

for all content and email reminders. This site is mobile phone optimized so you can access a wide variety of recorded meditations anytime, anywhere. *The Life on Mindfulness program is open to all APS employees. 
Health Coaching: If you would like help with managing a chronic illness and weight loss to improve your health, or to simply feel better, APS offers free health coaching to all APS employees. *Open to all APS employees.
30 Ways to Well-being is an email-based program. Register and receive daily wellness emails with simple yet innovative practices to do every day. This will bring new awareness for you around stress, sleep, movement, nutrition, connection, and more! This is an ongoing program. Enroll and engage at your own pace. *Open to all APS employees.
MyStress Tools - This is an online suite of stress management and resilience-building resources. My Stress Tools helps you understand

the root causes of your stress and gives you the help you need to dramatically reduce your stress and build your resilience. Click here for flyer details. *Open to all APS employees.
On-Site Wellness 
Short wellness presentations for school staff and APS departments. We can tailor to your needs and fit time ranges from 15-60 minutes. Some topics include:
Just the basics - APS wellness benefits and resources
Understanding your APS Healthcare Benefits
Stress, Burnout, and Resilience
Social well-being
Sleep
Nutrition
Financial Well-being
Ergonomics and Musculoskeletal Health
Schedule 
Pet Therapy

! 

This is for APS employees. If you would like to offer your staff or department a couple of hours of furry-cuddle-stress-relieving therapy time, fill out this request form. Please note that accommodations must be made for any colleagues who have allergies to dogs. 
More Wellness Trends In The News
Nutrition: Magnesium and Diabetes Risk

Surveys suggest that only half of Americans consume the recommended amount of magnesium from their diets—which may play a role in escalating diabetes rates.  APS offers Livongo for diabetes, pre-diabetes, blood pressure, and weight loss (scroll up on this page to learn more). 
Mind-Body: Virtual Stress Reduction

Viewing a virtual illusion of an exercising individual from a first-person perspective can stimulate feelings of stress reduction similar to actual training. 
Recipe: Chicken With Zhoug Sauce

Substituting butter, margarine, mayonnaise or dairy fat with olive oil can lower the risk for certain heart ailments. That makes this herby zhoug sauce a heart-smart topping.