Employee Wellness News
May 2022 Employee Wellness Newsletter
The long shot, APS employee resources & more wellness trends in the news!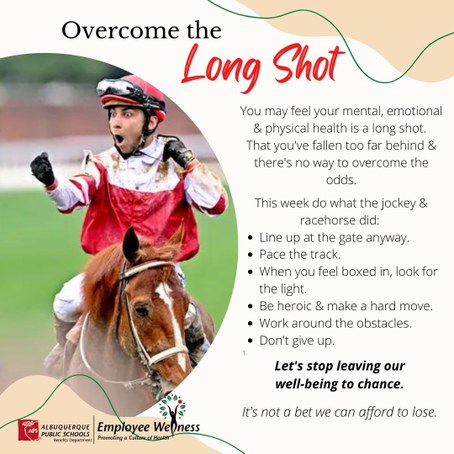 Wellness Wire: The Long Shot
A historic event took place once again in my hometown of Louisville this past weekend. By now you may know I'm a Kentucky girl raised watching the Derby. I wrote a wellness wire this time last year called The Racehorse & The Jockey. But the race last Saturday was even more memorable than most Derbys!
In case you missed it, at the very last minute a horse had to drop out of the Derby. Leaving the alternate, a beautiful chestnut brown colt named Rich Strike, to fill in. And strike it rich he did!
Advancing steadily along the inside rail the rider and filly came up from behind. But then they were blocked and held back by another horse. In the last few meters, there was a narrow opening. The rider made an incredibly brave, strategic move around the horse, through the gap to surge ahead. Rich Strike beat the two leading competitors by almost a body length at the line. 
It was breathtaking to watch. To see that jockey and horse maneuver in a tight space going an average of 37 miles per hour around one horse, between two others, and then put in another surge was really amazing. 
Rich Strike was a true long shot at 80-1. Only one time in Derby history were there greater odds against a horse. I'm pretty sure the horse didn't know the odds were stacked against him. The jockey was just thrilled to get a last-minute, first-time slot in the most coveted horse race in the world.  
Despite the odds, they took the opportunity and lined up at the gate ready to give it everything. When the race was tight and they were boxed in, the jockey saw a small opening and took it. I'm sure it was a little scary for the horse and rider. But after they made that hard move, they went for it and won!
When it comes to your physical, mental, and emotional well-being, you may feel that the odds are stacked against you and that beating them is a long shot. Perhaps you've fallen so far behind that you think there's no catching up or break in sight. Some may feel trapped behind the chaos of stress and anxiety from work/life hardships and dissatisfaction. That the race of this life literally feels like a bet you just can't win. 
Understandable, really, given the pace, lifestyles, and expectations we try to keep. My encouragement to you this week is to do what the jockey and the racehorse did... 
Line up at the gate anyway. Pace the track. When you feel boxed in, look for the light. Take the opportunity when it presents itself and make the heroic, hard move to get out from behind whatever is bottlenecking your mental and physical wellness (even if it means seeking professional help). Keep the momentum. Don't look back. Don't give up. 
Even if it's a long shot, making this break for our mental and physical health is an opportunity we can't afford to lose. The alternative is the continual spiral of burnout, depression, and chronic illness like diabetes, heart disease, obesity, and cancers. Aside from the disease aspect, our quality of life - how we feel and function - is diminished.  Let's not leave our well-being to chance anymore.  
APS Employee Wellness has resources to help guide you through this race we call life. Check out the Mental Health resource page for more information on the programs below. Please pass this information on to staff and colleagues.
 APS EAP free, confidential counseling for all employees & immediate family members

Life on Mindfulness for stress, anxiety, enhanced well-being. Now M-F drop-in meditations, an all-access mobile-ready portal for on-demand recordings.

Free mental/behavioral health benefits for covered employees and dependents

Digital and email-based well-being solutions for all employees

Community mental health resources

Pet Therapy! Open for all employees and departments
The best bet we can make is to take simple steps every day to enhance our well-being. Stay connected in a wellness-y way with APS Employee Wellness through Facebook, Instagram, Twitter, and YouTube. Contact Becky MacGregor at becky.macgregor@aps.edu to schedule wellness presentations and stretch breaks. Thank you -- May you be safe & overcome the long shot for your wellness!
May 3 - Mending Our Mental Health
APS Employee Wellness Programs & Events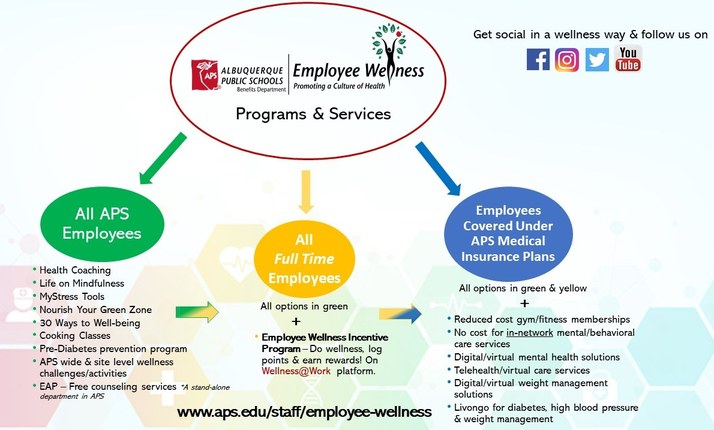 APS Employee Wellness offers many free programs to help all employees (regardless of benefits coverage or full/part-time status) lower their risk for disease, attain lifestyle and weight loss goals as well as manage stress and mental health issues.  
Your monthly dose of fitness, nutrition, and wellness trends!
News: Inflammation Reduced by Muscle Cells
Why regular exercise reduces systemic inflammation and promotes a healthy immune system can offer insight into how much and what type of exercise may help. read more »
Nutrition: Alternatives for Red Meat
Eating red meat every day—especially processed options—can increase your chances for poor health. Luckily, alternatives for red meat can lower that risk. read more »
Mind-Body: Three Pillars of Mental Health
Research findings identify these three healthy behaviors as predictive of good mental health and well-being among young adults. read more »
Recipe: Pasta Bowl
You'll get more out of your pasta if it's made with whole grains and. This pasta is a delicious delivery system for fiber-rich beans and other nutritional winners. read more »
Video: Figure 8 Squat
This squat sequence requires a kettlebell that you pass from hand to hand in a figure 8 action, coming down into an isometric squat. read more »