Employee Wellness News
Posted:
February 27, 2023
March 2023 Employee Wellness Newsletter
The truth about motivation, March Madness wellness challenges, a new well-being platform, monthly webinars, and more wellness trends in the news.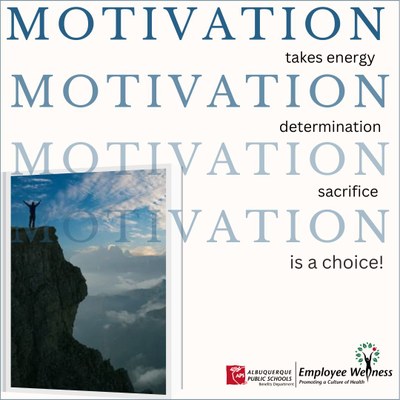 The Truth About Motivation
We're marching on through the month to rekindle -or light a fire under - our motivation. Motivation takes energy. In order for us to have the energy and motivation to meet life's demands we need to take care of our well-being by filling our cups through the daily process of pouring out. If we don't, we'll end up with nothing left to give ourselves or others. 
This week we get into some of my "truth bombs". I usually try to be considerate of all situations because I know how complicated personal well-being is. Life is messy and complex because WE are messy and complicated. 
But when it comes to motivation, sometimes being straightforward is best. So here goes: 
No one can get you to care enough about your health - but you. 
You and you alone are responsible for your health choices. Yep.  
The only way a person changes health habits is by having desire, determination, and a willingness to make sacrifices. 
We can "like" and "heart" motivational quotes until the cows come home but that doesn't mean we'll stop scrolling, get off the couch, go to bed earlier, and put the maladaptive coping behaviors ruining our mental and physical health away. Motivational memes do not physically move people to action. 
Most people make changes because their current state has gotten to a point where they really have no other choice. Meaning, there is a critical catalyst by way of an unfortunate diagnosis or life situation. (Sadly, sometimes that's not even enough.) 
It's not a matter of if that catalyst will happen, it's a matter of when. When we have high-stress, conflicted lives and adopt unhealthy lifestyle behaviors to cope it inevitably leads to high blood pressure and cholesterol, diabetes, obesity, some cancers, and fractured personal and work relationships.  
That critical catalyst is not where I want motivation to start for you. Instead of reactively managing illness and injury, my hope for you is to start proactively preventing it so that you can live a life inspired and do the things you've always wanted unhindered by illness or injury.  
Why do I write all this? Because motivation is a choice, too. Motivation takes energy and a determination to be willing to make sacrifices that will alter our trajectory from chronic illness to wellness.
Some of us may interpret the word 'sacrifice' differently so I want to clarify that word in this context.
Sometimes we have to let go of one mindset in order to embrace another - that's a sacrifice. 
We may have to unravel and give up an addictive, layered habit to build a healthier one - that's a sacrifice.
We may have to choose one coping behavior over another - that's a sacrifice. 
If you're a sugar addict and eat cookies for breakfast but need to cut added sugar - that's a sacrifice.
If we are truly determined to motivate and live a healthier, well life, we have to give up something in order to get to the other.  That's the truth about motivation. We can't have our cake (all the time) and eat it, too. Except on special occasions:). 
This idea that motivation is a choice and choices mean sacrifices ties into Type 1 and Type 2 Fun as well as our intrinsic and extrinsic motivation.
So, we sacrifice the immediate "want" for a choice that will enhance our wellness instead of contributing to illness. The conflict arises because we have competing priorities. Those priorities along with a heaping load of stress and burnout tend to take precedence in any given moment over our choices to handle that pressure.
But I ask you to consider:  Isn't your health and well-being worth the sacrifice?  Is that really even a 'yes' or 'no' question? Isn't it worth it to have the energy to live a life inspired, with joy and the ability to do things unhindered by illness or injury and the costs associated with it? 
My encouragement for you this week is to re-read the above message and let it sink in. When you're ready, reach out to the APS wellness resources to help you find the motivation, energy, and determination, and make the appropriate sacrifices for lasting change. 
 Wellness Wire: Motivation to March On
Join the March Madness Wellness Challenges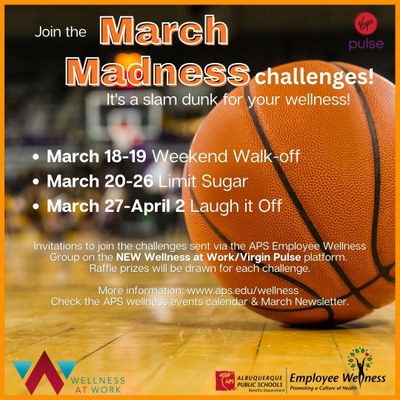 Whether you're a basketball fan or not, these wellness challenges will motivate you through the rest of March and set a firm foundation to bloom in April. 
March 18-19 Weekend Walk-off: The jump ball starter is a weekend walk-off followed by a tough week of competition against Team Sugar. 
March 20-26 Limit Sugar: It's just you against the sweet stuff to see who'll rein supreme curbing cravings and dialing in the discipline. A 'sugar-free me' list will be provided with a daily task for guidance. 
March 27-April 2 Laugh it Off:  Winners always find healthy pick-me-ups with humor which is what we'll do to alley-oop and score a slam dunk for wellness success. We'll be sharing humorous, fun light-hearted videos for this week.
We've got quite a team in the APS Employee Wellness Group on the NEW Wellness at Work platform by Virgin Pulse and we want you on it! Join us and stay motivated through March and we'll all win as wellness champions!   
Each challenge will have three raffle prize winners who complete the criteria given. More information is in the Wellness Event calendar. 
Invitations to join the challenges are sent via the APS Employee Wellness Group on the platform. Please read below for information to register and get started on Wellness at Work by Virgin Pulse.
Register for the new Wellness at Work Well-being Platform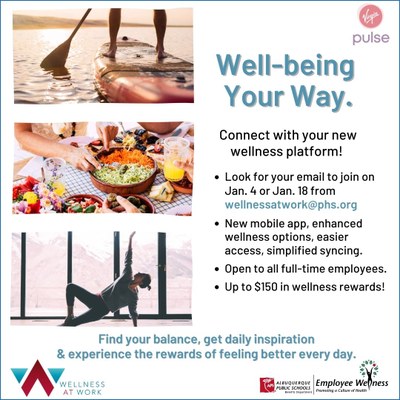 APS partners with The Solutions Group to bring you a variety of well-being programs as well as the Wellness at Work platform and employee wellness incentive program. We are happy to announce our well-being program had a significant upgrade in the transition to a new platform called Virgin Pulse.
The wellness program through the Solutions Group is still called "Wellness at Work" but the platform is hosted on Virgin Pulse.
The new mobile app has enhanced wellness options, easier access, and simplified activity syncing.
Full-time employees received an invitation email on Jan. 4,18, and Feb. 23 from Wellness at Work  wellnessatwork@phs.org (it's not spam) titled, "Sign up for your NEW well-being portal and start earning today." or "Get started on your wellness journey. Register today!"  
Employees on the previous platform can access your new Wellness at Work platform with the same username & password.  New users can easily register in less than 5 minutes. This is open to all full-time APS Employees. (*Additional instructions are in the APS employee wellness event calendar.)
Note: If you are a full-time APS employee covered as a dependent under the Presbyterian Health Plan, ANY health plan, register as a 'non-covered' APS employee. If you are a full-time employee NOT covered by APS Benefits plan, register under "non-covered" APS employee. 
The 2023 APS Employee Wellness Incentive Program runs from Jan. 1, 2023 - Dec. 31, 2023. This is a voluntary wellness reward system for all full-time employees.
March Webinars
Every month APS employees have access to a variety of well-being webinars. All webinars are recorded.  All the information and links/QR codes to join are in the Employee Wellness event calendar.  Register and receive the recording for on-demand viewing at a time that is convenient for you.
Saturday, March, 4 10:00 -11:00 am - Life on Mindfulness: Instant Gratification, Neurobiology, and Mindfulness
Wednesday, March 15, 12:00 pm - Wellness Webinar: Financial Security
Thursday, March 16 Live Workshop - Good Nights, Better Days - Several sessions: 

 9 am PT / 12 pm ET / 6 pm CET




 5 pm PT / 8 pm ET / 2 am CET

Wednesday, March 22, 

Wellness Wednesday Workshop – Nutrition on a Budget at 

8:00 am

 or 

12:00 pm (15-20 minutes)
Mindset Monday, March 27, 12:00 p.m. Eating Mindfully (15 minutes)
Virtual and Email-Based Wellness Opportunities 
Life on Mindfulness: Check out the new Life on Mindfulness website with the password APSLOM. This is a free, flexible program for all employees that offers daily drop-in meditations, new weekly and monthly content, featured meditations, and Saturday workshops. Everything is recorded for on-demand access. Links for daily drop-ins and the Saturday sessions are in the APS Employee Wellness Calendar. Enroll in the

 Life on Mindfulness Program 

for all content and email reminders. This site is mobile phone optimized so you can access a wide variety of recorded meditations anytime, anywhere. *The Life on Mindfulness program is open to all APS employees. 
Health Coaching: If you would like help with managing a chronic illness and weight loss to improve your health, or to simply feel better, APS offers free health coaching to all APS employees. *Open to all APS employees.
30 Ways to Well-being is an email-based program. Register and receive daily wellness emails with simple yet innovative practices to do every day. This will bring new awareness for you around stress, sleep, movement, nutrition, connection, and more! This is an ongoing program. Enroll and engage at your own pace. *Open to all APS employees.
Join Livongo for Blood Pressure & Diabetes Control! 
Get your life back and manage diabetes, high blood pressure, and obesity with this personalized program- Livongo. The name is short for Live On The Go! Because having a chronic illness can hinder our positive life experiences. We want you to get that back and feel better! Participants receive one on one expert coaching, and integrated tools to manage blood sugar, blood pressure, and weight loss. 
Note: This program is free for eligible employees and dependents under APS Benefits.
On-Site Wellness 
Short wellness presentations for school staff and APS departments. We can tailor to your needs and fit time ranges from 15-60 minutes. Some topics include:
Just the basics - APS wellness benefits and resources
Stress, Burnout, and Resilience
Social well-being
Sleep
Nutrition
Financial Well-being
Ergonomics and Musculoskeletal Health
Understanding Healthcare & Medical consumerism
Schedule 
Pet Therapy

! 

This is for APS employees. If you would like to offer your staff or department a couple of hours of furry-cuddle-stress-relieving therapy time, fill out this request form. Please note that accommodations must be made for any colleagues who have allergies to dogs. 
Group Exercise Classes 
Class Schedule
Monday (virtual) 6 to 6:30 a.m.: Sunrise Yoga link to join is in the APS Employee Wellness event calendar.
Monday (in-person) 4:45 to 5:30 p.m.: Gentle Vinyasa Yoga. Location: City Center/Rio Grande OR Arroyo Chico Rm
Thursday (in-person) 4:45-5:30 p.m.: BodyBalance - A fusion of bodyweight, yoga, and core sequencing for a total body strength and flexibility class.  Location: City Center/Arroyo Chico 
About the classes
In-person group exercise classes are at City Center/Alice & Bruce King Complex or Helen Fox.
In-person classes are 45 minutes in length and all levels are welcome.
Classes are free for APS employees. 
Questions
If you have any questions contact Becky MacGregor by email at employee.wellness@aps.edu. 
Wellness in the News