Employee Wellness News
Posted:
February 28, 2022
March 2022 Employee Wellness Newsletter
Allow time for good things to grow, 30 ways to well-being, pet therapy for employees, and more wellness trends in the news.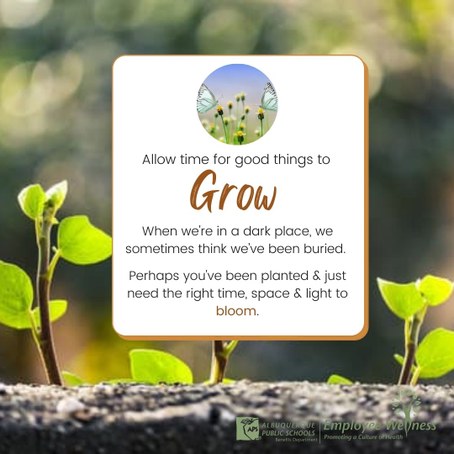 Wellness Wire: Create Space to Allow Good Things to Grow
This March has been about how to turn over a new leaf for our wellness. That's not easy - I know.
Once we make the human connection between our emotional triggers and actions - and how those behaviors actually make us feel - we can start to clear our mental and physical clutter. The mindsets and habits holding us back from better health, and replace them with wellness-oriented endeavors that will ease stress, boost our energy, and help us feel better – every day.
This will create space in our emotional and physical environment so we can plant the seeds of well-being and allow good things to grow. What does 'creating space' look like?
Realign boundaries and reset expectations around work/family roles. Give yourself permission to be unavailable from one of your many roles so you can show up for your wellness.
Carve out time for wellness buffers like stretching, exercise, meditation, or even just a quick "breather from the moment" before work, between meetings, at lunch, after work, or before bedtime.
Limit TV/social media, Internet surfing (especially during the week) to create more time for walking, hiking, gardening, a home project, reading a fun novel, playing with your kids, journaling, exploring – whatever it is that piques your curiosity, reconnects you with something you've let go and brings you joy.
Literally, clear the clutter from your physical environment. If that feels overwhelming and you don't know where to start, we have simple resources in the March 13-25 Google Event Calendar.
Realize that - just like in nature - we may not see immediate results from our actions. Be patient.  Dormant times don't mean nothing is happening underneath the surface for our well-being. It takes months for nature to go through this process, give your wellness efforts the same consideration.  Eventually with time, space and light you, too, will bloom. 
Since there's nothing quite like the spreading of wildflower pollen in the wind, please help plant seeds and share these wellness wires with your colleagues. Check out the new and ongoing programs below to help you plant and nourish your well-being one day at a time. 
Upcoming Wellness Wire Issues
APS Employee Wellness Programs & Events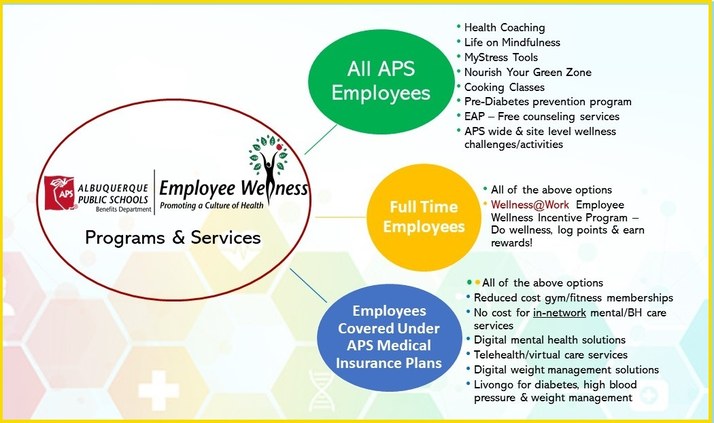 APS Employee Wellness offers many free programs to help all employees (regardless of benefits coverage or full/part-time status) lower their risk for disease, attain lifestyle and weight loss goals as well as manage stress and mental health issues.  
Mental Health Resources
APS EAP Program
Employees and immediate family members have access to free, confidential short-term counseling through the EAP program. Please call the EAP office at (505) 884-9738 to schedule an appointment. WeCounsel virtual sessions are available.
Your monthly dose of fitness, nutrition, and wellness trends!
News: Get Your Sleep Before a Big Game.
Athletes who skimp on sleep may be increasing their risk for injury, according to a small study.
Nutrition: Mega Heart-Healthy Fat:
An analysis of more than 135,000 people found a link between supplementation with omega-3 fatty acids and a reduction in risk for cardiovascular disease. For more guidance on heart health and diabetes, APS offers Livongo free for employees covered under APS Benefits.
Mind-Body: Running and Mental Health:
Running, including jogging, sprinting, marathon running, orienteering, and treadmill running, has positive implications for mental health, according to a study. If you need help getting started, join the Desk to 5k training program great for all levels!
Recipe: Roasted Salmon With Blueberry Sauce:
The flavan-3-ol antioxidants you will get in this sweet-savory berry sauce may help shave down high blood pressure numbers.
Video: Drop Step Squat:
This dynamic plie squat helps improve lower body strength from multiple angles while also training balance, coordination and muscle control.