Employee Wellness News
June Employee Wellness News!
Summer wellness, free classes at City Center, Life on Mindfulness, and more wellness trends in the news.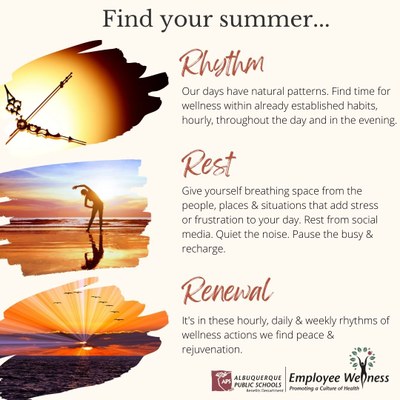 Wellness Wire
It's summer! For some of us, that means time off, and for others perhaps a welcome change of pace. Seasonal transitions always pose a challenge and opportunity and summer is no exception. Since I'm an optimist, let's stick with the opportunity we have to enhance our well-being with bright early mornings and longer warmer days. We have time to focus on establishing a new rhythm of wellness. We can adjust our mindset on what 'rest' means and feel a sense of renewal with each hour, every day.  
Rhythm - Established patterns of time. We have either larger blocks we've carved and kept for our wellness or let work/life responsibilities chip away at this precious commodity. Regardless, most of us have a flow to our day. Look at yours and see where you can create wellness buffers in already established anchor habits. Or, see where can you declutter unnecessary tasks and create space for a five-minute stretch, movement, or meditation.  If you find yourself waiting for a meeting or to pick up a child, instead of phone scrolling, stretch, walk - move. Also, the longer days lend to walking in the morning or after dinner which is a wonderful way to start or end your day. 
Rest
 - This is actual rest in the form of sleep, yes. But also rest from the people, places, and situations that add stress, frustration, or anxiety to our lives. Learning how to rest 
from
 and pull away is important. We do this by pruning back the busyness of life and quieting the noise. Turn off the Internet and social media so we can really recharge and hear what our body needs to feel well. 
Renewal - When we establish a rhythm of wellness activities - whether it's exercise, meditation or just sitting in a peaceful environment - and give ourselves permission to detach and rest, we create an environment of continual renewal. This is what enhances our well-being, eases stress, boosts our immune system, lowers our risk for illness, and helps us navigate life's hardships in a more mentally and physically resilient way. 
My encouragement to you this month is to try this rhythm-rest-renewal practice. See how it feels. Make that connection and keep it going! 
New - Group Classes at City Center/Alice & Bruce King Complex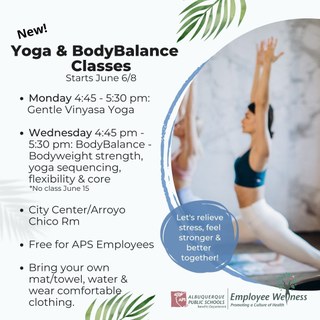 In-person group exercise classes start at City Center/Alice & Bruce King Complex the week of June 6 at 4:45 pm. Classes are 45 minutes in length and all levels are welcome. Monday classes are a gentle Vinyasa Yoga and Wednesdays offer BodyBalance, which is a fusion of bodyweight strength, core, flexibility, and balance. We blend traditional bodyweight training moves and yoga sequencing with music, tempo, and timing. Classes are free for APS employees. 
If you have any questions contact Becky MacGregor at employee.wellness@aps.edu. 
June is Brain Health Month! Build Strong Habits for Strong Brains 
Strong Habits = Strong Brains Webinar: This short informative webinar was offered on Wednesday, June 15th  at either 8:00 am or 12:00 pm. Recordings and the slide deck are in the employee wellness calendar under the presentation day/time. 
What are the elements of a strong brain
5 key focus areas to build a strong brain
Habits you can commit to now for good brain health
Practical advice on setting a new brain health goal
APS Employee Wellness Programs & Events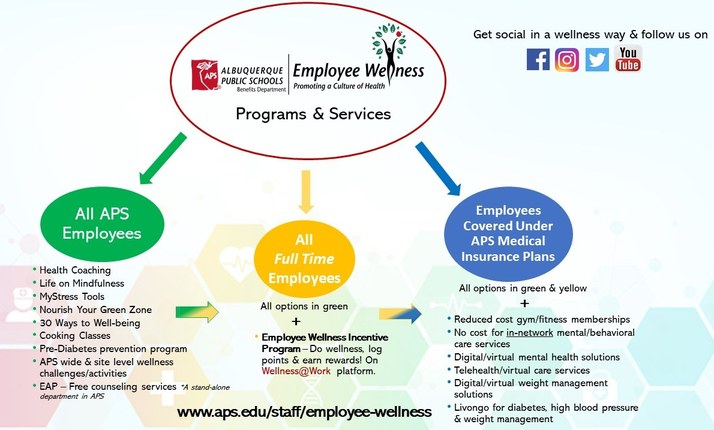 APS Employee Wellness offers many free programs to help all employees (regardless of benefits coverage or full/part-time status) lower their risk for disease, attain lifestyle and weight loss goals as well as manage stress and mental health issues.  
Your monthly dose of fitness, nutrition and wellness trends!