Employee Wellness News
July 2022 Employee Wellness Newsletter
Let's motivate! In-person classes at City Center, and more wellness trends in the news!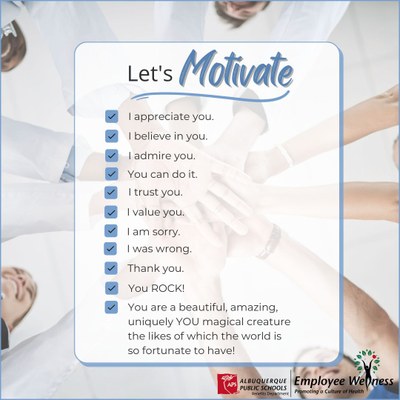 Wellness Wire - 
Did you know a Gallup study showed that employees who felt their manager listened with empathy were 62% less likely to feel burnout? Other Gallup research shows that supervisors played a key role in employee well-being and engagement simply by providing early and ongoing recognition and encouragement. This is astounding considering it doesn't require a fancy degree, money, or a lot of time. Verbal motivation and actively listening are soft skills anyone can master no matter where we sit at APS.  
I know communication may not be the first thing that pops into our heads when we think of 'wellness'. But work and life satisfaction through our emotional, social, and intellectual well-being is directly tied to what we say and how we say it. 
Not just leaders, but all of us, can foster well-being and engagement through the simple soft skills of listening, recognition, and encouragement. I'm not suggesting shallow compliments but rather genuine expressions of support and validation. 
I also realize that on any given day (especially over the last two years) it's difficult to stay positive let alone lead that way. Being positive in a negative situation, or trying to find the positive, is not naive.  We can recognize the severity of a situation and not let that be the starting point of the conversation. 
The way we approach a meeting, a one-off conversation, or any difficult situation can open doors, break down walls, and set the tone for constructive, two-way communication. Which leads to more agreement, collaboration, and less stress and frustration.
My encouragement to you this week is to begin this school year by leading with positivity (even when it's hard). Together we can foster acceptance and build a culture of belonging which will enhance our wellness and feel good!
Check out the July 19 Wellness Wire:  Let's Begin

APS Employee Wellness Programs & Events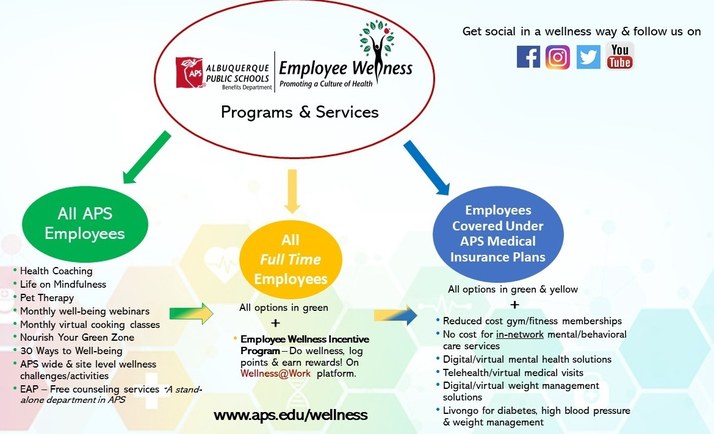 APS Employee Wellness offers many free programs to help all employees (regardless of benefits coverage or full/part-time status) lower their risk for disease, attain lifestyle and weight loss goals as well as manage stress and mental health issues.  
New! Group Classes at City Center/Alice & Bruce King Complex 
Class Schedule
Monday (virtual) 6:00-6:30 a.m. - Sunrise Yoga link to join is in the APS Employee Wellness event calendar.

Monday (in-person) 4:45 - 5:30 p.m. –

 Gentle Vinyasa Yoga.

Thursday (in-person) 4:45 - 5:30 p.m. –

 BodyBalance - This is a fusion of bodyweight strength, yoga sequencing, flexibility, and core. We blend traditional bodyweight training moves and yoga sequencing with music, tempo, and timing.
About the classes
In-person group exercise classes are at City Center/Alice & Bruce King Complex.
In-person classes are 45 minutes in length and all levels are welcome.
Classes are free for APS employees. 
Questions
If you have any questions contact Becky MacGregor at employee.wellness@aps.edu. 
Monthly Wellness Trends
Researchers found that high-intensity interval sessions with battle ropes improved muscle and aerobic performance in 3 weeks.
It's long been thought that protein from animals is superior for building muscles, but data shows that a high-protein, plant-only diet works just as well.
Studies continue to reveal a strong connection between physical activity and brain fitness—and now between inactivity and distractibility.
Capsaicin—the compound that gives peppers their punch—can lower inflammation in the body, which makes this fiery peach gazpacho a summer soup that has a tangy, tart, spicy full-mouth flavor.
This upper-body movement helps to improve your pushing strength and shoulder stability. You should feel it in your shoulders, arms, chest, and core.