Employee Wellness News
January 2021 Wellness Newsletter
Get the latest news on APS Employee Wellness programs, fitness, nutrition, and wellness trends!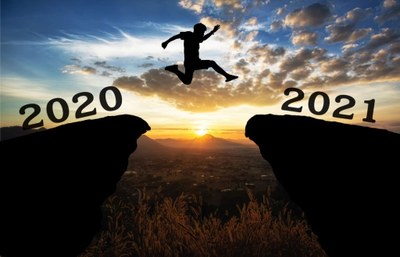 Take a look at this graphic. It's a little freeing – Don't you think? It's safe to say we were all ready to not only turn the page on 2020, but to take a huge surging bound into 2021 with no looking back.    
When my girls were little this time of year I used to tell them that "you have to believe to make the magic happen". 
This year - of all years - we really want that magical change that a new year can bring.   But we have to take more than a leap of faith to know things will be better in 2021.  After that first foot hits solid ground the next one has to follow – and then another and another. For true change in any aspect of our well-being, we have to have the follow-through to our commitment with a consistent, continuous walk.
If we don't plan for that follow-through, we've missed a step and fallen before we've begun.  We have to know that when we take that running jump there's another side to land on – Something solid to gain footing and balance. The leap of faith needs to become a steady stride.  It can be a risky jump, yes. And we need to have belief in ourselves that we can land it, absolutely. More importantly, there needs to be help waiting on the other side with guidance and direction should we stumble.  
This is why APS Employee Wellness has new and ongoing programs to help you with your wellness journey. As we march forward into a new year, consider some of these options & log in to the APS Employee Wellness Intranet pages for more information.