Employee Wellness News
February 2022 Employee Wellness Newsletter
Put a little love in your heart, employee wellness programs that can keep your heart healthy, and more wellness, nutrition, and fitness trends in the news.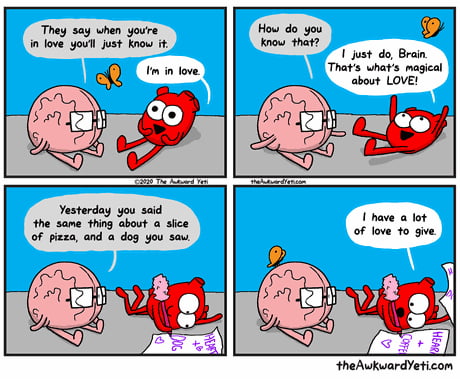 Wellness Wire - Put a Little Love in Your Heart
Besides the life-saving task of managing the pressure of blood pulsing through our bodies, our hearts also pump oxygen-rich blood and hormones to our brains and other organs. Yep, this keeps us alive and functioning on a physical level. But what keeps us really going mentally, emotionally, and spiritually? Our capacity to love.

Even in the smallest of ways - like a random puppy or perhaps a joy-filled moment from a kind gesture - love can feel downright magical. As humans, we love to feel love and it's good for us! It doesn't even take that much of it to have an amazing impact on our well-being. We feel less stress, anxiety, and depression when we give and receive that amazing emotion of amour.

As the graphic above suggests, I believe we really do have a lot of love to give. But we can't give it from an empty place.

This week I encourage you to put a little love in your heart by intentionally caring for it in all ways – physically, emotionally, mentally, and spiritually. Try moving more by stretching or taking short walks through the day. Take time in the morning for meditation or motivational reading. Think of creating space in your day to do something that brings you joy and helps you to simply feel better. Even focusing on eating a little better will show your heart life-saving love.

If you've lost that lovin' feeling from the burdens and overwhelms of life, turn to APS EAP resources for free, confidential counseling, or other behavioral health resources provided by APS Employee Benefits and Wellness.
 February Wellness Wires:
APS Employee Wellness Programs & Events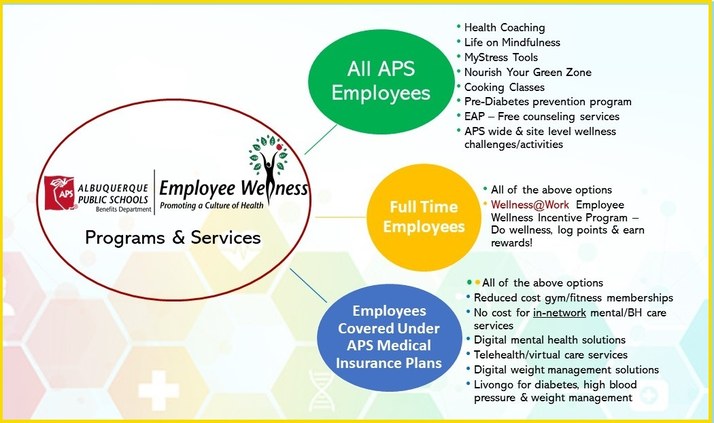 APS Employee Wellness offers many free programs to help all employees (regardless of benefits coverage or full/part-time status) lower their risk for disease, attain lifestyle and weight loss goals as well as manage stress and mental health issues.  
Mental Health Resources
APS EAP Program:
 Employees and immediate family members have access to free, confidential short-term counseling through the EAP program. Please call the EAP office at (505) 884-9738 to schedule an appointment. 
WeCounsel
 virtual sessions are available.
 You Can Start Anytime With A New Morning Routine!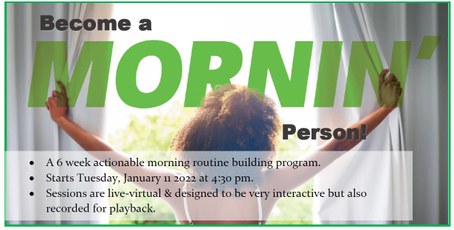 Do you want to feel better, more productive, and have a plan for your wellness that will stick? Mornin' is a 6-week routine building program. It will help you start your days feeling calm, focused, and energized to meet the challenges that may lie ahead.
The virtual-live sessions were recorded. Recaps and slide decks are available in the Employee Wellness event calendar under the calendar date starting Tuesday, Jan. 11, and each Tuesday at 4:30 through Feb. 15. 
Your monthly dose of fitness, nutrition, and wellness trends!
 Move More for Longer Life
Even modest increases in physical activity can help to extend longevity and reduce the risk of heart disease, according to researchers. APS offers stretch & movement breaks on the Employee Wellness YouTube channel Tuesday/Thursdays at 11:45. Recordings of many different movement breaks are available.  read more »
Nutrition: Plant-Based Antioxidants We Need
A study found that coffee is the primary source of polyphenols in the American diet—but we would be better served by adding more colorful options. For nutrition guidance, APS offers all employees free health coaching and Livongo for diabetes, high blood pressure, and weight management. Links are in the above sections.read more »
Mind-Body: Green Exercise and Urban Settings
Green exercise can bring about physiological and psychological relaxation in urban environments as well as forest settings.
read more »
 
Recipe for Health: Yogurt With Coffee-Plum Sauce
Most Americans do not get the recommended number of daily fruit servings, so including shelf-stable dried fruit—like the plums in this sauce—can fill nutritional gaps.read more »
Video: Reach, Roll & Lift - Heel Sit
While sitting on your heels, reach one arm forward and rotate your palm up, keeping your hips back and chest down. Feel this stretch in your upper back and shoulders. Try an APS stretch & movement break on the Employee Wellness YouTube channel Tuesday/Thursdays at 11:45! Recordings of many different movement breaks are available.read more »