Employee Wellness News
August 2022 Employee Wellness Newsletter
Wellness wire - Open new doors, new in-person classes at City Center, new monthly webinars, Monday mindsets, cooking classes, pet therapy & so much more wellness trends in the news.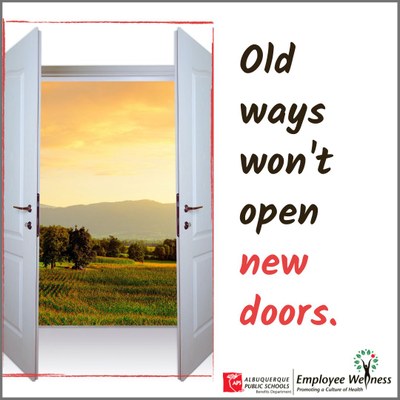 Wellness Wire - Let's Open New Doors
Building a culture of well-being through better communication is a two-way street. Just like any behavior change strategy for wellness, we have to focus on new thought patterns to open new doors. We can't heal ourselves, our relationships, or our work environment with old habits.  While a new door of change may be open, it's our responsibility to walk through it and help others do the same with respect, kindness, and grace.  This is actually true in any situation where we want to see positive outcomes.  
 For the past few weeks we've walked this road to culture building by connecting these communication well-being concepts: 
Our emotional, intellectual, physical, environmental, spiritual, financial, and social wellness integrates into every aspect of our lives. Wellness isn't a check the box - It is the box. 

Every day, week, month, or school year is a new beginning. We have the opportunity to build a new culture with this understanding:  

We all deserve to experience a life we don't feel the need to escape from

. One that fosters feelings of joy, accomplishment, success, encouragement, respect, and connection.

In the absence of clear communication, people make assumptions.

What we say and how we say it impacts those around us. This directly affects our emotional, social, intellectual, and physical well-being. 

We all have a psychological need to be recognized, validated, encouraged, and to be heard.

 Asking ourselves "What do I need to feel & function my best" gives us an automatic mindset shift to consider our physical, intellectual, spiritual, social, and emotional needs and communicate them to others.
This week I'd like for you to consider what old ways you're clinging to that are hijacking your progress, or the progress of others, as it pertains to the building (or maintaining) of a collaborative, connected, and supported work culture.
We each have a role to play when it comes to respectfully communicating our needs, frustration, or confusion. It is up to us to ask clarifying questions or voice concerns versus stew in silent assumptions.  Not saying anything - is saying something. 
We usually expect a measure of work-related communication to flow through channels to be informed and reduce confusion.  What we do with that information, and how we respond, determines our own emotional and physical well-being. It also impacts our work and personal relationships.
If we don't reciprocate communication, how can anyone know when we're struggling or confused? We can internalize (which we know is bad for our health), or speak up in a respectful way. 
Our ability to vocalize in a clear, calm manner is actually part of our emotional wellness - expressing the right emotion, at the right time, in an appropriate way. 
My encouragement to you this week is this - I realize most of us have a more surface-level view of wellness. These concepts we've explored go deeper into what makes us really healthy, well humans - on every level. We're not born great communicators. It's a soft skill we develop over time. We'll have times when we have great success and utter failure with our verbal and non-verbal communication. We are human, after all. The point is to raise our awareness, to make these connections with ourselves and others so that we can all foster a community of well-being where everyone thrives. 
August 2 Wellness Wire- Let's Listen
APS Employee Wellness Programs & Events
APS Employee Wellness offers many free programs to help all employees (regardless of benefits coverage or full/part-time status) lower their risk for disease, attain lifestyle and weight loss goals as well as manage stress and mental health issues.  
New Monthly Webinars
Every month APS employees now have access to a variety of well-being webinars. Register and receive the recording for on-demand viewing at a time that is convenient for you. All the information is in the Employee Wellness event calendar. The cadence is set every month and the topics change. 
Wednesday, Aug. 17, 12:00 -1:00 pm: Wellness Webinar Series -Eating with a purpose.

Thursday, Aug. 18, 12:00 -1:00 pm: Cooking Show Series- Catch of the Day!

Wednesday, Aug. 24, 8:00-8:15 am or 12:00-12:15 pm: Financial Fitness. 
Monday, Aug. 29, 11:00-11:15 am Monday Mindset - Gratitude Journaling 
Livongo Learning Events
Livongo provides integrated diabetes, blood pressure, and weight management solution with free 1-1 coaching, linked monitors, a free scale, unlimited glucose strips, and more. Every month Livongo offers 20-minute informative webinars on a variety of topics.  These videos are open to all APS employees. Learning events vary by day and time. All events are scheduled in your Employee Wellness Calendar. The videos are available for on-demand viewing and do not expire. 
Virtual and Email Based Wellness Opportunities 
On-Site Wellness 
Short wellness presentations for school staff and APS departments. We can tailor to your needs and fit time ranges from 15-60 minutes. Some topics include:
Just the basics - APS wellness benefits and resources
Stress, Burnout, and Resilience
Social well-being
Sleep
Nutrition
Financial Well-being
Ergonomics and Musculoskeletal Health
Understanding Healthcare & Medical consumerism
Schedule Pet Therapy!   This is for APS employees. If you would like to offer your staff or department a couple of hours of furry-cuddle-stress-relieving therapy time, fill out this request form. Please note that accommodations must be made for any colleagues who have allergies to dogs. 
New! Group Classes at City Center/Alice & Bruce King Complex 
Class Schedule
Monday (virtual) 6:00-6:30 a.m. - Sunrise Yoga link to join is in the APS Employee Wellness event calendar.
Monday (in-person) 4:45 - 5:30 p.m. – Gentle Vinyasa Yoga.
Thursday (in-person) 4:45 - 5:30 p.m. – BodyBalance - This is a fusion of bodyweight strength, yoga sequencing, flexibility, and core. We blend traditional bodyweight training moves and yoga sequencing with music, tempo, and timing. * Note: No class Thursday, August 18
About the classes
In-person group exercise classes are at City Center/Alice & Bruce King Complex.
In-person classes are 45 minutes in length and all levels are welcome.
Classes are free for APS employees. 
Questions
If you have any questions contact Becky MacGregor at employee.wellness@aps.edu. 
Monthly Wellness Trends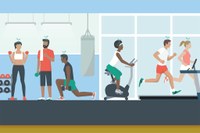 News: 
Brain Fitness and Cardio Training
 Research identify brain dopaminergic function as the probable means by which aerobic activity stimulates growth factors in the brain.       
Nutrition:
Exercise and Appetite
  A recent report in Nutrients examined the connection between physical activity and its impact on both how and what we eat.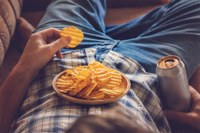 Mind-Body:
Diet and Productivity
Is there a link between diet and productivity? Unhealthy late-night snacking may make people less productive at work the next day, according to a study.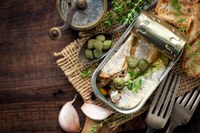 Recipe
:  Sardine Sandwich With Walnut Sauce
 The nutritional stew in these inexpensive small swimmers includes omega-3 fats, vitamin D and calcium, making this sandwich a power meal to grab hold of.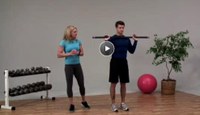 Video:
Curtsy Lunge
This effective exercise progression uses a weighted bar or dowel and focuses on the entire lower body, particularly the inner and outer thighs.