Special Education
Contact Information
Physical Address:
6400 Uptown Blvd. NE Suite 200 West Albuquerque, NM 87110 Map
Phone: (505) 855-9900
Fax: (505) 855-9970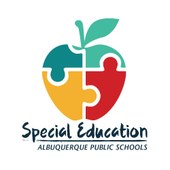 Mission Statement
We are leaders and stewards of Special Education services and providers. Our responsibilities include allocating resources and providing guidance to schools based on identified needs to assure compliance. Systems are in place that improve student outcomes as measures by quality indicators, trends in DPH and PED requests, stakeholder feedback and student progress. 
Guiding Principles
Serving students according to individualized need
Ensuring quality of access to educational services regardless of where the student lives in the city
Using evidence-based practices for all students
Meeting our students' needs in their own communities 
Resources
Leadership and Administration
The Special Education Directors support the needs of our special education students and monitoring state and federal education requirements.
Associate Superintendent: Lucinda Sanchez
Executive Administrative Assistant: Germaine Sanchez, (505) 855-9901
Executive Director, Student Achievement: 

Claudia Gutierrez, 505-855-9914,

gutierrez_cl@aps.edu
Executive Director, Preschool, Related Services, Evaluations: Bernadette Lucero-Turner, 505-855-9903, turner_b@aps.edu
Executive Director, Compliance: Cindy Soo Hoo, 505-855-9907, soohoo@aps.edu