SMNHC Volunteers
Meet the dedicated SMNHC volunteers who give of their time and effort to assist with and teach our programs. If you are interested in volunteering, visit our Get Involved page for more information.
Staff and volunteers on ramp next to buildings
Volunteers
Daniel Bush 

Daniel has been a volunteer at the SMNHC since March 2000. He is a New Mexico native and loves to work with kids. He enjoys camping, hiking, and visiting train museums. Daniel teaches our ecology field program and outreach programs, and he has helped SMNHC staff with various trail and construction projects. Over the years, Daniel has become an integral part of the staff here at the Center and we appreciate all of his many efforts.
Dave Weaver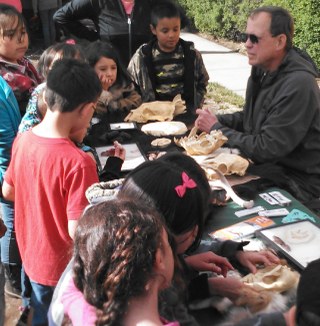 "Volunteers Mike and Dave were outstanding. Thanks for all you do."
Dave has been a volunteer at the Center since 2011. He is a retired physical anthropologist who started his career in Arizona and New Mexico as an archaeologist and has worked all over the world while a Professor of Anthropology and Comparative Medicine at Wake Forest University. Dave has worked on various projects at the SMNHC, including trail maintenance, construction, cleaning and preparing animal skeletons, and public presentations. He particularly enjoys going out with the school groups and assisting with public events. Dave has spent years as a U.S. Forest Service volunteer and volunteers at Animal Humane in Albuquerque as well.
Michael Cox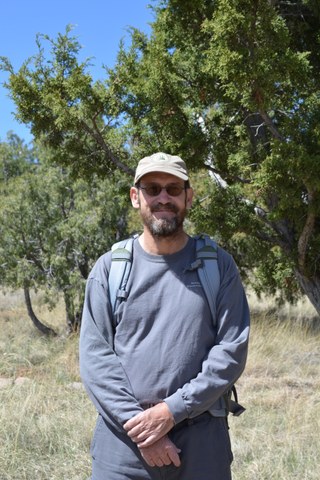 "Mike did a fantastic job allowing students to explore and supporting their learning."
"Mike, our instructor, was wonderful. He was patient with the students and encouraged them to participate and think. He managed our time extremely well."
Michael came to us through the Bernalillo County Open Space Master Naturalist Program in 2012. He is a native New Mexican who grew up hiking in the Sandias and now enjoys introducing children to the mountain. He teaches our Ecology Field Program and outreach programs, and also helps out with the Sandia Mountain Bear Collaborative. Michael researched and wrote a history of the Sandia Mountain Natural History Center, which can also be found under the "About" tab on this website.
Bev Riley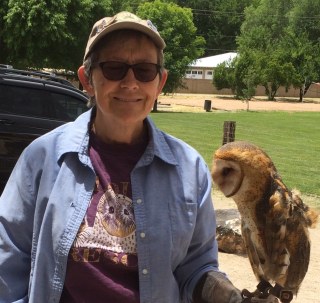 Bev has been volunteering at the Center since Fall 2016, coming weekly to assist with our educational programming, during the school year and even in the winter.
In addition to the SMNHC, she also volunteers at Wildlife Rescue of New Mexico, where she's taken in and dropper-fed baby birds and cared for injured or orphaned wildlife that are brought to them. Here she is pictured with a resident barn owl.
Bev has 30 years of teaching experience with APS and CNM.
Ken Nicholson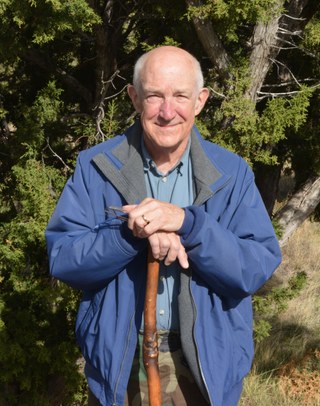 Ken has volunteered with us since 2016.
Ken was born and raised on the east coast of central Florida and enjoyed the outdoors, sailing on the intra-coastal waterway or body-surfing in the nearby ocean. After graduating from Florida State University, he became an Air Force officer addressing electronic warfare, defense suppression, special operations, and aerial reconnaissance during his twenty-two year career. He spent the next 18 years teaching defensive tactics to active duty MC-130H aircrews during their training at Kirtland Air Force Base.
Now, Ken is enjoying the outdoors again as a volunteer with the Friends of the Sandia Mountains (FOSM), maintaining and building hiking trails and picnic areas in the local forest. He mans the FOSM Visitor Center at the top of the Sandia Crest, informing visitors of the local hiking trails. He also assists the local Air Force and Marine JROTC detachments at the local high schools. Ken volunteers regularly and assists our instructors as he can.
Libby McDonald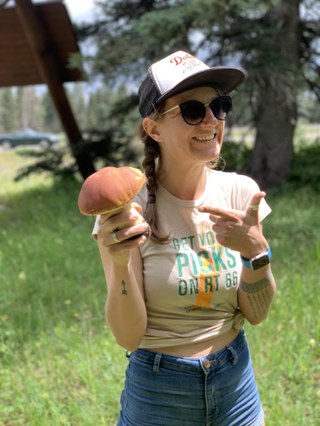 Libby began volunteering with the SMNHC through the Bernalillo County Master Naturalist Program in 2021. She was born and raised in Albuquerque and graduated from the University of New Mexico with a B.S.Ed in Community Health Education in 2013.
Throughout her undergraduate studies she organized summer camps, weekend leadership development conferences, and after school programs for 6-12th grade youth. After graduating, she served as a Peace Corps Volunteer at a rural high school and health center on the main island of Fiji. After her service, she went on to serve as an Americorps Member at a high school in Portland, OR. While living in Portland, Libby began working on small organic farms to develop a deeper understanding of food systems and environmental health. She returned to New Mexico in 2018 to work on a farm in the North Valley of Albuquerque and develop a better appreciation of her hometown.
In her free time, Libby enjoys foraging for mushrooms, practicing yoga, watching reality TV, making art, and traveling domestically and internationally. She is also a certified Wilderness First Responder.
Katie Ziegweid
Katie Ziegweid grew up in Seattle, fascinated by marine invertebrates seen at low tides. She obtained her MS in Entomology in Tucson and fell in love with the southwest. After 21 years working in healthcare IT, she completed the Bernalillo County Master Naturalist program and began volunteering at the SMNHC in 2021. Interests include hiking, backpacking, cycling, and searching for fossils, ruins, and petroglyphs. She also has done and continues to do volunteer trail maintenance, working with various groups in AZ and NM.